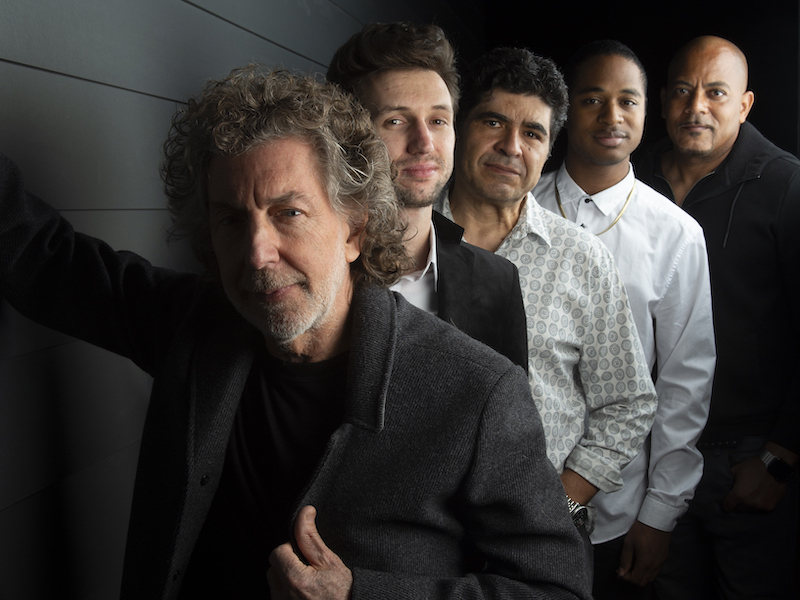 Tue November 22, 2022
Legendary jazz-rock drummer
SIMON PHILLIPS PROTOCOL V
Doors: 7:30 PM Show: 8:00 PM
Jazz. Rock. Jazz-rock. Across more than four decades, legendary drummer Simon Phillips has shown an uncanny ability to excel in most any musical environment. Precision, intensity and emotion are hallmarks of Simon's sound in every setting. And working with many of the world's most prominent musicians from an early age, he has repeatedly made his mark through scores of historic recordings and tours around the globe.
Simon's father, Sid Phillips, was a highly disciplined intelligence officer in the RAF during World War II, and later led a Dixieland band where Simon got his start on drums at the age of 12. Simon soon joined the London production of Jesus Christ Superstar and quickly gained a reputation as someone who could make music sound good, leading to lots of recording sessions while still in his teens. By his twenties, Simon had already worked with iconic figures including Jeff Beck, Jack Bruce, Pete Townshend, Al Di Meola, Jon Anderson, Jan Hammer, Stanley Clarke, Jon Lord, Mike Oldfield, Brian Eno and others. Several of these artists had been important pioneers of the jazz-rock genre in the early and mid-1970s, also called fusion.
"Nothing is easy. If you want to be good at something, you go to the nth degree to do it."
High-profile recordings and/or tours were soon to come with the likes of Mick Jagger, Asia, The Who, Gary Moore, Joe Satriani and many more. But it was the untimely death of drummer Jeff Porcaro that led to Simon's 21-year presence in Toto (1992-2014), highlighted by ten albums and numerous world tours. During this period Phillips also worked on various projects led by Steve Lukather, Michael Schenker, Derek Sherinian and others.
More squarely within the realm of the jazz world, Simon worked in a trio led by virtuoso pianist Hiromi along with electric bassist Anthony Jackson (Chick Corea). This rich association lasted seven years, producing five albums from 2011-16 and touring extensively. During this period Phillips also performed in a jazz-rock trio with French keyboardist Philippe Saisse (Al Di Meola) and electric bassist Pino Palladino (Steve Gadd), under the group name PSP.
"I'm a jazz player… so I like to push the limits and do stuff out of the blue."
The seeds for Protocol were first planted during the 1980s, when Simon began composing in earnest. He wrote all the tunes and played all the instruments on his first Protocol release in 1989. While Toto was his primary endeavor at the time, Phillips released several more jazz-rock albums as a leader from 1992-2000 with which he continued to hone his songwriting chops.
Listeners can discern the influence of many great drummers in Simon's sound, not the least of which is '70s-era Tony Williams. According to Simon, "I was introduced to Tony by Jack Bruce back in 1977. His 1975 album, Believe It, is still one of my favorites. Not only the music and the playing (it features guitar god Allan Holdsworth), but the sound. Bruce Botnick was the engineer and I have to admit I used that template as a guide for Protocol II when I mixed it."
Simon's compositions and group concept began to gel with the Protocol II album in 2013. This release brought together high-profile rock guitarist Andy Timmons with jazz-funk keyboardist Steve Weingart (Dave Weckl) and electric bassist Ernest Tibbs (Allan Holdsworth). Much like Tony's Believe It record of nearly 40 years earlier, Protocol II firmly established Simon's new lineup as one of the truly great bands in jazz-rock history. Progress continued in 2015 with the release of Protocol III, featuring the same personnel and another set of brilliant new tunes.
In 2017, Simon felt it was time to fine-tune the group concept with the release of Protocol IV. While Ernest Tibbs continued in the bass chair, this record featured a major league rock session guitarist named Greg Howe (Michael Jackson), along with the dynamic young keyboardist Dennis Hamm (Thundercat). Still utilizing the same quartet format, Protocol IV presents Simon's strongest compositions yet — and it was nominated for a GRAMMY Award in the Contemporary Instrumental Album category. In his typically gracious manner Phillips said in a recent interview, "I lost out to Steve Gadd, and you can't complain about that!"
2019 marked the 30th Anniversary of Protocol's inception and Simon toured extensively as leader, playing a selection of tunes from each of the Protocol albums. However, the lineup was tweaked once again, this time to become a quintet, including veteran keyboardist Otmaro Ruiz (John McLaughlin), Jacob Scesney on saxophones and the brilliant young guitarist Alex Sill. A new Protocol V studio album was released to rave reviews in early 2022, featuring this same extraordinary lineup.
"Being a musician is not a retiring kind of life. It's a lifetime commitment."
Another strand among Simon's numerous credits falls loosely under the heading of world music. A notable example was produced in 2011 along with Indian drummer Trilok Gurtu (John McLaughlin) and the NDR Big Band, called 21 Spices. More recently, Phillips has teamed up with three of India's leading musicians — Mohini Dey, Abhijith PS Nair and Sandeep Mohan — to produce a single called "Sa Ma Ga Pa." An album project is in the works.
As if not busy enough as a player, Phillips is well known for his production skills. Indeed, he has tracked, mixed and/or mastered many recordings at his Phantom Studios over the years, including his own albums. Simon also somehow fits in an ambitious schedule of drum clinics, workshops and masterclasses, often sandwiched between anchor dates on tour.
Since 1985 he's had yet another passion — motor racing! Simon attended the Jim Russell racing school in Norfolk, England, and eventually bought a Formula Ford 1600. He competed in the Champion of Snetterton series and had a great time driving a well-known circuit. These days he hangs out at Willow Springs Raceway with another racing enthusiast named Dave Weckl…
---
You may also enjoy these amazing upcoming shows!
Tue Nov 29: Jim Brickman
Wed Nov 30: Marion Meadows
Mon Dec 19: Mike Stern Band