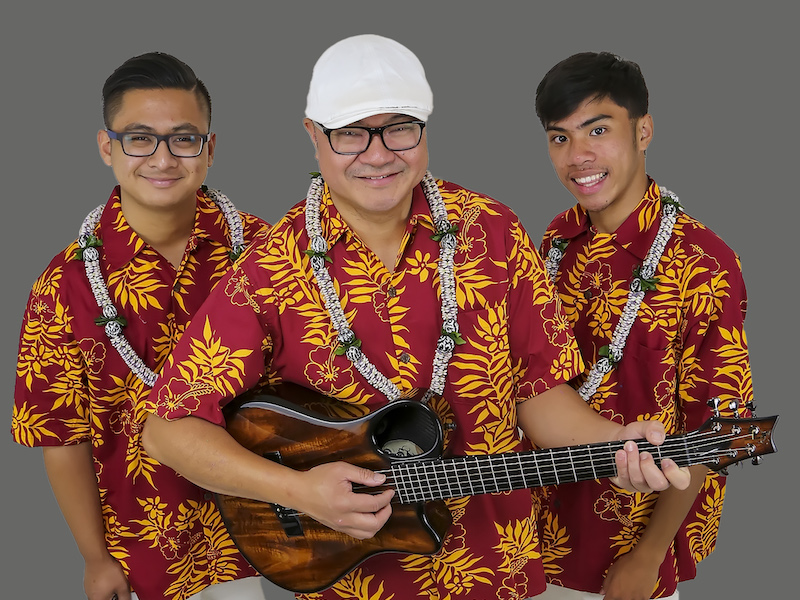 Thu May 18, 2023
Asian American and Pacific Islander Heritage Month Celebration!
PATRICK LANDEZA & SONS
Doors: 7:30PM Show: 8:00PM
Two-time Nā Hōkū Hanohano Award winner (Hawaiian GRAMMY), Patrick Landeza returns to Yoshi's with special guest former Miss America Angela Baraquio Grey. Patrick Landeza & Sons features Justin Firmeza on Hawaiian steel guitar and keyboard along with Patrick Landeza, Jr or "PJ" on bass guitar. Come celebrate Asian American Pacific Islander Month and be ready for an evening of Hawaiian music, hula and aloha!
About Patrick Landeza & Sons
A native Hawaiian who was born and raised on the continent, Patrick Landeza found his roots in the music shared with him by his mother, Frances Kawaipūloʻu Kuakini OʻSullivan Landeza. The songs that she taught him, many of which are on this new release, were songs that she learned growing up in Hoʻolehua, Molokaʻi. The music filled cultural gaps left by his childhood in California, providing him with a firm foundation upon which he built his musical career. The music he grew up listening to sparked an interest in the traditional art of slack-key, connecting Patrick with some of kī hōʻalu's most legendary names: Cyril Pahinui, Raymond Kāne, George Kuo, and Dennis Kamakahi. Under their tutelage, the network of roots that his mother had carefully established grew and Patrick's style of music became firmly rooted in slack-key.
Now a father of 5, it's Landeza's turn to follow in his mother's footsteps and share the songs of his heritage with the next generation, connecting them to their ancestors through the very roots that connected him. Patrick Landeza & Sons is made up of Patrick, his son, Patrick Landeza, Jr. or PJ (18), and his hānai son, Justin Firmeza (20). PJ is currently a 12th grader at Moreau Catholic High School in Hayward and Justin is in his 3rd year at San Jose State University majoring in Jazz Studies.
By teaching these young men the songs he was taught, Patrick is ensuring that the legacy that he was entrusted with by his mother and many slack-key mentors will live on. This is Landeza's 27th year in education and is currently at Moreau Catholic High School in Hayward, California.
Our host and hula dancer for the evening is Angela Baraquio Grey, Miss America 2001. As the first teacher, first Asian, and only Filipina Miss America in the program's 100-year history, Angela championed her platform of Character Education and used her scholarship awards to earn a Master's Degree in Educational Administration, which set her up for her current role as principal of a K-8 Catholic School in Southern California.
---
You may also enjoy these amazing upcoming shows!
Fri-Wed May 19-24: Hiromi
Thu May 25: Larry Vuckovich All-Star Sextet
Thu Jun 1: Keyon Harrold