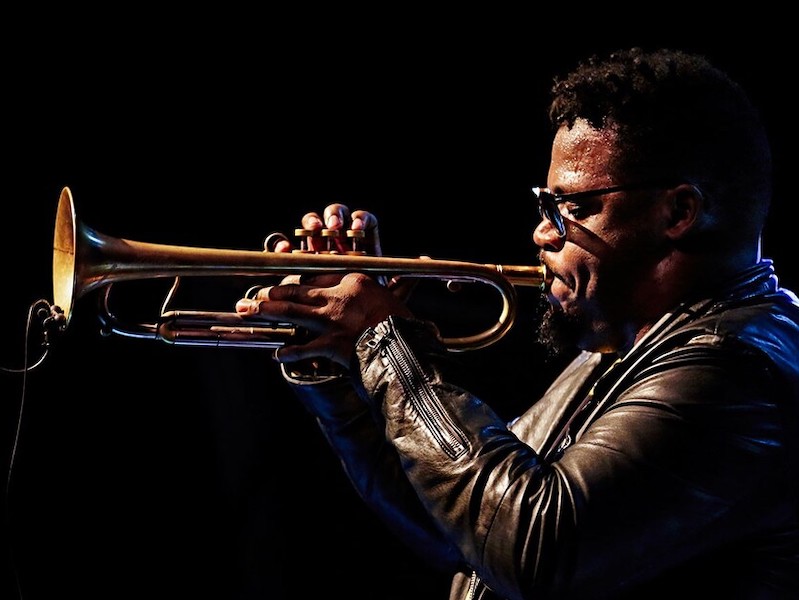 Thu June 1, 2023
Modern blend of jazz, classical, rock, blues, and hip hop
KEYON HARROLD
Doors: 7:30 PM Show: 8:00 PM
Award-winning trumpeter, vocalist, songwriter, and producer Keyon Harrold will be touring in support of a new recording on the Concord label, scheduled for release in the Spring of 2023. This is an outstanding cross over album with vocal contributions from British R&B singer Laura Mvula, and GRAMMY winning musician, producer, and singer-songwriter PJ Morton.

Keyon Harrold first came into the International spotlight for his work as the trumpet voice behind the Grammy winning Don Cheadle film "Miles Ahead", and his critically acclaimed album, "The Mugician", (Sony Legacy / Mass Appeal). As a bandleader, he has created a compelling new statement with a riveting mix of jazz, Afrobeat, soul, spoken word, hip-hop, blues, rock and even American folk. As a soloist, his distinctly warm trumpet sound simmers in the middle register; creating drama without aggrandizing, and mesmerizing live audiences with an emotionally charged concert presentation. Wynton Marsalis has stated "Keyon Harrold is the future of the trumpet".

In addition to being one of the new leading voices in Jazz Music, Keyon Harrold has collaborated with many of the top hip hop and pop artists including: Common, Snoop Dogg, Jay Z, Beyonce, Rihanna, Eminem, Maxwell, and Anthony Hamilton, and rock legends Keith Richards and Jeff Beck. These experiences broadened his musical horizons beyond jazz to include funk, Afrobeat, R&B, rock and roll, and hip hop.

He is currently touring a quintet that is making one of the strongest artistic statements of any musical group today, rooted in jazz music, the band freestyles and solos with authority and weaves the spectrum of African American music into a sonic expression that can best be described as Hip-Hop Pop Bop!!!

In addition to performing with his Quintet, he can appear as a featured soloist with Big Bands and Orchestras. Additionally, a special program "Jazz And The Birth of Hip Hop" with special guests MC Black Milk, Chris Dave, & Georgia Anne Muldrow is also available.

The Critics Speak:

… The Mugician (Sony Legacy) is a collection of thoughtful and wide-ranging compositions… Harrold's pop sensibilities and activist leanings shine through on the album, which is tied together by its catchy melodies – a rarity in critically acclaimed circles of modern jazz. – Natalie Weiner, Rolling Stone

Keyon Harrold, a scorching trumpeter whose recent album, "The Mugician," draws upon his work in jazz, R&B and hip-hop. – Giovanni Russonello, New York Times.

Trumpeter Keyon Harrold pushes boundaries on new album "The Mugician". – Kevin C. Johnson, St. Louis Dispatch.
---
You may also enjoy these amazing upcoming shows!
Fri-Sat Jun 9-10: Peter White
Tue-Wed Jun 13-14: David Sanborn
Tue Jun 20: Melba's Kitchen