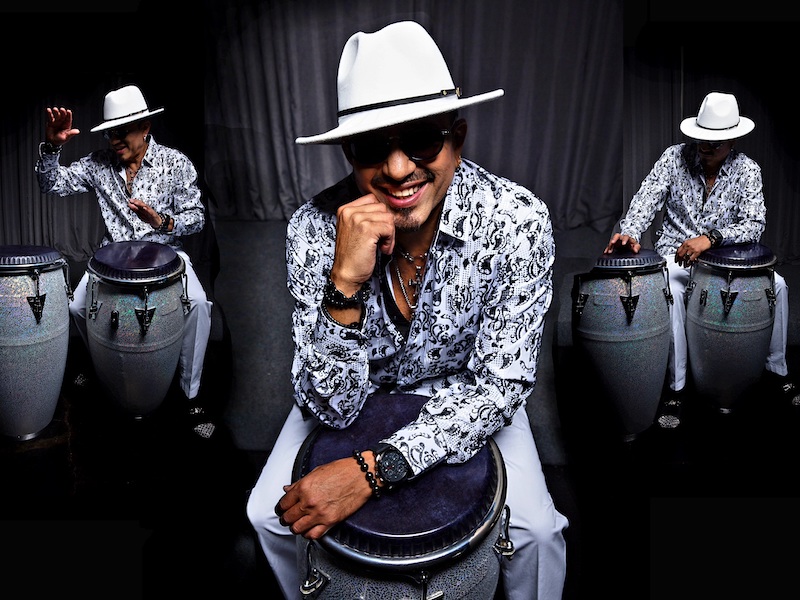 Sat April 22, 2023
A seasoned multi-instrumentalist, masterfully crafting sound and rhythm
JUAN ESCOVEDO ALL STARS
Doors: 7:00PM Show: 7:30PM
At a young age, Juan Escovedo began teaching himself how to play bongos, congas, trap drums, timbales, percussion, and other instruments. When he turned 14, he began playing with his father, Pete Escovedo.
Since then, Juan has been undeniably a musician of complexity, style, and originality. His artistic achievements flow from his rich musical heritage and compassion for his art form.
Juan Escovedo tours, write, and records as a solo artist and with his family – father, Pete Escovedo, brother Peter Michael and sister Sheila E. Currently, they have a new CD titled "The E-Family," which is quickly rising the charts. Juan co-wrote and produced three of their new songs. The CD features Josh Stone, Gloria Estefan, Earth, Wind & Fire.
Juan Escovedo dropped his first CD on November 8, 2021. He collaborated with several notable musician's such as El DeBarge, Raphael Saadiq, Martin Kember, sister Sheila E., father Pete Escovedo, and brother Peter Michael Escovedo. Juan Escovedo wrote and arranged all songs on his CD in collaboration with musician Michael Angel Alvarado. His upcoming music video will feature the Curtis Family C-Notes and vocalist Leah Tysse. He's made notable appearances in videos and film, recording and performing with many of the most notable artists of our time.
Juan has toured, performed, and recorded with many artists, including Prince, Tony Toni Tone, Miguel, El Chicano, Con Funk Shun, Patti LaBelle, Amerie, Chingy, Jody Watley, Lou Bega, MC Hammer, Lionel Richie, En Vogue, El DeBarge, Freddie Hubbard, Barry White, Herbie Hancock, Cyndi Lauper, Teri Lynn Carrington, Bobby McFerrin, Tito Puente, Cheryl Lynn, Raphael Saadiq, Bobby Womack, his sister Sheila E., and, still, his father, Pete Escovedo.
Juan tours, writes, and records as a solo artist with his father's Latin Jazz Orchestra and The E Family: his father, his brother, Peter Michael Escovedo, and his sister Sheila E. Produced and arranged by Peter Michael Escovedo, The E Family's latest CD, Rhythm of the Night, is a collection of nine "Old School" _Soul & R&B hits, re-arranged and transformed into an explosion of Latin Jazz articulated through a fourteen-piece Latin Jazz Orchestra. The album features guest vocalists Peter Michael, Simon Russel, Sy Smith, Sheila E., Peter Michael, and Debi, as well as Escovedo's great grandchildren.
---
You may also enjoy these amazing upcoming shows!
Thu Apr 27: Tito Puente Jr
Mon May 22: Orquesta La Moderna Tradicion