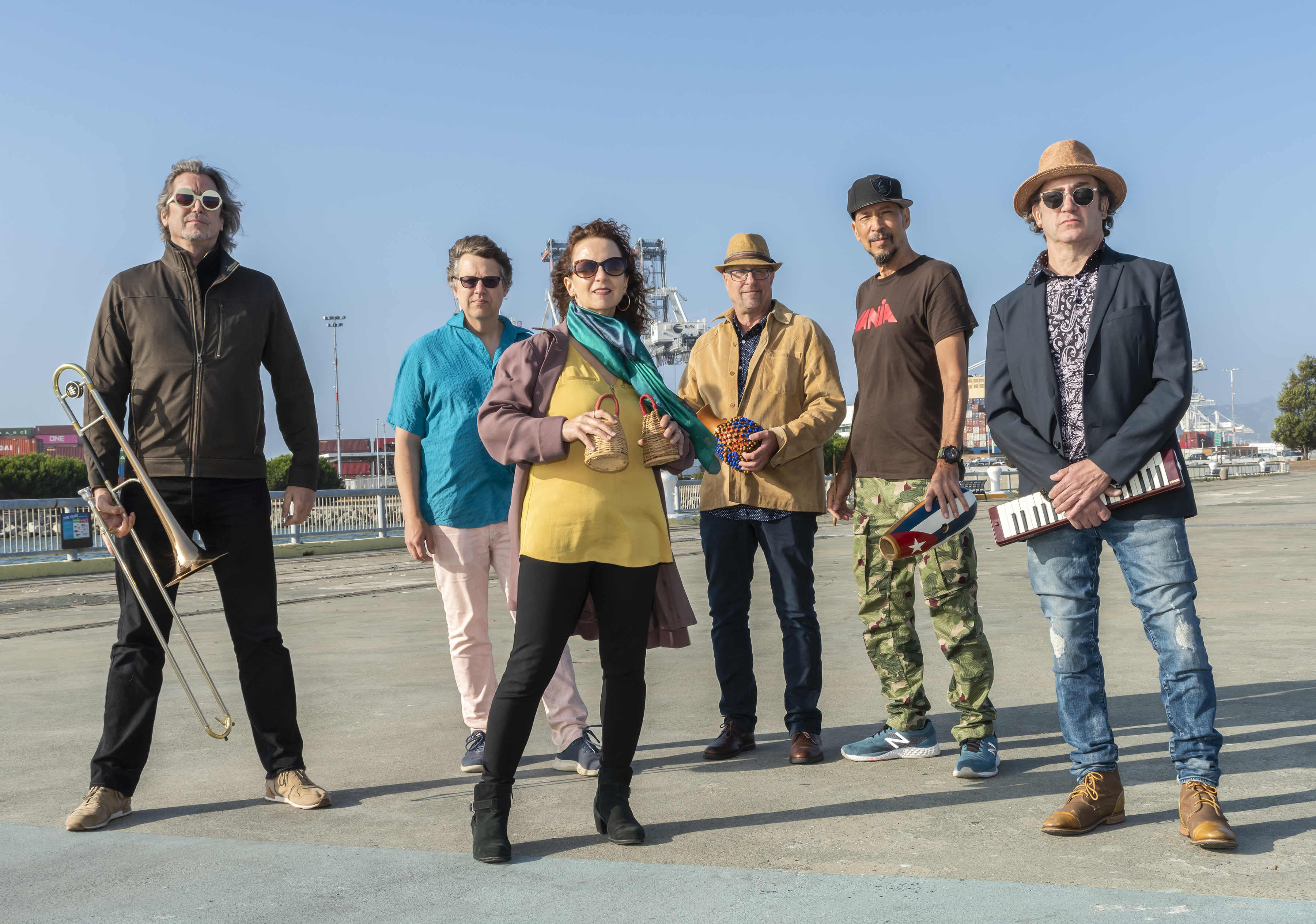 Tue November 23, 2021
Use promo code "GIFT" for 25% Off – limited discounted tickets available
ALMA MATTERS
Doors: 7:30pm Show: 8:00pm
Yoshi's Oakland Presents Alma Matters Annual Benefit Concert
About this event
Over the last few years Alma Matters has come together to present new music at Yoshi's Oakland. This year Alma Matters is proud to support Destiny Arts Center. We'll be premiering a collaboration with Destiny Arts, "Follow The Drinking Gourd", featuring a horn-heavy arrangement by Peter Apfelbaum. For this performance - Alma Matters' first live show since the pandemic began - the group will be premiering parts of ""Follow The Drinking Gourd", joined by Artistic Director of Destiny Arts and MC/lyricist/dancer/vocalist Rashidi Omari and longtime Alma Matters guest vocalist Terrence Kelly.
ALMA MATTERS:
Peter Apfelbaum (saxophone, keyboard, percussion)
Natalie Cressman (vocals, trombone)
Sandy Cressman (vocals, flute, percussion)
Jeff Cressman (trombone)
Jeff Weinmann (drums, flute, vocals)
Josh Jones (drums, percussion)
Steve Hogan (bass)
Colin Hogan (keyboard)
John Schott (guitar)
Erik Jekabson (trumpet)
Special guests:
Ian Faquini (guitar)
Terrance Kelly (vocals)
Rashidi Omari (vocals)

ABOUT ALMA MATTERS
Multi-instrumentalist/vocalist/producer Jeff Weinmann formed the collective Alma Matters in 2012 with Berkeley childhood buddies composer/arranger/multi-instrumentalist Peter Apfelbaum (Hieroglyphics Ensemble, Don Cherry, Dafnis Prieto) and trombonist/audio engineer Jeff Cressman (Santana, Pete Escovedo), releasing their eponymous debut album in 2017. The album features a host of Bay Area jazz luminaries, including Jeff's wife, vocalist Sandy Cressman, as well as their daughter, rising star trombonist/vocalist Natalie Cressman. The album also features percussionist Josh Jones, guitarist Will Bernard and trumpeters Steven Bernstein and Erik Jekabson, all of whom are fellow Berkeley High School alums.

Check out the Alma Matters debut album here:
 https://www.almamattersmusic.com/music

Check out the video for "Wade In The Water" here: https://youtu.be/dGxChX4k0MM

The shared history of the members of Alma Matters go back decades and make for a potent brew of musical styles that include Afro-Cuban and Brazilian rhythms, soulful vocals and powerful horns. The strong bay area tradition of multicultural expression and social activism are reflected in the lyrics, especially on the recently released singles "Mama Knows" (by Natalie Cressman) and "Absolute", which features Oakland rapper Chris Burger.

During the pandemic Alma Matters has continued to record and release new music. 2020-2021 has seen collaborations with Brazilian artists Jovino Santos-Neto (piano/flute) and Ian Faquini (guitar), both of whom have contributed compositions of their own; Santos-Neto's "On The Road To Peace" features a poem by percussionist John Santos, while Faquini's's regular duo with Natalie Cressman is expanded for "Indigo Silence". Both tracks feature Sao Paulo-based drummer/percussionist Douglas Alonso.
Check out the video for Santos-Neto's "On The Road To Peace" here: https://youtu.be/jFq0UBQ3fyw

Check out the video for Ian Faquini/Natalie Cressman's "Indigo Silence" here: https://youtu.be/-sB9x-ZZsMo
---
You may also enjoy these amazing upcoming shows!
Thu-Sun, Dec 9-12: Tony! Toni! Toné!
Fri-Sun, Jan 14-16: Lalah Hathaway
Thu-Sun, May 19-22: Goapele