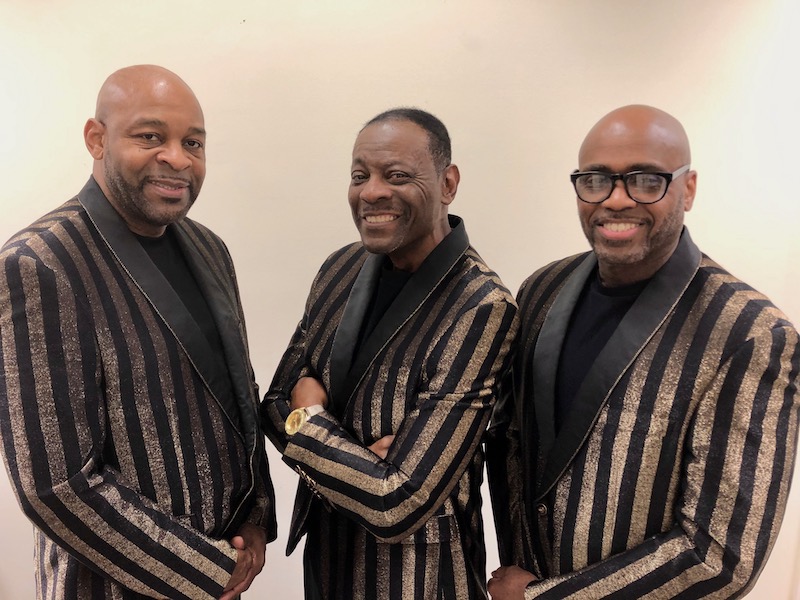 THE DELFONICS FEAT. GREG HILL
November 7, 2021

Doors: 6:30pm / Show: 7:00pm

November 7, 2021

Doors: 8:45pm / Show: 9:00pm
Feel The Magic!
Delfonics live feat Greg Hill Bio
Greg Hill was a member of Wilbert Harts "Original" Delfonics for more than 15 years. As the second tenor in Wil Harts Delfonics, Greg toured the United States and abroad performing for audiences worldwide. Greg performed on the 2005 PBS Special "Soul Legends" and also recorded an album with Wil Harts Delfonics entitled "Fonic Zone" that was featured on the TV series "Unsung". This CD also included a single with Platinum recording artist Rick Ross that was distributed by Universal.
Greg was a former bassist for Teddy Riley & worked for the New Edition organization for several years. Hill also co-founded the R&B group "The Concept" in the late 80s and signed with Capital Records in 1990. Hill produced the groups first album titled "Taint My World" and co-wrote most of the songs. The Concept released a single off the album call "Homegirl" which was written by jazz bassist Victor Bailey (formerly of weather Report) and bassist for Madonna, George Benson and many others. Greg is also the founder and CEO of the "Soul 1 Entertainment Group". An artist booking and management agency located in New York City which is currently booking artists such as Blue Magic, The Manhattans, The Blue Notes, Meli'sa Morgan, Ray, Goodman & Brown, Glenn Jones, Black Ivory, Surface and Atlantic Starr just to name a few!
Along with Greg Hill "Delfonics Live" , the "Soul 1 Entertainment Group" is currently managing: The Dells Revue, Rose Royce Revue feat Pamela Cornelius, The Stylistics Revue feat Van Fields, The Persuaders Revue feat David Turner, The Supremes Revue featuring Sandra Taylor & The Continental Four Feat original member Anthony Burt.
After many years of touring "periodically" & recording with Wil Hart (an original Delfonic) Greg decided to depart from the group and began touring with his own Delfonics "Tribute Show" which is called "Greg Hill DELFONICS LIVE" (no relations to William Hart or the Delfonics trademark) Greg and his Delfonics Revue has been in existence and touring for well over 18 years and has established a solid fan base throughout the United States and abroad. After retiring from Wilbert Harts Original Delfonics, Greg's first concert appearance with his Delfonics unit was in 2002 in which they co-headlined with Melba Moore and the rest is history!
Greg Hill & his Delfonics Live show is one of the most popular classic soul groups on the R&B tour circuit, averaging 35-40+ concert dates per year. Selling out Clubs, Auditoriums and Concert halls from Boston to California and are planning to tour overseas in the near future!
In 2016, Greg Hill along with former heavyweight champion Micheal Spinks received lifetime achievement awards for their contribution in music & sports industry at the 2016 Pocono Mountains Film Festival.
The Greg Hill / Delfonics Revue stage show is filled with many of the Delfonics greatest hits like; La La Means I Love You, Didnt I Blow Your Mind, Ready or Not & many more...just to name a few! The original Delfonics is well known for their smooth harmony and legendary choreography that has brought them worldwide fame so needless to say, with over 25 years of history and knowledge behind him, Greg Hill along with current members Tommy Moore and Benny "Primetime" Daniels (formerly of The Stylistics Revue) continues to take the legendary "Sounds Of Philly Soul" to a new level in sight and sound!
Yes, there are several other Delfonic groups out there but the "GREG HILL "DELFONICS LIVE" SHOW" is not just another Delfonics show. Its a musical experience featuring the very best in classic soul"Feel The Magic" of DELFONICS LIVE Feat Greg Hill!
---
You may also enjoy these amazing upcoming shows!
Thu-Sun, Dec 9-12: Tony! Toni! Toné!
Wed-Fri, Dec 29-31: The Stylistics
Fri-Sun, Jan 14-16: Lalah Hathaway