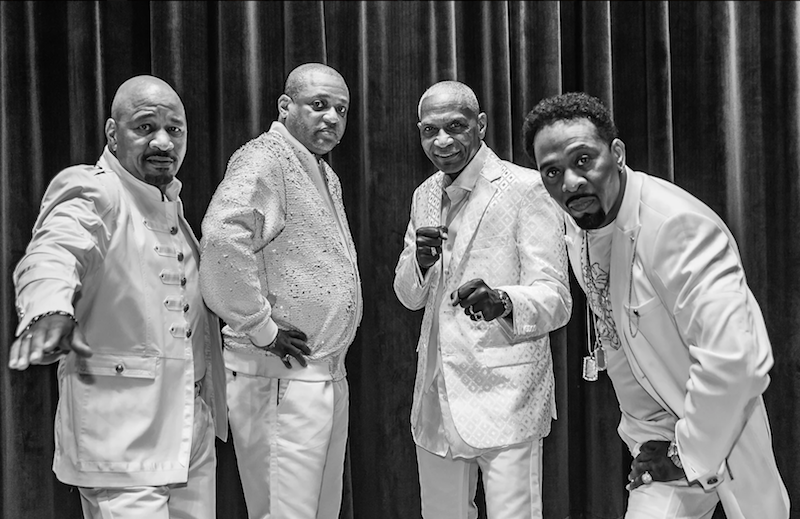 New Year's Eve Celebration!
THE STYLISTICS
December 29, 2021

Doors: 7:30pm / Show: 8:00pm

December 30, 2021

Doors: 7:30pm / Show: 8:00pm

December 30, 2021

Doors: 9:45pm / Show: 10:00pm

December 31, 2021

Doors: 7:30pm / Show: 8:00pm

December 31, 2021

Doors: 10:30pm / Show: 11:00pm
Make dinner reservations for New Year's Eve and enjoy our special NYE Prix Fixe menu.
---
The Stylistics was formed in Philadelphia, PA in 1966 from two groups, "The Percussions" and "The Monarchs". When members from each group were drafted or went on to further their education, the remaining members under the guidance of their English teacher Beverly Hamilton joined forces and changed the name to "The Stylistics".
After working locally for a number of years, the group was approached by Bill Perry who asked if they would be interested in recording. Their first song "You're a Big Girl Now" was recorded at Virtue Recording Studio, a local studio in Philadelphia. This song was written by the group guitarist at the time, Robert "Doc" Douglas and Road Manager, Marty Bryant. The sessions cost Bill Perry a little over $500.00 to produce and was released locally. It was soon picked up in the tri-state area and before long, it became a number 1 hit in Philadelphia and a few other cities.
Bill was interested it promoting the record nationally but didn't have the resources. He decided to contact Avco Records and made a deal. Rumor has it, Bill received over $10,000.00 from Avco of which the group never saw a dime.
After the success of "You're A Big Girl Now", Avco wanted to naturally follow up with an album release. Hit veteran producer Tom Bell was contacted and was hired to produce the group's first album. The album was entitled "The Stylistics" and from that album came "Stop, Look, Listen to your Heart", "You Are Everything" and "Betcha By Golly Wow". The success of the first album was phenomenal for that time along with an unheard release of six singles in total.
The ball continued to roll with the release of their second album entitled "Round Two". The Stylistics were becoming known as the Philly group with the sweet love songs. (Check out Discography for the full list of album releases.) Herbert Murrell and Airrion Love are the remaining original members of The Stylistics. Friends since junior high school, Herb and Airrion have managed to keep their institution of 70's music alive. It was thought to be the end of the Stylistics following the departure of their original lead singer, but as in life "THE SHOW MUST GO ON"
We have a number of friends and fans that have become a vital part of our lives. Some have even taken time out of their busy schedules to put together additional websites and web pages with added information.
Please checkout these fan base websites and we want to thank them all from the bottom of our hearts. "Without U there could be no Us." You really know how to make us feel Loved.
---
You may also enjoy these amazing upcoming shows!
Wed, Jan 5: Kindred The Family Soul
Sun, Jan 9: A Brand New Day: Terry Steele Sings Luther Vandross
Tue, Jan 11: Cornell CC Carter