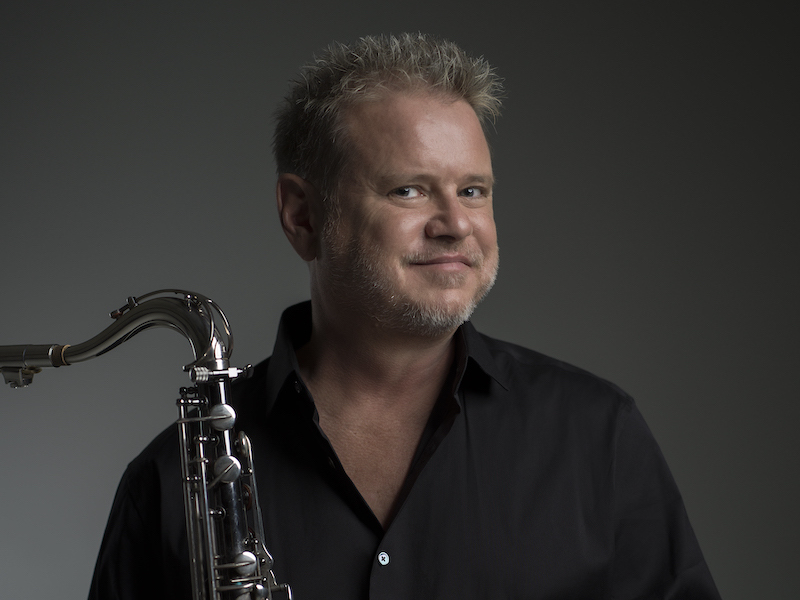 Chart-topping smooth jazz saxophonist
EUGE GROOVE
September 3, 2022

Doors: 7:00 PM / Show: 7:30 PM

September 3, 2022

Doors: 9:15 PM / Show: 9:30 PM

September 4, 2022

Doors: 6:30 PM / Show: 7:00 PM
Chart-Topping Saxophonist/Composer & Producer Euge Groove Reminds Us Of The Rewards Of Staying True On Sing My Song
Anticipated New CD Due Out On June 26th Features Guest Appearances From Maysa, Peter White, Paul Brown & Phillipe Saisse & Others!
"These times have unleashed a creativity in me that I haven't felt in years. I think it's been a time of self- reevaluation. A cleaning of the house so to speak," confides Euge Groove, who has been first call for everyone from Tina Turner, Richard Marx and Joe Cocker to Tower of Power and Huey Lewis. The chart-topping saxophonist, composer and producer who has scored close to a dozen #1 hits, will release his twelfth recording as a leader, Sing My Song, on June 26, 2020. "I started work on the album about two and a half years ago. I definitely put everything I had in to it. I had been touring non- stop over the last few years and just found it hard to find the time to dig in without distractions," says Euge. "Along comes Covid-19 and all I have is time. Ever since we went into Lockdown in LA in mid March, I worked nonstop, literally, on finishing the project. Working sometimes 24-hour days. It really wasn't until after I finished last week that the seriousness of the world's situation sunk in. I've decided to continue on that creative path." Euge Groove's unleashed ambition and intention has resulted in an inspired 11-track excursion that is his finest work yet. Surrounded by a cadre of some of the most revered artists on the Contemporary Jazz scene, including Maysa, Peter White, Phillipe Saisse and Paul Brown among others, the camaraderie on Sing My Song transcends the music. "I love these guys. I think of them as friends more than just musicians, even though I love their work. They all brought so much to the table."
Euge Groove has garnered a devout following with his irresistible mix of danceable grooves, mind-bending hooks, technical agility, R&B infused melodies and inspired solos. Sing My Song opens with the sensual and joyous "Hey Boo," which shows off his flawless multi-layered saxophones to perfect effect. He tips his hat to his Tower of Power Days on "Dirty Dozen," the album's first single which is a spunky and intriguing thriller that would work well as the newest James Bond theme. Euge Groove's tenor saxophone snakes through all the choruses on a soulful chase, hitting all the right notes. The song "Rise" transports us back to the classic CTI sound as Euge Groove does a dazzling recreation of Herb Alpert's 1979 hit. The track features guitarist Paul Brown, who creates beautiful synergy with Euge on the song. "Paul Brown has been a mentor of sorts when it comes to mixing and arranging the songs," confides Euge Groove. Sing My Song also features the gorgeous gospel-tinged ballad "Until Tomorrow," featuring Euge's pristine soprano and guitarist Peter White. "Peter is one of my besties. I also look up to him as an artist. He never disappoints!" Returning the favor to us all Euge Groove does not disappoint on "Say I Won't" as he serves up his growling tenor on the energized and playful and modulating ditty.
Sing My Song's title track and show-stopping number is co-penned by Euge and his label-mate, singer songwriter Lindsey Webster and features the dynamic and always consistent songbird Maysa. Webster was a guest vocalist on Euge's album Groove On and this is the first time he and Maysa have recorded with one another. "I love Lindsey and her writing and I've been a huge Maysa fan for years," confides the saxophonist. "The lyric, song and performance really hit the core of my soul. I think the theme is something everyone can relate to no matter what your 'song' may be. To me, it's all about staying strong inside no matter what others may think. You have to value yourself from within, not through the eyes of others." There is a re-mix version of this song at the album's finale that highlights a lush orchestral arrangement by Phillipe Saisse. "Phillipe is truly a gifted artist in so many ways. His orchestral arranging is just beautiful. I asked him to do a full orchestral arrangement, not just strings, but strings, brass, woodwinds, percussion, the whole thing," explains Euge. "I remember getting his arrangement on a Friday evening. Shortly after he sent me the remix version of 'Sing My Song' with just Maysa, myself, and the orchestra. I was blown away. He did it just for fun, but I knew it had to make the album. So, I included it as a sort of a bonus cut. His arrangement is another reason the song became the title track." The romanticism sustained and legato tension of Euge Groove's tenor playing on "Gatito" is a memorable tribute to Argentinean saxophonist Gato Barbieri. "He was very influential in my early years of playing," shares Euge Groove. "He played with such passion." Euge shifts to cruise-control for "The Journey Ahead" and explains, "This song is all about pushing forward. When one door opens to the next we often have no idea where it will lead us. There are moments when you open those doors where you just feel like "ahhhhhhhh." It just feels so good. The bridge to 'The Journey Ahead' captures that feeling for me." Euge Groove shows off his ability to paint melodies that have a way of staying in your mind on the assuring "Of Course" and the composition "Good Night" closes the chapter and turns the page on another winning Euge Groove recording.
Euge Groove's musical sensibilities are hard-won. Born Steven Eugene Grove in Hagerstown, Maryland, he grew up in a musical home. His mother played piano and taught the church choir and Euge began his musical pursuits at the age of seven, beginning with piano and adding saxophone at nine. Two saxophonists had a profound effect on his approach to playing. "One was French classical player Marcel Mule, who really defined what the sax was supposed to sound like for me and the other was David Sanborn, who took that sound and brought it into the mainstream world," Euge reminisces. Through the years, Euge's love of Jazz, R&B, Gospel and Blues have all come together to inform his personalized sound. He explains, "I've listened to everyone from Grover (Washington, Jr.) and Sanborn to (Charlie) Parker and Coltrane, as well as (Michael) Brecker, (Stan) Getz, King Curtis, Jr. Walker, Richard Elliot and Kirk Whalum. The more mature we become the more those influences fuse into something new. A graduate of Miami's School Of Music, Euge launched his professional career in Miami in the mid-80s, playing in salsa bands, Top 40 club bands and doing the occasional high-profile session date like Expose's "Seasons Change," a #1 Billboard AC hit. In 1987 he moved to L.A., wrote a track for Richard Elliot's The Power of Suggestion and Elliot recommended Euge to take over his spot in Tower of Power. Euge toured with TOP for four years, including a year backing Huey Lewis & The News. He went on to record, tour or perform with the likes of Joe Cocker, The Eurythmics, The Gap Band, Elton John, Bonnie Raitt, Aaron Neville and Richard Marx (that's Euge's horn on "Keep Coming Back," a #1 AC hit duet he recorded with Luther Vandross). In 1999, Euge started recording his own material, dubbing himself Euge Groove, and posting his music on the now-defunct MP3.com website; downloading started almost immediately and Euge was soon topping the MP3.com Jazz chart. He signed soon thereafter with Warner Bros. "Vinyl," his first single from his eponymous Warner Bros. debut, set a record by spending 27 weeks on the R&R charts, eventually ranking #24 for the year. In 2004, Euge Grooves' Narada debut, Livin' Large, spent 68 weeks on the Billboard charts. The title track was the #5 most played song for 2004 on the R&R singles chart. Just Feels Right followed in 2005 and its first single was #1 for two months. There followed in the next decade a string of hit singles and best-selling albums; his hit "Religify" was 'song of the year' in 2007, and his albums S7ven Large and House Of Groove each spawned #1 hits. Got 2 Be Groovin' came in 2014 and 2016 saw the release of Still Euge, which featured the hit title track as well as memorable vocal appearances from Oleta Adams and Rahsaan Patterson. Groove On was released in 2017 featuring and the title track scored yet another #1 for him.
With the release of Sing My Song Euge Groove hopes the music will connect with his fans. He concludes, "They call turning in an album to the record label 'delivery' for a reason! Each of these songs are like children to me. There is so much time and focus put into each one. I hope the music touches people and they will hear this and feel this labor of love."
---
You may also enjoy these amazing upcoming shows!
Thu Sep 8: Juan Escovedo
Tue Sep 13: Wayne Krantz Trio
Wed Sep 14: Simpson & Joyner