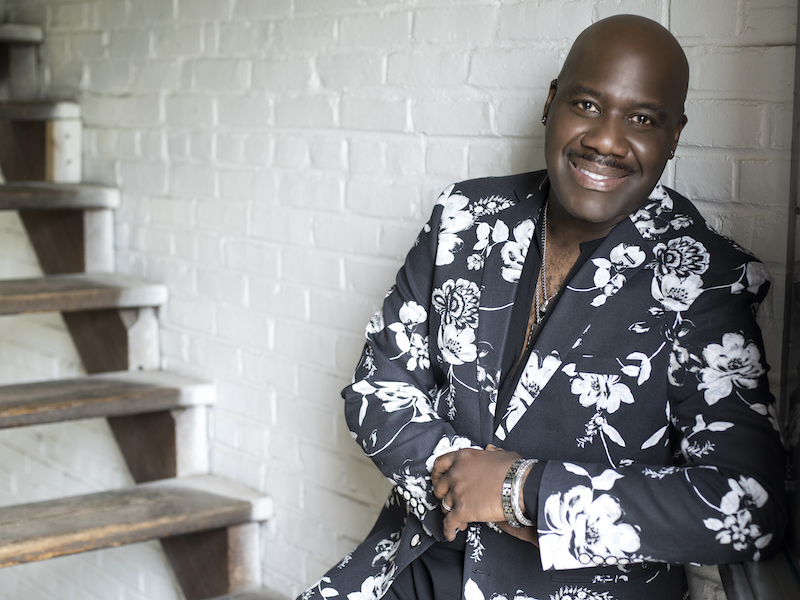 Unapologetic, unabashed romantic music
WILL DOWNING
October 5, 2022

Doors: 7:30 PM / Show: 8:00 PM

October 6, 2022

Doors: 7:30 PM / Show: 8:00 PM
How does an artist or his work withstand the test of time?
A famous designer once said: "I love things that age well – things that don't date, that stand the test of time and that become living examples of the absolute best" - Giorgio Armani
While he was most likely referring to his own sartorial preferences, that quote is a perfect summation of one particular artist and his body of work…"The Prince of Sophisticated Soul" Mr. Will Downing. More than his considerable sales and accolades, this quote may hold the perfect key to best measure his ever growing legacy. Think about it…as in the quote…the music of Will Downing has aged well, doesn't date, has stood the test of time and over the course of a 27 year career he has unquestionably become a living example of the absolute best that smooth R&B and Soul has to offer.
Indeed it is time to give this man his due, time to recognize his unique stature amongst today's male vocalists. Time to fully appreciate…yes the very time and effort put into the process of consistently fusing classy romantic lyrical content with quality musical production. While we're at it, hell…it's even time we created new adjectives to describe the very voice that is Will Downing!
Downing has certainly put in his time! Before signing with Island Records in the 80's, he received his first national exposure as a much sought after backing vocalist. He recorded two albums with modest success domestically before his self-titled Will Downing release spawned a major hit in the U.K. with a Top Ten charting cover of "A Love Supreme" catapulting the album to platinum sales there.
Downing's big stateside breakout album, A Dream Fulfilled, in 1991 perfectly showcased his distinctive baritone vocals and began to unveil his gift as a song interpreter with an array of diverse tracks such as War's "The World Is A Ghetto", Paul Davis' "I Go Crazy" and a stunning version of Angela Bofill's "I Try". Both the "I Try" single and album hit the Urban Top 25 Charts with critical acclaim.
A Dream Fulfilled began a period of musical identity for Downing and led a string of successful albums that focused on smooth, ballad driven romantic music. While greatly influenced by his friend the late Luther Vandross, Downing was actually creating his own brand of love music that was less urban and more jazz influenced. Despite the stylistic comparisons and contrasts, he shared Luther's sensibilities and flare for singing to women on a truly emotional and romantic level. Throughout the 90's and early 00's, Downing recorded frequently on multiple record labels and became a fixture at the top of the contemporary jazz charts, courtesy of a number of solid releases. Quite possibly the crown jewel of this era was a jazz infused album of duets with saxophonist Gerald Albright, Pleasures of the Night, while his lone album on Motown All the Man You Need garnered a 2001 Grammy Nomination for Best Traditional R&B Album.
Will Downing has persevered through the good times and the not so good times. In early 2007, he contracted the rare muscular disease Polymyositis, which sidelined him for most of the year. It was a devastating and debilitating condition which landed Downing in a wheelchair and caused him to lose nearly 100 pounds. Despite the setback, Will was determined to complete his debut album for Peak Records, After Tonight, for which he had already recorded four songs prior to his illness. Incredibly, during the Spring of 2007, he worked from his home, putting down vocals despite severe weakness and fatigue.
He would later say it was "the hardest thing I've ever done", as the effort required that he painstakingly move from chair to bed to complete a vocal piece. But out of this situation came another five wonderful songs, including the album's gem, "God Is So Amazing," a simple, melodic testimony of unshakeable faith during truly difficult times. In June 2009, a fully recovered Downing returned with a creative vengeance with Classique, teaming with longtime collaborator Rex Rideout to rediscover their studio magic. Indirectly, the release made the emphatic statement that Will Downing was back! This was further cemented in 2010 when Downing conceived a unique "audio novel" concept entitled Lust, Love and Lies, which detailed a romantic relationship going through various stages, mixing spoken language and humorous interludes with a very strong collection of original songs (and one cover) to tie together an engaging storyline.
In more recent years, Will cleverly released a series of limited edition EPs across 2011- 2012 to feed his fan base a constant flow of great new music and then celebrated an amazing 25 year anniversary in the music business with 2013's apply titled Silver. The album was an incredible musical milestone and included an instant wedding classic entitled "The Blessing". Spring 2014 was ushered in with the release of Euphoria, which managed to display a somewhat new Will Downing sound. Featuring a slightly stripped down "acoustic-lounge" production approach, the project pulled the listener in for an even more intimate experience, which was perfectly exemplified by the album's first single, a fresh and unique take on the Teddy Pendergrass bedroom classic, "Turn Off The Lights". This period formed a deep emotional connection with the listening public if online music resource SoulTracks Reader's Choice Awards is any indication, as Will Downing was honored in 2012 for Song of the Year ("The Blessing), 2013 for Song of the Year ("You Were Meant Just For Me" feat. Avery Sunshine) and voted 2014 Male Artist of the Year.
After all of this time, there will be no slowing down for Will Downing in the year 2015 as he gears up to release his 18th studio album, "Chocolate Drops"! Those close to him will recognize the title's play on words associated with a WD Chocolate online alias that Downing has frequently used to own the affectionate reference heard over the years regarding his signature smooth dark-brown complexion. The "drops" reference…well that's where the genius is! Teaming again with keyboardist Chris "Big Dog" Davis as his main production and writing collaborator, Downing assembles another dazzling collection of originals coupled with some daring and captivating R&B classic interpretations. Female fans will easily embrace the "genie in a bottle/your wish is my command" vibe of the lead single, "I Can Never Say No To You", with Will confessing a love so deep that no request will be left unsatisfied. Male fans will be sent a subtle message to step up their romance game!
The album's interpretations are absolutely fearless to say the least. If tackling an iconic Teddy Pendergrass hit caught your attention on the last release, brace yourself to hear Will giving the grown-man treatment to Whitney Houston's "Saving All My Love For You" and Bobby Taylor and The Vancouver's "Does Your Momma Know About Me". Beautifully shaped and crafted by Will Downing's multi-textured vocal instrument, "Chocolate Drops" is sure to be a tasty treat for every lover of smooth heartfelt soul!
Will continues to give back to the community and actively seek opportunities to lend his time, name or presence to the awareness and fundraising efforts of the Muscular Dystrophy Association (MDA) and other charities and even donated a portion of the sales proceeds from his last release to MDA after a social media driven appeal for support for the organization that helped him with his own battle with Polymyositis. As a member of Omega Psi Phi Fraternity, Inc., Downing seeks to expand an effort to personally mentor aspiring singers and musicians through invitations to join him at sound checks and backstage on performance dates.
Similarly, a recently launched web-based series produced by social media guru Ashley Scott through his Soulful Sounds Series educational program which is allowing Will an opportunity to share professional vocal and recording tips directly to aspiring artists. Will also continues to connect with his community and fan base through a web-based radio show which he hosts and produces, called The Wind Down, which is now rebroadcast on a growing number of stations from here to Japan.
Downing balances work with off-the-road life in New Jersey as a loving husband and father, humbly passing the test of time and being that timeless living example of the absolute best at what he does!
---
You may also enjoy these amazing upcoming shows!
Wed Oct 19: Christopher Williams
Mon Oct 24: Top shelf! A tribute to the classics
Sat-Sun Oct 29-30: Miki Howard