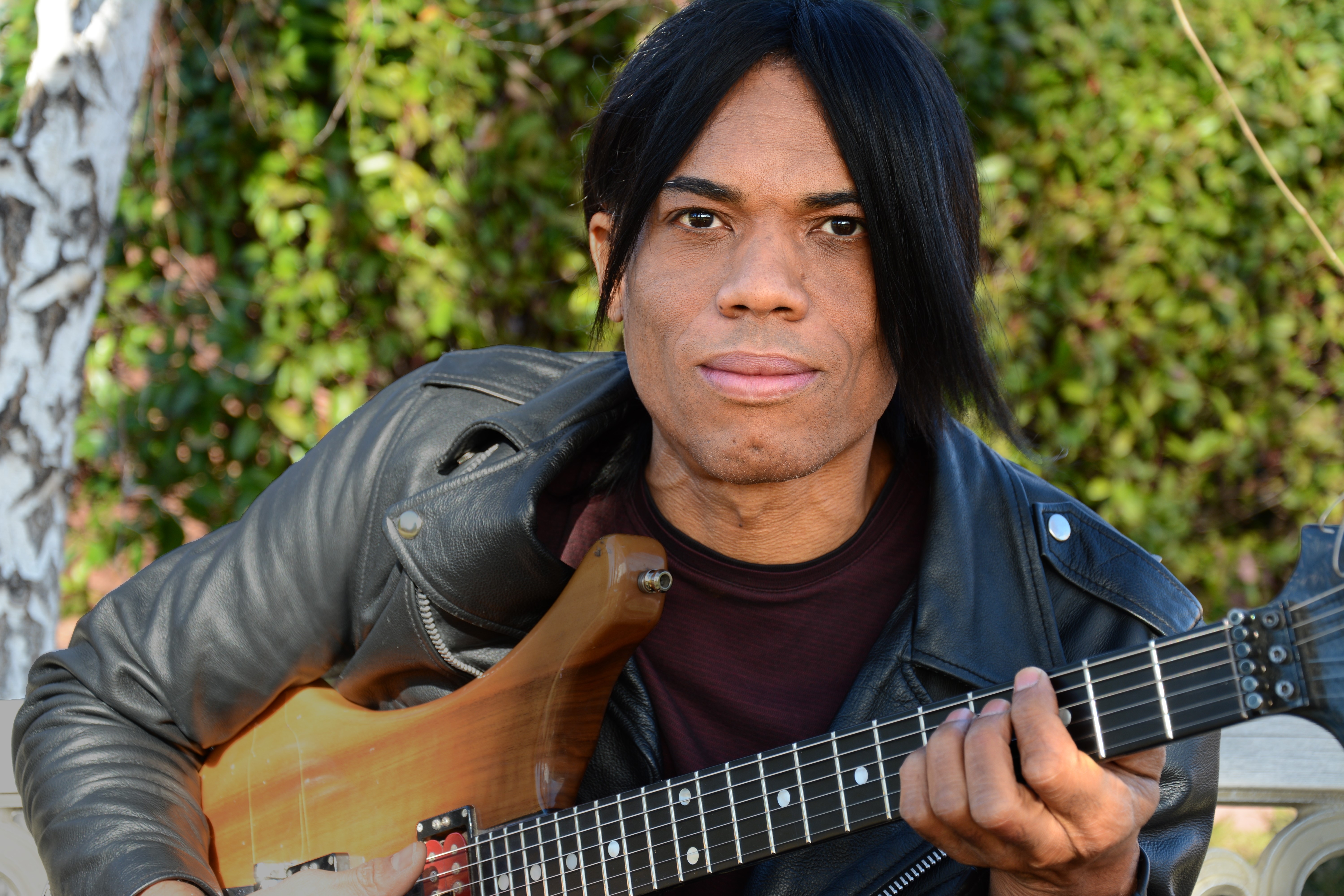 Guitar virtuoso
STANLEY JORDAN JAZZ TRIO
May 13, 2022

Doors: 7:30pm / Show: 8:00pm
In a career that took flight in 1985 with commercial and critical acclaim, guitar virtuoso Stanley Jordan has consistently displayed a chameleonic musical persona of openness, imagination, versatility and maverick daring. Be it bold reinventions of classical masterpieces or soulful explorations through pop-rock hits, to blazing straight ahead jazz forays and ultramodern improvisational works—solo or with a group—Jordan can always be counted on to take listeners on breathless journeys into the unexpected.
Key to Jordan's fast-track acclaim was his mastery of a special technique on the guitar's fretboard. Instead of conventional strumming and picking, Jordan's innovative "touch technique" is an advanced form of two-handed tapping. While a handful of other players were using similar techniques, Stanley's fluid, multi-layered textures and sheer virtuosity raised the bar for excellence. But his technique, though impressive, is always a means to a musical end. His music is imbued with a warmth and sensitivity that has captured the imagination of listeners worldwide. A classically trained pianist before playing guitar, Jordan wanted greater freedom in voicing chords on his guitar, so he applied piano principles to do so. Jordan's touch technique allows the guitarist to play melody and chords simultaneously with an unprecedented level of independence. It also allows Jordan to play simultaneously on two different guitars, or even on guitar and piano. He says that "I think of it as a single instrument, but one with a wide range of tonal colors—that's why I do it."
To date Jordan has performed in over 60 countries on 6 continents. He has performed at many festivals, including the Kool Jazz Festival, the Concord Jazz Festival, and the Montreaux International Jazz Festival. During the 1980s he collaborated with a diverse array of artists, including performances with Art Blakey and Richie Cole and recordings with Stanley Clarke and Kenny Rogers. The track with Rogers, "Morning Desire", became America's #1 country song in 1986. Later Jordan became a frequent guest with Les Paul during Paul's legendary Monday nights at Iridium in New York. Today Jordan performs frequently as a soloist and with his band, as well as collaborating with other guitarists such as Kevin Eubanks, Sharon Isbin and Muriel Anderson. He's also a frequent guest with jam bands such as the Dave Matthews Band, the String Cheese Incident, Phil Lesh, Moe and Umphrey's McGee.
Jordan has received four Grammy nominations. His most recent album "Friends" was nominated for an NAACP Image Award. Los Angeles Times jazz critic Leonard Feather wrote, "Genius is a word often tossed around in musical circles, but it has been rightfully applied to Stanley Jordan."
Stanley Jordan was born in Chicago, Illinois, and grew up in the San Francisco Bay Area. He began his music career at age six studying piano, then shifting his focus to guitar at age eleven. He then began playing in rock and soul bands. In 1976, while still in high school, Jordan performed with Quincy Jones and tied for first place as a soloist at the Reno International Jazz Festival. In 1981 he earned a BA in music from Princeton University, where he studied theory and composition with composer Milton Babbitt and computer music with composer Paul Lansky. While still at Princeton, Jordan performed with Benny Carter and Dizzy Gillespie.
Jordan came to prominence with the release of his 1985 album Magic Touch, a revolutionary project that placed him at the forefront of re-launching legendary Blue Note Records into a contemporary entity in jazz and beyond, as also established the then-twenty-something Jordan as among the most distinctive and refreshing new voices of the electric guitar. Jordan had begun applying his unique technique to his already exemplary traditional playing ten years prior to the Magic Touch album. Though Jordan showcased the technique in a variety of musical styles from swing to rock, it was smooth jazz radio support for his singular versions of "The Lady in My Life" (first recorded by Michael Jackson) and the Beatles' "Eleanor Rigby" that sent Magic Touch to the top of Billboard's jazz chart for a stunning and record-breaking 51 weeks. The album became a gold-seller (over 500,000 sold in the U.S. alone) - outstanding for any jazz or instrumental CD.
Subsequent albums found Jordan ushering his audience into deeper levels of his artistry and stretching his music beyond stylistic boundaries. These projects included a solo guitar album titled Standards Volume 1 (1986) where Stanley made the bold statement that songs by the likes of Stevie Wonder and Jimi Hendrix deserved recognition as standards just as much as older chestnuts like Hoagy Charmichael's "Georgia On My Mind." He followed that with the dance-pop album Flying Home (1988) and the especially edgy Cornucopia (1990), which spanned the gamut from straight-ahead jazz recorded live to multi-dimensional originals recorded in the studio. Still later in 1994 after a move to Arista Records (then helmed by pop music maverick Clive Davis), he recorded the bracingly eclectic Bolero album, featuring covers of Herbie Hancock's "Chameleon," Jimi Hendrix's "Drifting," his original "Plato's Blues" and the CD's centerpiece, a 17-minute arrangement of Ravel's "Bolero", which flowed seamlessly between rock, African, Latin, "groove" and "industrial" sections. During this era, Jordan also made history by creating the seminal "startup" sound for the first generation of Power Macintosh computers.
In 2002, Stanley released the album Dreams of Peace with the Italian band Novecento. It was remixed and re-released in the USA in 2004 on Steve Vai's Favored Nations label. Independently, he recorded two CDs: Ragas (a collaboration with musicians from India featuring Jay Kishor on sitar) and Relaxing Music for Difficult Situations Volume 1, an audio extension of his interest in music therapy. In 2007 Jordan signed with Mack Avenue Records and released State of Nature in 2008 and Friends in 2011. For Friends, he invited musical guests including guitarists Bucky Pizzarelli, Mike Stern, Russell Malone and Charlie Hunter; violinist Regina Carter; saxophonists Kenny Garrett and Ronnie Laws; trumpeter Nicholas Payton; bassists Christian McBride and Charnett Moffett; and drummer Kenwood Dennard. The results proved truly outstanding on numbers ranging from a Bela Bartok piece to a Katy Perry pop smash, a heady original blues and three jazz classics spanning swing, cool, samba and modern.
Jordan has been known to TV and film audiences as well. In 1987 he made a cameo appearance in the Blake Edwards movie Blind Date, starring Bruce Willis and Kim Basinger. In the tribute film, Les Paul: He Changed the Music Jordan performed with a guitar supergroup including Les Paul himself, Eddie Van Halen, BB King, Steve Miller, David Gilmour, and Brian Setzer. In 1995 Jordan created the score for the short film One Red Rose, starring Hill Harper and Victoria Rowell, directed by Charlie Jordan. In 1996 he created the score for an ABC afternoon TV special Daddy's Girl, directed by Diane Wynter. Since the mid 80s he has performed on numerous television shows, including The Tonight Show with Johnny Carson, The David Letterman Show and the Grammy Awards. One notable appearance was a duet on the Tonight Show with the late rock superstar Robert Palmer.
Stanley is committed to music as an artistic, spiritual, and even health-promoting endeavor. He has been immersed for more than a decade in music therapy, towards which he is now working for a master's degree at Arizona State University. His involvement with music therapy leads him to do outreach in schools, hospitals and other venues wherever he tours. He is an artist-spokesperson for the American Music Therapy Association, and he has done numerous lectures and demonstrations on the healing applications of music.
Jordan has maintained an extensive and consistent international touring schedule. In between tour stops he is now at work on his next highly anticipated album from Mack Avenue Records, for release next year.
Jordan is currently a resident of Sedona, Arizona. He has one daughter, Julia. Julia Jordan is a singer/songwriter living in Lancaster, Pennsylvania who sometimes collaborates with her dad.
---
You may also enjoy these amazing upcoming shows!
Tue, May 24: Brubeck Brothers Jazz Quartet
Thu, May 26: Davell Crawford
Fri-Sun, May 27-29: Stanley Clarke