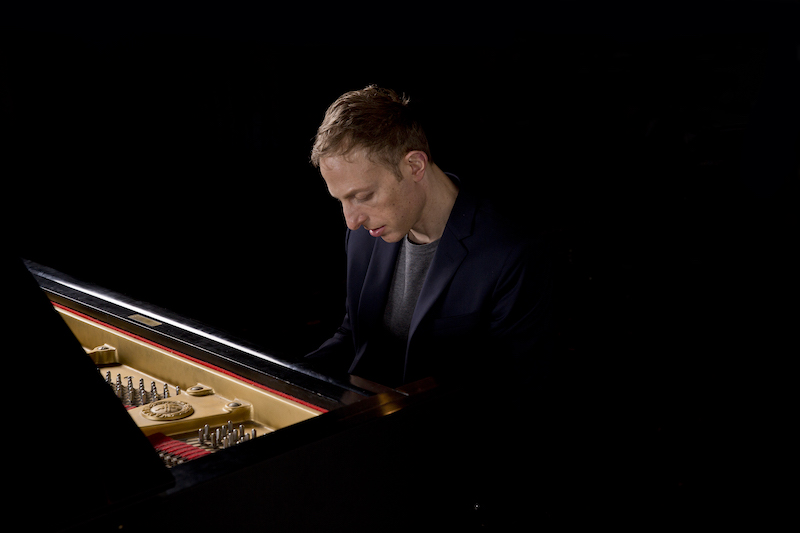 Mon October 25, 2021
This event will also be livestreamed
NOAH HAIDU, WILLIE JONES III & BUSTER WILLIAMS
Doors: 7:30pm Show: 8:00pm
Rising star pianist/composer Noah Haidu's trio comes to Yoshi's touring for his latest albums SLOWLY: Song for Keith Jarrett and DOCTONE. Clips from the Kenny Kirkland documentary DOCTONE, will be previewed before the show. Noah's book of interviews, also part of the DOCTONE project, will be available for purchase.
Featuring Haidu with Buster Williams and Wille Jones III
"A rising star in New York's vibrant jazz scene…Haidu is one of the finest young jazz lions"
-Edward Blanco / JazzTimes
"Unquestionably one of the most confident and impressive of all the new pianists…Haidu is an important new talent."
-Tony Hall / Jazzwise Magazine (UK)
SLOWLY: Song for Keith Jarrett was recorded at the end of 2020, a watershed year for pianist Noah Haidu. As critical accolades streamed in for his innovative multi-media release DOCTONE, Haidu was on the verge of realizing another ambitious project released via Sunnyside Records on May 7, 2021, one day before Jarrett's 76th birthday.
The decision to focus the album's material around the great Keith Jarrett crystallized when news broke of Keith Jarrett's retirement due to a pair of debilitating strokes. "When I heard about Keith," says Haidu "I was profoundly moved, and I started to envision a kind of musical response to these events and Keith's body of work." The album met with great critical success earning Haidu a big write up in the Wall Street Journal from Larry Blumenfeld who observed that Noah has "developed his own compelling brand of pianism…sounding buoyant and free, like a pent-up spirit released."
On his previous release and Sunnyside Records debut Haidu explored the genius of composer Kenny Kirkland with DOCTONE, a musical recording, book and film. Haidu and the project were the subject of a nationally broadcast news story on NPR and critic Nate Chinen singled out the recording as an important new release on All Songs Considered. Along with an acclaimed album of music, the project featured interviews and collaborations with Sting, Jason Moran, Billy Hart, Jeff "Tain" Watts, and many others.
At age 19 Haidu studied at Rutgers University with the great pianist Kenny Barron, but was soon skipping classes to sit in at jazz clubs in Barron's hometown of Philadelphia. After his second year, Haidu left college and moved to Brooklyn to devote all his time to practicing and gigging with artists such as Walter Perkins, Duane Eubanks, Essiet Essiet, Melvin Sparks, Jeanie Bryson, and Norman Connors. After the debut of his first album Slipstream, All About Jazz said of Noah, "The cat can play his butt off." In 2011, His subsequent albums and sideman work have seen him collaborating with Ambrose Akinmusire, Mike Stern, Jeremy Pelt, Sharel Cassity, and Vincent Herring. After a 2015 MOCA concert his music was dubbed "vibrant and adventurous" in the Miami Herald. Giovanni Russonello described him as "an artist of focus and vision." In 2017, DownBeat Magazine featured Haidu in an article entitled "Subversive Soul" and singled him out as an "innovative composer."
For his debut at Yoshi's Haidu will be performing music from both his recent albums DOCTONE and SLOWLY: Song for Keith Jarrett. He will be joined by a star rhythm section of bassist Buster Williams who played on SLOWLY and drummer Willie Jones III whose collaboration with Noah dates back to his first album as a leader.
---

Livestream Noah's Yoshi's performance. Enjoy professional sound and multiple viewing angles from the comfort of anywhere that you have a wireless connection.
Buy Tickets for the Livestream Event
---
You may also enjoy these amazing upcoming shows!
Wed, Nov 10: Tommy Igoe
Mon, Nov 15: Count Basie Orchestra
Wed, Nov 17: Mary Lou's Apartment