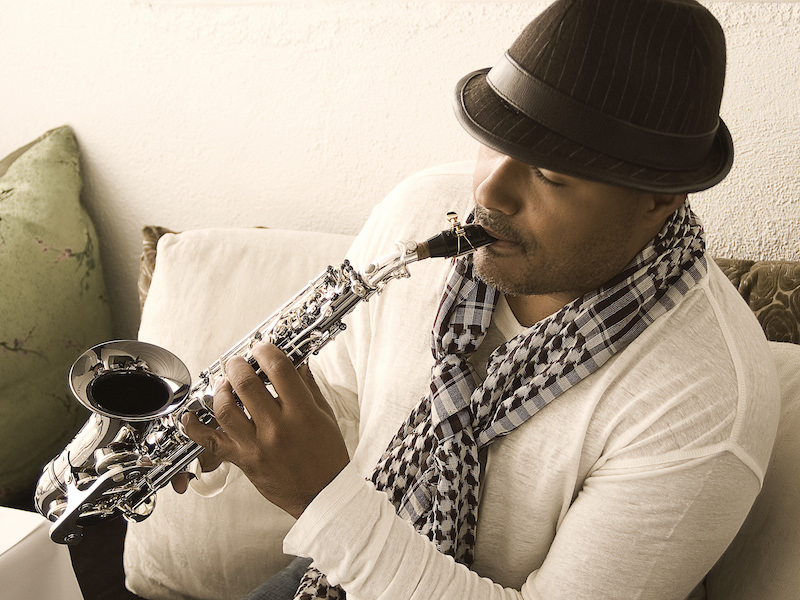 2x GRAMMY©-nominated saxophonist and flautist
NAJEE
January 20, 2023

Doors: 7:30 PM / Show: 8:00 PM

January 20, 2023

Doors: 9:45 PM / Show: 10:00 PM

January 21, 2023

Doors: 7:00 PM / Show: 7:30 PM

January 21, 2023

Doors: 9:15 PM / Show: 9:30 PM
Two-time Grammy nominated saxophonist and flautist, Najee has made a career following his heart and keen musical intuition by pushing musical boundaries, all of which have made him an international pioneer in the music industry. Having collaborated with everyone in the music business from Prince, Quincy Jones to Stevie Wonder, Chaka Khan and Herbie Hancock, Najee's technical agility, grace, compositional prowess, unbridled passion and fearless genre bending have made him one of the most sought after musicians of his generation. With two Platinum and four Gold albums under his belt, Najee is an icon whose musical vision spawned an entire new genre by fusing the music close to his heart (R&B and Jazz).
Born in the Greenwich Village in New York City and raised in Jamaica, Queens; an alumnus of the New England Conservatory of Music, Najee was mentored by jazz giants Frank Foster and Jimmy Heath as well as classical maven and flutist Harold Jones of the New York Philharmonic. When he emerged onto the scene with his soulful R&B, and jazz fused sound, with songs such as "Najee's Theme," "Sweet Love" and "Betcha Don't Know," it was not long before his trademark soprano found a home at the top of the charts and he carved out his own unique niche in the musical landscape. "My first love was the tenor saxophone and flute," confides Najee. "It was my brother Fareed who got me to play soprano saxophone. We would argue over me not wanting to play soprano. Then one day someone gave me a soprano saxophone and I played on his songs. That began my soprano saxophone career and little did I know then, that would be the instrument to make me popular. As I began to develop on my instrument, John Coltrane, Charlie Parker, Yusef Lateef, Grover Washington Jr. and Hubert Laws on flute were some of the artists that inspired me. As an industrious and hungry young musician, Najee had the good fortune of coming through Dr. Billy Taylor's now legendary Jazzmobile program. While a student at the New England Conservatory (where both Najee and his brother attended) he studied saxophone performance with Joe Allard and performed with George Russell and Jaki Byard big bands. After his studies at the conservatory, Najee returned to New York in the early 80s and was lucky to land a gig with Chaka Khan along with his brother and guitarist Fareed (who is now his manager). In 1986, Najee's Theme, was released and the saxophonist earned a slot on tour with singer Freddie Jackson. The following year, Day By Day was released, and in 1991, Tokyo Blue, which is one of Najee's most successful and enduring recordings. Tokyo Blue (which was produced by Najee's brother Fareed) and Day By Day both went Gold and led to two Soul Train Awards for Najee (Best Jazz Artist in 1991 and 1993). Just An Illusion came in 1992 and around this time he collaborated with such iconic figures as Quincy Jones and jazz greats Stanley Clarke, Billy Cobham and Larry Carlton which resulted in the album Live At The Greek. Following his collaborative live album, his next album Share My World was released in 1994 and was followed in 1995 by a critically acclaimed tribute to Stevie Wonder's 1976 classic, Songs In The Key Of Life. The CD was produced by George Duke and features Herbie Hancock and Sheila E. among others. His CD Morning Tenderness was released in 1998 and went to #1 on the contemporary jazz charts. Also released the same year was The Best of Najee, and his tour with the USO for the troops in the Mediterranean: Spain and Turkey.
For Najee, the late '90s were marked by extraordinary international experiences, from performing at Nelson Mandela's birthday celebration in South Africa to playing as a special guest of President Clinton at the White House at an event honoring President Jerry Rawlings of the Republic of Ghana. Najee also spent two years of touring (2001-2003) with Prince and appears on Prince's albums "Rainbow Children" and "One Night Alone". In 2003 Najee released Embrace featuring special guests Roy Ayers and BeBe Winans. My Point Of View was his follow up in 2005 featuring his good friend and vocalist Will Downing. In 2006, Najee won an NAACP Image Award for "Best Jazz Artist". 2007's Rising Sun, joined Najee with Phil Perry and Mind Over Matter, from 2009 paired Najee with singer Eric Benét. 2012 saw the release of Najee's critically heralded The Smooth Side Of Soul. In 2013, Najee released his second recording for Shanachie Records, The Morning After – A Musical Journey; which earned him a NAACP Image Award Nomination for "Outstanding Jazz Album" (2014) and Soul Train Awards Nomination for "Best Contemporary Jazz Performance" (2014).
Najee's third album for the label, You, Me And Forever, released on June 23, 2015, is an inspired collection of songs that break the often heard formulaic approach. Instead, Najee harnesses his expansive musical palate to craft a sonic journal that fuses his love of jazz with R&B, Brazilian music, blues and pop. His latest musical offering is a commanding statement and affirmation as to why he has long reigned as the King of contemporary jazz. Najee assembles an all-star cast of musicians on You, Me And Forever that includes pianists/composers James Lloyd (Pieces Of A Dream) and Robert Damper (Kenny G). The album also features guest spots from vocalist Frank McComb (Branford Marsalis, Buckshot LeFonque, Gamble & Huff), guitarist and vocalist from Najee's touring band, Chuck Johnson, and singer Andrea Wallace (Kirk Franklin). The making of You, Me And Forever was intercontinental as Najee recorded the music in such diverse and far apart locations as Kansas City and London. Equally at home playing the tenor, soprano and flute, Najee features all three throughout the CD. "As a whole they all make up my musical personality," he explains. "The instrument I use depends on the composition. However, I did play more flute on this recording." Najee's intoxicatingly warm and sweet flute opens You, Me And Forever on the fluid and majestic original "Air." He effortlessly soars over blistering up tempo passages supported by a funk and groove-heavy rhythm section. Switching to tenor, Najee and Chris "Big Dog" Davis let loose on a bluesy number he penned with fellow saxman Alex Bugnon, "Fly With The Wind." Then, Najee transports to Brazil with a stellar and tender reworking of Antonio Carlos Jobim's anathematic 1967 Bossa Nova hit "Wave" featuring pianist Robert Damper.
"The CD reflects my need as an artist to show the different facets of my musical personality," comments Najee who enjoys biking, swimming and family time when he is not busy touring. "I enjoy the challenge of recording music that can be commercially accessible and diverse at the same time." Najee's chameleonic artistry allows him to traverse diverse artistic terrain without skipping a beat. He seamlessly moves from Jobim to a rousing version of David Pack and Ambrosia's 1980 Gold selling hit "Biggest Part of Me." The memorable number highlights the powerhouse vocals of guitarist and singer Chuck Johnson. "He's a great talent that I have had the pleasure of featuring every night on the road. We've been working together since 2007." Najee also shines light on the vocal artistry of Frank McComb, whose buttery smooth vocals can be heard on the song "Signature," which the singer co-wrote. Najee's cascading flute elevates us to new heights on the melodically free-flowing and pirouetting "Butterfly Girl." Najee met Andrea Wallace, a member of Kirk Franklin's 'Kirk Franklin & The Family,' while performing at the Dallas Convention Center early in 2015. "She sang a song with me onstage and blew the audience away," the multi-instrumentalist recalls. Najee knew Wallace was the perfect voice to deliver the show-stopping number "Give It All We've Got," which the duo shared hands in writing along with Dean Mark, Gareth Brown and Mark Walker.
Najee joins forces with keyboardist Robert Damper for the album's seductive R&B ballad and title track. The duo go back to their days at the New England Conservatory of Music. "We have been friends ever since. He is a native of Seattle, WA and attended the same High School as Kenny G. He has been Kenny's keyboardist and musical director for well over 30 years." The edgy, syncopated, percussion driven and funk-laced "Spectrum," follows and Najee enlists support from Pieces Of A Dreams' keyboardist supreme James Lloyd for the Ahmad Aladeen composition "Jannah." The playful and synergistic interplay between Najee and Lloyd take listeners on an intimate musical journey as the duo stretch out and take flight. Their riveting performance is the perfect way to conclude You, Me And Forever.
With the release of You, Me, and Forever, Najee concludes, "Making music at this point in my career is still exciting and I am always evolving. As a musician the love of performing for people whether in studio or live is still a gratifying experience. The best feeling to me is presenting something new to the world!"
---
You may also enjoy these amazing upcoming shows!
Thu-Fri Jan 26-27: Fred Hersch and Esperanza Spalding
Sun Jan 29: Matt Schofield Trio
Thu-Fri Feb 2-3: Jazz Funk Soul