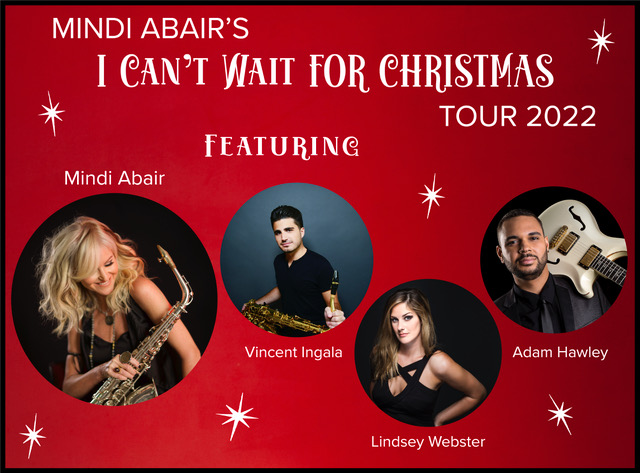 Feat. Vincent Ingala, Lindsey Webster & Adam Hawley
MINDI ABAIR'S I CAN'T WAIT FOR CHRISTMAS TOUR
December 22, 2022

Doors: 7:30 PM / Show: 8:00 PM

December 22, 2022

Doors: 9:45 PM / Show: 10:00 PM
PRE-SHOW WINE TASTING + MUSIC EXPERIENCE ADD-ON AVAILABLE FOR PURCHASE - CLICK HERE!
Adding a fresh twist to one of smooth jazz's most highly anticipated holiday traditions, #1 Billboard charting artist Mindi Abair is celebrating the 2022 season with three of the hottest, multi-talented genre artists (all #1 Billboard artists themselves) from the younger generation on her highly anticipated Mindi Abair's "I Can't Wait For Christmas" Tour featuring Vincent Ingala, Lindsey Webster and Adam Hawley.
For the influential saxophonist and singer/songwriter – a multi-genre powerhouse on the smooth jazz and blues charts for over 20 years - the month-long, 22-date cross country tour extends a popular Christmastime on the road tradition that began with her 2003 jaunt with Peter White and led to over 15 years of sold out holiday shows around the U.S. with White and Rick Braun. In 2007, the three collaborated on the Top 20 album A Peter White Christmas, which included her perennially popular vocal song ("I Can't Wait For Christmas") that Abair is naming this current tour after. She released the original version as a single in 2003.
"Growing up," Abair adds, "I was a huge fan of those TV holiday specials that featured different guests all bringing their unique talents to create a great variety show. In those days, it was Bob Hope and Barbara Mandrell, and now artists like Kacey Musgraves and Michael Buble continue to make that happen. I feel the lineup for this tour could likewise bring that classic little bit of everything vibe to create a memorable show that gets people into the spirit of fun and connection – which, let's face it, we all need after two years of the pandemic. I love Lindsey's voice, the way she sings from the heart and the emotion she brings onstage. Adam is a ridiculously talented guitarist and producer, and has become one of smooth jazz's coolest artists. And Vincent, who I toured with last year as part of Summer Horns, is the most talented guy you can imagine, playing all these instruments and even singing. So you never know what may happen!"
Ingala, whose most recent #1 airplay hit (out of seven total since 2013) was "On the Move" from his seventh album Fire & Desire, adds, "The Christmas season has always been undoubtedly my favorite time of the year. To be able to spend it on the road with my good friends, spreading holiday cheer night after night to some of favorite Christmas songs makes it all that much more special. We truly can't wait for Christmas!"
Webster, the only vocalist to ever score two #1 singles ("Fool Me Once," "Where Do You Want to Go") in a mainly instrumental format, says, "I can't wait to travel around the country this Christmas season with these incredible musicians that I am also lucky enough to call friends. I'm excited to have the opportunity to spread some holiday cheer in all the different cities!"
Adam Hawley launched his career in the genre with five consecutive #1 airplay hits, and is now up to nine, including his most recent, "Risin' Up" (from his 2021 album of the same name). He says, "Christmas is definitely my favorite time of year, bringing together friends and family through song. And what better way to do this than with an incredible cast of musicians, playing some of our favorite holiday material. Can't wait!'
Before each show on the "I Can't Wait For Christmas" tour, Abair and her husband Eric Guerra – co-owners of the exclusive lifestyle membership club Wine & Jazz (www.wineandjazz.com) - will host a VIP wine and jazz tasting experience featuring select wines from their company perfectly paired with music.
---
You may also enjoy these amazing upcoming shows!
Tue Dec 27: Yuko Mabuchi
Wed Dec 28: Larry Vuckovich
Thu-Sat Dec 29-31: Boney James