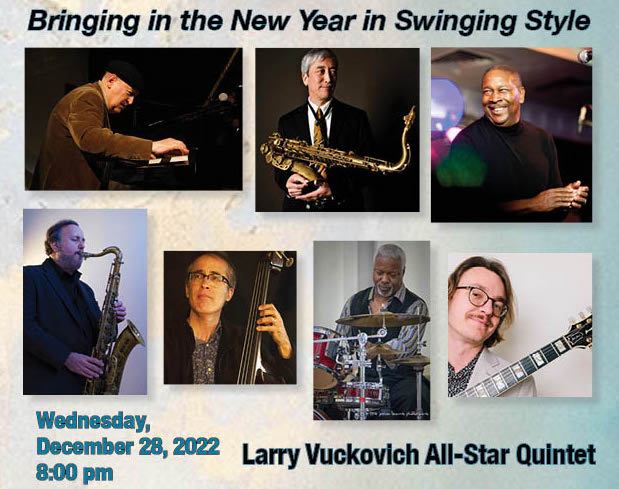 Wed December 28, 2022
An Evening of Swinging, Soulful, Foot Tapping Jazz performing, the music of Count Basie, Neil Hefti, James Moody, Duke Ellington + more
LARRY VUCKOVICH: BRINGING IN THE NEW YEAR IN SWINGING STYLE
Doors: 7:30 PM Show: 8:00 PM
"Bringing in the New Year in Swinging Style"
An Evening of Swinging, Soulful, Foot Tapping Jazz performing, the music of Count Basie, Neil Hefti, James Moody, Lester Young + more.
Larry Vuckovich has had the wonderful fortune to have performed some of the greatest jazz masters, in particular, the swinging ones as Cab Calloway, Red Norvo, Don Byas, Buddy Tate, Milt Jackson, Dexter Gordon, Jon Hendricks, Philly Joe Jones, and many more. He has fond memories or performing with Jon Hendricks at the Berlin Jazz Festival in' 68 where almost half of the Count Basie band, was also on the bill, played some special arrangements that John brought. Count Basie's drummer at a time, the swinging Harold Jones, played with Joan and Larry. Since then Larry Vuckovich has done recordings with the combination of two swinging tenor saxophonists playing the music of Lester Young, Count Basie, Neil Hefti, James Moody, Charlie Parker + more. This evening's performance is assured to lift the audience's spirits and bring it back to the golden jazz era.

Larry Vuckovich All-Star Quintet Featuring Jamie Davis vocals, Steve Heckman, tenor; Bob Kenmotsu, tenor; Kai Lyons, guitar; John Wiitala, base; Leon Joyce, drums
---
You may also enjoy these amazing upcoming shows!
Thu-Sat Dec 29-31: Boney James
Wed Jan 4: Doobie Powell
Wed Jan 11: Special EFX