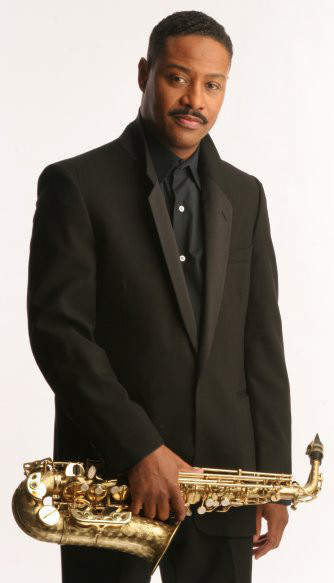 Combines the best of jazz, R&B, funk and soul
KIM WATERS
January 21, 2022

Doors: 7:30pm / Show: 8:00pm

January 21, 2022

Doors: 9:45pm / Show: 10:00pm
Saxophonist Kim Waters has made a career of writing timeless anthems with insatiable vibes, undeniable hooks and memorable melodies that combine the best of jazz, R&B, funk and soul. This formula has catapulted him to the top of the charts time and time again and has made him one of the biggest selling saxophonist to date. JazzTimes Magazine has declared, "Waters is simply one of the planet's best saxophonist, Instantly recognizable for his keen melodic sensibilities and soulful approach to his saxophone, The Washington Post has likened Waters to "A romantic pied piper out on a long evening stroll." The prolific saxophonist, composer, and producer has enjoyed a career of longevity that is rare. Waters' Zen-like approach to his life and artistry is simple. "My motto is to try and live in a way where I am not stressing about anything. What's going to be is going to be. I strive to be happy because life is short." It is with this pointed and in the moment approach that Waters' delivers his best solo effort, WHAT I LIKE. The album is dedicated to his inspirations - Mom and Dad(Brenda and James Waters), Dana Waters(Wife) and his lovely daughters Kayla and Kimberly. WHAT I LIKE showcases Waters' compositional prowess and features seven dynamic originals and three re-workings of hits by Bruno Mars, Maxwell and The Isley Brothers.
Kim Waters' 23rd recording as a leader and thirteenth CD for Shanachie, WHAT I LIKE, finds the saxophonist doing what he does best- creating dreamy melodies, crafting funky dance-inspired originals, immortalizing sultry ballads, and putting his own indelible imprint on timeless R&B hits. The charming and spiritually grounded saxophonist has proven through the years to be a master composer. "I usually start at the piano and write the song and melody and then I go the the studio and bring the song to life," he shares. "Sometimes it all comes together immediately while other times it slowly evolves."
In typical fashion, Waters is like a one-man band playing virtually all the instruments on WHAT I LIKE. However, he does get a little help from some friends including Bassist/Guitarist Prince Redd, Raynard Gibson(vocalist) and long-time friend and collaborator, Chris "Big Dog" Davis, who has written hits for numerous artist including Maysa, Nick Colionne, Gerald Albright and a host of others. " He is a super talented keyboard player and a master producer," exclaims Waters. "Everything he touches turns to gold. He is truly a superstar."
WHAT I LIKE opens with the mystic, funky and groovy "The touch of Love" and that Waters does, as he serves up a soulful does of his sweet alto, impeccable phrasing and classy riffs. The Bruno Mars hit "That's What I Like", follows, with Waters putting a new twist on the already incredible song. "Walking on Air", sure to be a single off of this CD full of hits, showcases Waters ability to catch your body and soul with his amazing vibe and melodic combinations. Sumthin' Sumthin', the smash hit by Maxwell is the next song on the CD. Waters add his magic touch to this beautiful tune with so much attitude on his horn! "Yearning for you", shows off Waters classic groovy mid-tempo vibe with his catchy melody. "Pocket Science", the first single, is a funky, feel good tune that is sure to grab your attention as soon as it begins! "Voyage to Atlantis", the hit song done by the Isley Brothers, is a real classic. Waters and Chris "Big-Dog" Davis show why they continue to make hit after hit when they collaborate. "Fire and Spice", is exactly that. The song starts off very calm and explodes with into a funk filled vibe with a chorus that will stay on your music mind. Midnight Magic and Swept Away close this action packed CD!!!!!
Originally from Maryland, in recent years Kim Waters has resided on the West Coast, but now he is back on the East Coast, living in Alpharetta, GA. The Renaissance man was inspired early on in his career by such jazz luminaries as Duke Ellington, Oscar Peterson, Charlie Parker, Sonny Stitt, Canonball Adderley, Herbie Hancock, George Duke and Grover Washington Jr. Waters was born into a musical family and started the violin at age eight. Shortly after that, he began playing the saxophone. He began playing in a band with his brothers and his old friend, pianist Cyrus Chestnut. Over the years, Kim Waters has been called on to perform with or open shows for the best, including Isaac Hayes, Ray Charles, Charlie Wilson, Phyllis Hyman, Quincy Jones, Maysa, and a host of others.
Never one to rest on his laurels, the evolution of Kim Waters' artistry continues to flourish on WHAT I LIKE. "When my fans hear the new music, I hope they have a musical journey that brings them joy and happiness and leaves them wanting to play it over and over again."
---
You may also enjoy these amazing upcoming shows!
Sat-Sun, Jan 22-23: Gerald Albright
Sun, Jan 30: Mads Tolling & The Mads Men
Thu, Jan 27: Jeff Kashiwa with Selina Albright