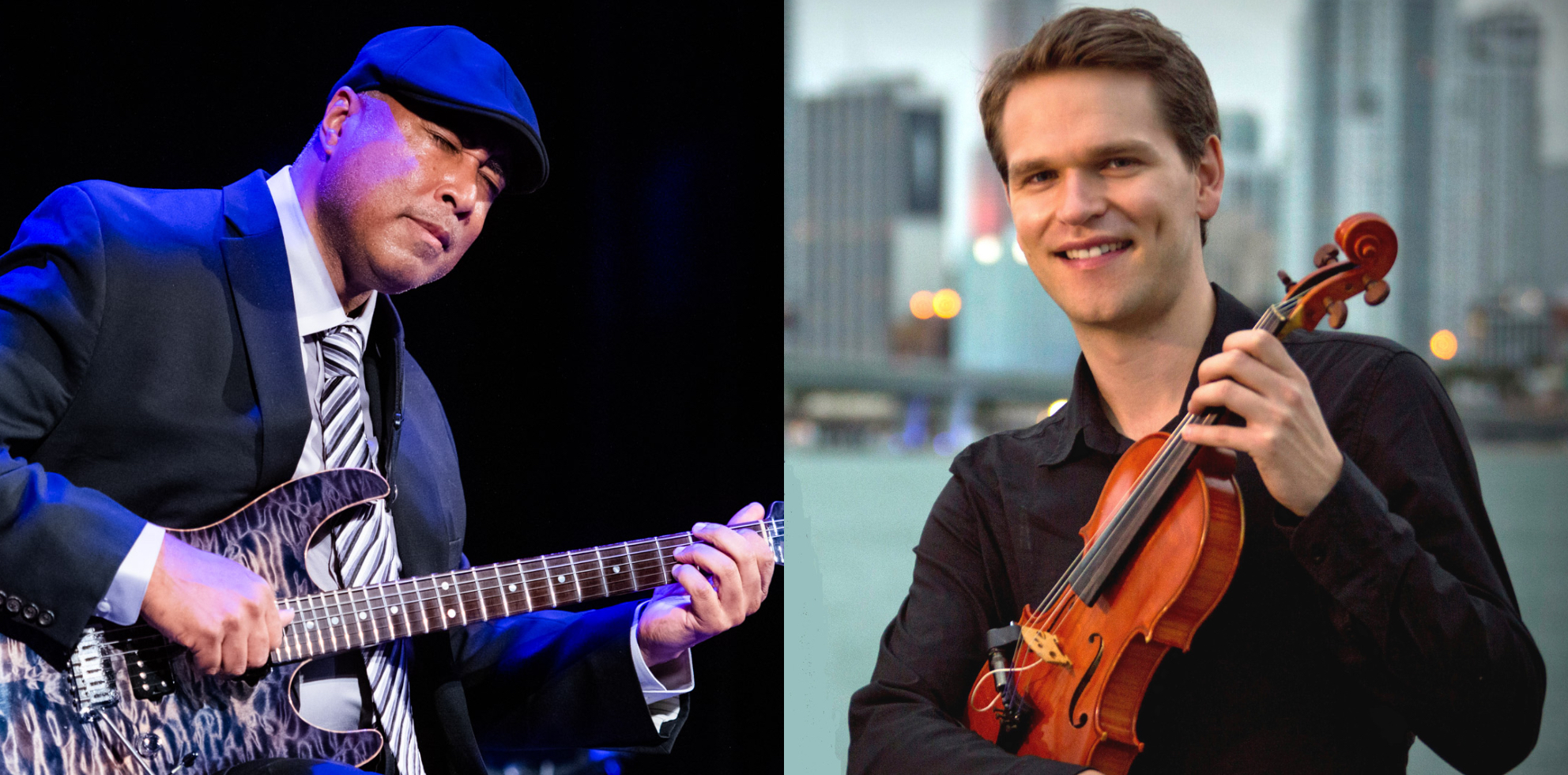 MADS TOLLING & THE MADS MEN FEAT. BERNIE WILLIAMS
January 30, 2022

Doors: 5:30PM / Show: 6:00PM

January 30, 2022

Doors: 7:45PM / Show: 8:00PM
Mads Tolling & The Mads Men, feat. Bernie Williams
During the summer of 2021, two-time Grammy Award-Winning violinist, Mads Tolling jammed with guitarist and four-time NY Yankee World Series Champion, Bernie Williams. The two immediately connected on their love for music and sports and decided on playing again soon. Mads and Bernie will debut their show at Yoshi's featuring contemporary takes on jazz and funk classics from the 1960s. They will include Bernie's unique version of "Take me out to the Ballgame" and a song from his Latin Grammy Nominated Album, "Moving Forward."
MADS TOLLING is an internationally renowned violinist and composer originally from Copenhagen, Denmark, now living in San Francisco. As a former nine-year member of both bassist Stanley Clarke's band and the celebrated Turtle Island Quartet, Mads won two Grammy Awards, and he was nominated for a third Grammy in 2015. He was the 2016 winner of the DownBeat Critics Poll Rising Star Violin Award. Mads has performed with Chick Corea, Ramsey Lewis, Kenny Barron, Paquito D'Rivera, Leo Kottke and Sergio & Odair Assad. Mads is currently a member of Bob Weir's Wolf Bros & Wolf Pack Band.
As part of tonight's performance, Mads is celebrating the music of the 1960s Mad Men Era with his own distinctive style and innovative flair. Mads Tolling & The Mads Men's "Playing the 60s" was released in 2017, and the album has been a favorite amongst fans and critics alike and was in the top 30 on US Jazz Radio for two straight months, peaking at #5. Mads has created a fun and exciting program that is at once nostalgic as well as contemporary, as he reimagines classic songs from 60s TV, film and radio. Repertoire ranges from "Good Vibrations" and "Meet the Flintstones" to "Georgia on My Mind," "A Taste of Honey" and "All Along the Watchtower."
So how did a Danish classical violin student growing up in Copenhagen in the 80s discover his passion for the 60s? When Mads was fourteen, his father gave him a Miles Davis cassette tape that changed his life. Mads was hooked. He found a sense of intimacy and freedom in the 60s sounds of Jazz, Soul and early R&B, which inspired him to explore the possibilities of how to get there with his violin. The result is an exhilarating and thrilling musical adventure, with Mads guiding us to places we didn't know a violin could go.
Joining Mads on this journey are his "Mads Men": World-class musicians Colin Hogan on piano, Gary Brown on bass, and Eric Garland on drums.
BERNIE WILLIAMS grew up in Puerto Rico, and from a young age his talents for playing the guitar and baseball did not go unnoticed. After graduating High School at Escuela Libre de Musica, he got drafted by the New York Yankees.
In his 16-year career patrolling centerfield for the Yankees, Bernie Williams was a four-time World Series Champion and a five-time All Star. Williams has more post-season RBIs to his credit than any other player in Major League history, and his resume also boasts four Gold Glove awards, six American League pennants, the 1996 ALCS MVP award, and the 1998 American League batting title.
Throughout Williams' years with the Yankees, his passion for music never waned, and the sound of his guitar would often be heard emanating from the clubhouse or during team flights. Bernie raised his musical game even further with the release of his second album "Moving Forward." Featuring guest appearances by Bruce Springsteen, Jon Secada, Dave Koz, and an All-Star cast of renowned studio musicians, "Moving Forward" debuted as Billboard's #2 Contemporary Jazz album in the country and continued to hold that chart position for five straight weeks, and spawned two consecutive Billboard #1 singles, "Go For It," and "Ritmo de Otono." The album was nominated for a Latin Grammy Award for Best Instrumental Album in 2009.
Bernie is an active crusader for arts and music education in the lives of all students and is a national spokesman for the NAMM (National Association of Music Merchants) Foundation's SupportMusic Coalition, which unites non-profit organizations, schools, and businesses working to assure that music education is supported in communities everywhere, and that all children have the opportunity to learn and grow with music.
For the Meet-And-Greet it should be noted that Mr. Williams is unable to sign any baseball memorabilia of any kind. Thank you all for your cooperation.
---
You may also enjoy these amazing upcoming shows!
Tue, Feb 8: Kandace Springs
Fri, Mar 18: Glenn Miller Orchestra