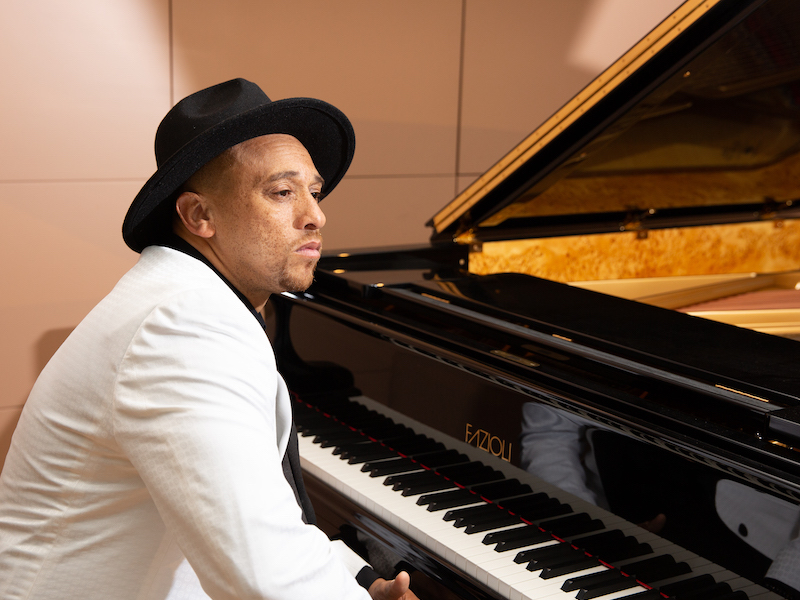 Homegrown blend of Hip-Hop, Jazz, Classical, and Soul music
KEV CHOICE ENSEMBLE
October 7, 2022

Doors: 7:30 PM / Show: 8:00 PM

October 7, 2022

Doors: 9:45 PM / Show: 10:00 PM
Kev Choice is a pianist, M.C., producer, composer, educator, band-leader, and activist, hailing from Oakland, CA. He has the unique capabilities to navigate the worlds of Hip-Hop, Jazz, Classical, and Soul music in a natural and seamless way. He starting playing piano and rapping at a young age at Oakland's Westlake Junior High and Skyline High School, and eventually went on to obtain a Bachelor's Degree from Xavier University of Louisiana in New Orleans and a Master's Degree from Southern Illinois University at Carbondale, both in Music-Piano Performance. From there, Kev came home and became one of the most in demand and active musicians on the Bay Area scene.
Kev has worked and toured the world with artists such as Michael Franti, Goapele, Too Short, Ledisi, The Coup, Zion I, and more. He served as multi-platinum and Grammy award winning Ms. Lauryn Hill's musical director in 2007 touring to over 20 countries. In 2010, he began to focus on his own music and band, Kev Choice Ensemble, an all-star band of young Black Bay Area musicians, performing Kev's original music. He has produced 5 solo albums, including Social Distancing (2020), an album created and completed in the first 6 weeks of shelter-in-place. He has also independently released Oakland Riviera(2014), Love and Revolution(2015), 88 Steps to Eternity(2016), and collaboration projects with producer DJ Fresh, The Lush and Luxurious Vibes (2020), SEEDS 22: Truths & Roses (2021) with DJ Basta, and Tatu: The Trio Sessions (2021).
As a producer and musician, he has been involved on numerous projects with artists such as Martin Luther, Jennifer Johns, Netta Brielle, Rayana Jay, Elujay, DJ D-Sharp, Eastshore Highway, and more. In 2018, he was commissioned to compose a work for the Oakland Symphony, Soul Restoration Suite, under the direction and guidance of conductor Michael Morgan. This work combined orchestra, with hip-hop band, choir, and Kev's conscious lyricism, dedicated to his Oakland root's and restoration of his own soul. In 2020 he collaborated with the San Francisco Symphony for their online series Currents, on a piece he wrote and composed entitled "Movements". This work was featured on their virtual season opening concert and was released on SF MEDIA label in September of 2021. In 2022, Kev orchestrated two pieces for Oakland Symphony's Playlist: Debbie Allen under the Direction of Ricky Minor. He also performed Movements live with San Francisco Symphony at Davies Hall in 2022 and was featured artist on San Francisco Symphony Chamber Works series, playing a work from African-American composer Undine Smith-Moore with SF Symphony cellist and flautist.
Kev is currently working on new music with his band Black London as well as a collaborative project with DJ D-Sharp Castles and Crowns.
Outside of performing and creating, Kev is co-chair of the Instrumental Music Department at Oakland School For The Arts. He also serves on The City of Oakland's Cultural Affairs Commission and as Culture Strategist with CityWide Communications Department.
---
You may also enjoy these amazing upcoming shows!
Mon Oct 10: The Peet Project
Sat-Sun Oct 15-16: The Bad Plus
Wed Oct 19: Christopher Williams