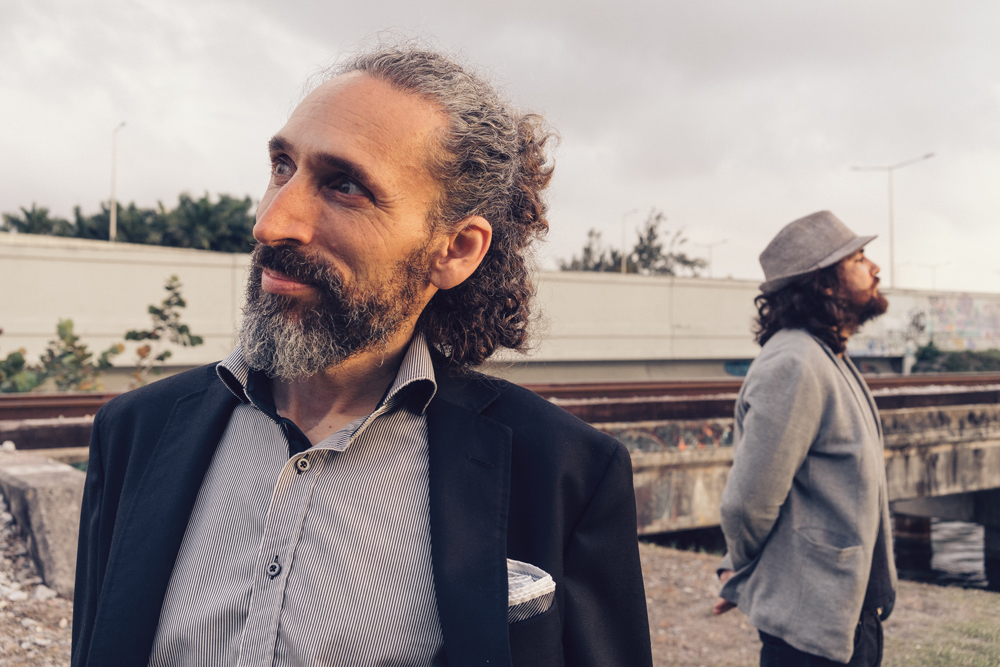 Sun February 26, 2023
GRAMMY©-winning trumpet-player & GRAMMY©-winning jazz pianist
JOHN DAVERSA AND TAL COHEN: THE ART OF DUO
Doors: 6:00 PM Show: 6:30 PM
John Daversa is a distinguished trumpet-player, composer, arranger, producer, bandleader and educator. He is a multiple Grammy Award winner and nominee and the recipient of many other awards and honors. In addition to his active career as a performer and recording artist he is currently Professor and Chair of Studio Music and Jazz at the University of Miami's Frost School of Music. Born and raised in Los Angeles, Daversa grew up in a musical household, where he passionately sang and played various instruments from a very young age, eventually picking up the trumpet at age eleven. Throughout this childhood the family moved several times, residing in Oklahoma, Las Vegas, and Sacramento, and ultimately returned to Los Angeles where he attended Hamilton Academy of Music for his final two years of high school. While still a student at Hamilton he began writing for large and small jazz ensembles and performed regularly with his high school quartet, Second Generation. It was during this time that he began playing the Electronic Valve Instrument (EVI). As a member of the Monterey All-Star High School Big Band for four years, he was able to tour Japan and perform with iconic guest artists such as Dizzy Gillespie, J.J. Johnson, and Clark Terry. Upon high school graduation, he was recognized with both the Herb Alpert Award and the Italian Heritage Award and soon began pursuing a Bachelor of Arts degree at UCLA in music composition and performance. Throughout the 1990's, Daversa continued to be recognized as one of the jazz world's most promising young performers and composers, winning the National Trumpet Competition, the International Trumpet Guild Jazz Soloist Competition, and the David Joel Miller Award for Composition and Performance, and placing as a semi-finalist in the Thelonious Monk Institute Jazz Trumpet Competition. During this time he founded and led various ensembles including the Junk Wagon Trio, The D.a.M. Band, which released an album in 1994, and the John Daversa Progressive Big Band, founded in 1996, which recorded Live at Catalina's in 2000.
Tal Cohen is a Grammy award winning jazz pianist currently located in Miami. He has received much acclaim including winning the Barry Harris National Piano Competition and was the recipient of the prestigious Freedman Fellowship him performed to a sold out crowd at the Sydney Opera House. Recently, Tal Cohen has been playing around the Globe with Terence Blanchard, Greg Osby, Ignacio Berroa, Joe Lovano and others. He currently leads his own ensemble which has performed at Iconic jazz festivals and venues that include Jazzbez Jazz Festival (Ukraine), Detroit Jazz Festival, Melbourne Jazz Festival (Australia), a three week residency at the Black Cat (San Fransisco).
His most recent album- "Gentle Giants" has received international acclaim and gained him many reviews including a 4 star review from the historic Downbeat Magazine. Cohens become one of the most in demand pianists as he continues to tour the globe with his unique blend of Jewish melodies, traditional jazz Harmony and an impeccable rhythmic pallet forging a path to be remembered.
"The Tal Cohen Trio manages to combine complex, modern jazz concepts with graceful phrasing, thoughtful development and honest expression. The original ideas, high level of communication and spontaneity of the group is a breath of fresh air and proof that jazz has a bright future" – David Manson, Director of EMIT & the St. Petersburg Jazz Festival
---
You may also enjoy these amazing upcoming shows!
Fri Mar 3: Eric Darius
Sat Mar 4: Veronica Swift
Wed Mar 8: Acoustic Alchemy