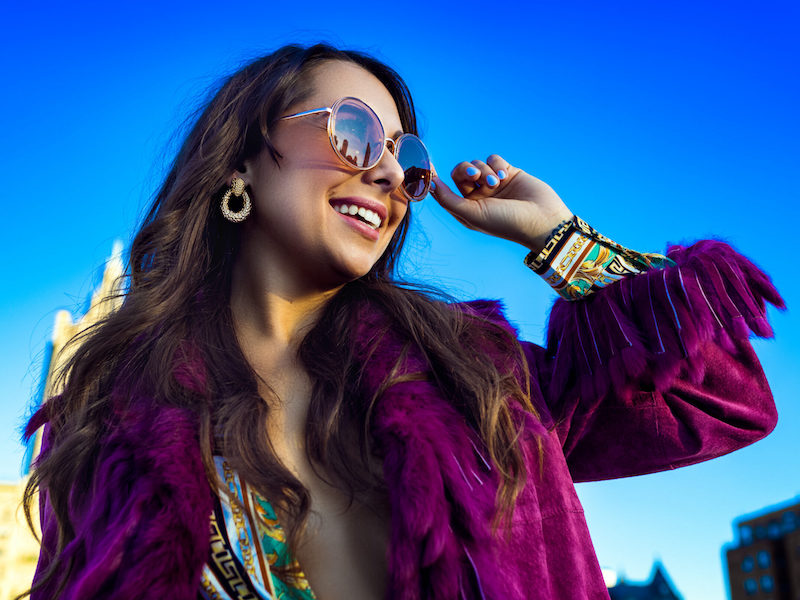 Dynamic jazz vocalist with soulful authenticity
VERONICA SWIFT
March 4, 2023

Doors: 7:00PM / Show: 7:30PM

March 4, 2023

Doors: 9:15PM / Show: 9:30PM
"She has a miraculous voice, musical ability and technique, as well as an innate gift for entertaining a crowd." — Wall Street Journal
Veronica Swift is a Mack Avenue recording artist whose debut album "Confessions" was released in 2019. Her second release, This Bitter Earth (2021), earned her a five-star review in DownBeat magazine including the front cover on their November 2021 issue, the JazzTimes December cover, and L'academie du Jazz "Best Vocal Album" award in 2021.
Having made her mark on the international jazz scene as one of the star vocalists of her era, Veronica Swift has now expanded her style, establishing herself as a skilled rock and soul singer as well as a dynamic performer. Her third album "TransGenre" (2023) will venture into mixing jazz and classical with rock, soul, and funk paying homage to greats like Janis Joplin, David Bowie, Jimi Hendrix and Duke Ellington. Veronica's ability to transcend different styles, and fully embody them with authenticity to tell a story makes her one of the most skillful singers in any genre, and displays her theatrical approach as a performer and artist.
Raised in Charlottesville, VA and having grown up on the road with her parents (jazz pianist Hod O'Brien and vocalist Stephanie Nakasian), Veronica began her performing and recording career at age nine. As a child, she headlined at Jazz at Lincoln Center's Dizzy's Club, and appeared at major US festivals such as the Telluride Jazz Fest. She went on to receive a Bachelor of Music Degree from University of Miami's Frost School of Music.
Placing 2nd in the 2015 Thelonious Monk Jazz Competition put Veronica on the map, contributing to her landing a weekly residency at the historic jazz venue Birdland. It was there where she captured the attention of jazz icons Chris Botti and Wynton Marsalis who featured her on their tours throughout the following years as Veronica also toured extensively with her own band.
"Swift gets both dramatic and slyly witty, taking on sexism directly with her unrestrained makeover of 'How Lovely to Be a Woman'…" — Glide Magazine
"It's as good a job of reconciling the past and the present as I have ever heard, and goes a lot further than anything else I've encountered in the past 12 months toward making sense out of a world gone wacko." — Wall Street Journal
"Veronica Swift is a woman of many voices, and she uses every one of them to refract a dizzying kaleidoscope of moods on 'This Bitter Earth...'" — DownBeat
"This Bitter Earth is more universally-minded as she tackles sexism, racism, domestic abuse and other social issues via carefully curated materials." — Jazziz
"...recontextualizing decades-old lyrics has led the Charlottesville-bred jazz vocalist to a point of historical confluence, one where classic songs now take on a renewed relevance." — The Daily Progress
"...it takes an artist of sure and rising stature to curate one hell of a coherent protest album." —All About Jazz
"...a jazz lioness with a pure tone, large lungs, a knowing sense of repertoire, and sure swing style." — JazzTimes
---
You may also enjoy these amazing upcoming shows!
Wed Mar 8: Acoustic Alchemy
Sat-Sun Mar 18-19: Spyro Gyra
Tue Mar 21: Vanessa Collier