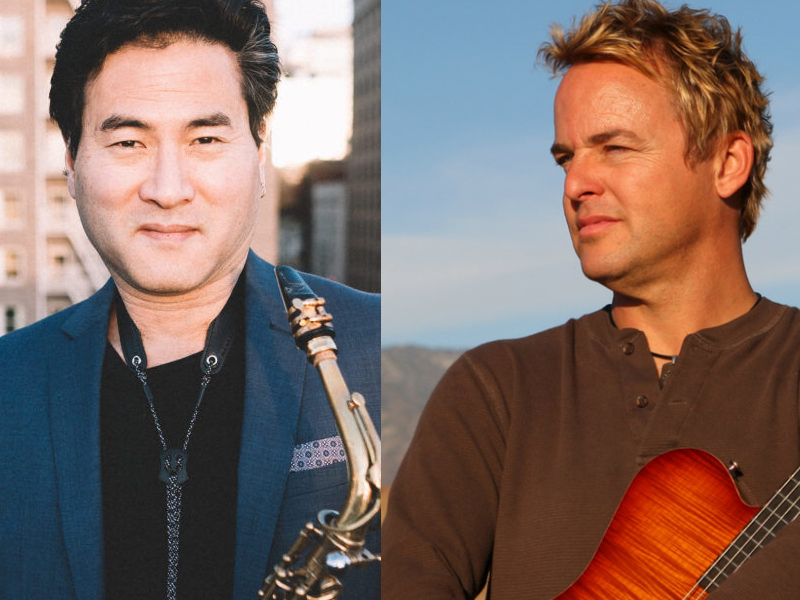 Thu June 22, 2023
Two of the most compelling musicians in contemporary jazz
JEFF KASHIWA W/ STEVE OLIVER
Doors: 7:30PM Show: 8:00PM
Jeff Kashiwa
Seattle native, Jeff Kashiwa became known as one of the most compelling young saxophonists in contemporary jazz during his first year with The Rippingtons back in 1989. Kashiwa performed hundreds of shows all over the world and appeared on many of the band's classic recordings.
After his decade long tenure with The Rippingtons, Kashiwa's instincts led him to more dynamic endeavors through his solo career. It surprised many when Jeff left the group to venture out on his own, but he had things to say through his own music.

In 2004, Kashiwa founded The Sax Pack, a trio of saxophone headliners, featuring himself, Steve Cole and Kim Waters. The group released three CDs together and charmed audiences with their Rat Pack style reparte' in tours across the U.S. and abroad.

In 2006, Jeff reunited with The Rippingtons for their 20th Anniversary Tour and continued to record and tour with the group until 2016. In addition to touring with The Sax Pack and his own group, Kashiwa has expanded his career to include the realm of music education. He now teaches in the same school district where it all began teaching various music ensembles and online Music Technology courses at Shoreline Community College in Seattle, Washington.
This year Kashiwa released his 11th solo recording titled Sunrise. Featured on the CD are his band, Coastal Access as well as guest performances by Marc Antoine, Tom Schuman and Phillipe Saisse. Jeff is in his 12th year as an Instrumental Ensemble and Music Technology instructor, and Department Chair at Shoreline Community in Seattle, WA.
Steve Oliver
With a career spanning over 25 years in music, multi-instrumentalist, singer, songwriter and producer Steve Oliver is still being heard each day on contemporary and smooth jazz radio around the world.
His career has produced multiple #1 hits on the Billboard charts and countless radio staples over nearly two decades - including with his latest album "Unified" (2020) - a collaboration with keyboardist Brian Simpson that has reached the #1 spot on the Billboard and Amazon jazz sales charts.
Steve's been a touring member of Acoustic Alchemy, has played countless club dates and headlined festivals worldwide. He's also co-written and produced tracks with Grammy award winning pianist Omar Akram and many smooth jazz notables including Vincent Ingala, Brian Simpson and Paul Taylor.
Having released eight studio albums, a live CD / DVD package and a "Best Of", for Oliver, music is therapy and a welcomed diversion from the current world climate. With radio legacy hits to his credit including "High Noon", "Fun In The Sun", and "Global Kiss", today Oliver is just as comfortable being a creator, adviser, and mentor to others.
With his 2019 full-length album "Illuminate". A follow up to 2016's acclaimed all vocal project "Pictures & Frames" (recorded with the legendary Vinnie Colaiuta on drums and Leland Sklar on bass at the famed Capitol Studios in Hollywood), Illuminate is record deeply rooted in contemporary jazz guitar melodies and Steve's trademark wordless vocalese. With Steve's instantly recognizable guitar lines and a list of guest artists that includes bass virtuoso Jimmy Haslip, the incredible Joel Taylor on drums, and sax luminary Nelson Rangell, Illuminate puts the spotlight back on one of the genre's most engaging performers and songwriters.
---
You may also enjoy these amazing upcoming shows!
Sat Jun 24: Kim Waters
Mon Jun 26: Vincent Ingala
Mon-Tue Jul 10-11: David Benoit