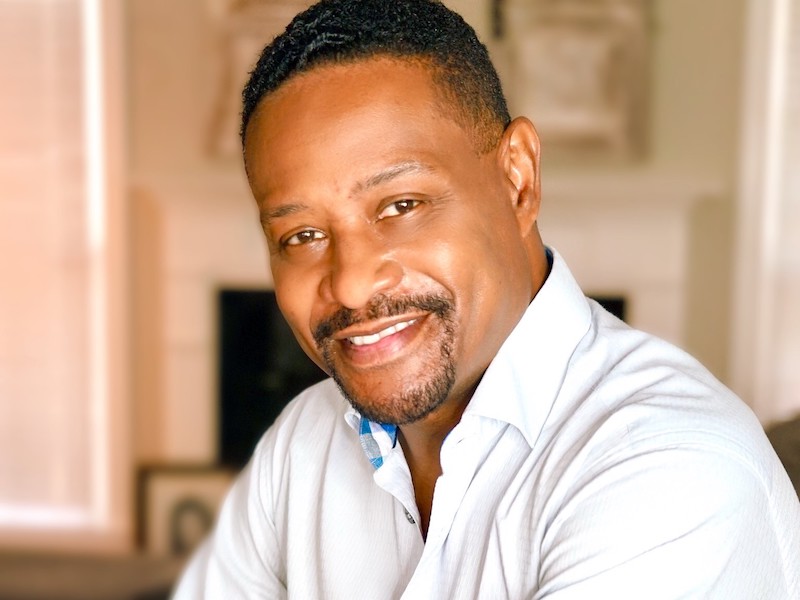 Chart-topping saxophonist
KIM WATERS
June 24, 2023

Doors: 7:00 PM / Show: 7:30 PM

June 24, 2023

Doors: 9:15 PM / Show: 9:30 PM
Chart-Topping Saxophonist Kim Waters Offers A Prescription For Our Blues With A Joyous Celebration Of Life On New CD Shakedown Out May 29th, 2020.
"Music is the one thing that everyone can turn to during this pandemic. It brings joy in these trying times," says Kim Waters. Heralded as "Simply one of the planet's best saxophonists" by JazzTimes Magazine and the "Pied piper of Smooth Jazz" by Upscale Magazine, the prolific chart-topping saxophonist, composer and producer has enjoyed a career longevity that is rare in the music business. For three decades, Waters has reigned as one of the premier architects of Urban Smooth Jazz and a beacon of light in Contemporary Jazz. He 's garnered praise from critics and fans alike, ranking among the top five best-selling instrumentalists in jazz. "New music continues to come out, which gives the world something to lift them up and share with family and friends," states Waters, whose new and 24th recording as a leader, Shakedown offers a thrilling ten-track escape meant to catapult us to a happier frequency. The Georgia based saxman shares, "Shakedown to me is something that makes you want to get up and dance and move your body! That was my goal for this CD!! Music that makes you happy and soothes the soul!"
Kim Waters' instantly recognizable sound has found the perfect equilibrium between sensitivity and brawn, intellect and emotion and technique and soulfulness. On Shakedown the suave, debonair and commanding saxophonist's ability to transcend the musical boundaries of Jazz, Pop and R&B have made him one of the most sought-after musicians in Contemporary Jazz. In typical fashion, Waters is like a one-man band, playing all the instruments on Shakedown as he creates dreamy melodies, sultry ballads and funky and bluesy dance-inspired grooves. He also reinvents a recent R&B gem. The new album is dedicated to Waters' wife Dana and his twin daughters Kimberly and Kayla. "They all inspire me so much and they are truly my best friends! Kayla has become an amazing artist, writer, producer and performer!! Words cannot express how this makes me feel to work together with her and to share the stage together on many occasions! She continues to grow at her craft and she and Kimberly are my heart!"
Waters composed Shakedown at the piano as opposed to his normal process, which is in the recording studio. "This is the first album where I wrote all of the songs at my grand piano in my piano lounge. I usually write in my studio, but this time I stayed on the piano until all of the songs were written." Shakedown opens with the jubilant and uplifting title-track and first single. It has a bluesy-old school feel and is reminiscent of the Ramsey Lewis hit and crowd pleaser "The In Crowd." The composition "Feels Like Friday Night" is a fun-loving celebration marked by Waters' soulful horn doubling on the chorus and his gorgeous flowing sax melody throughout. We are transported to the British Virgin Islands in the Caribbean for the song "Nina In Tortola."
You can feel the island breeze as Waters graceful soprano dances in the rhythms of the island mist. The undeniable groove and funk riffs on "Takin' The High Road" and "On The Streets" will beckon you to get on your good foot while the tender moments created on the tranquil "With Open Arms" and pensive "The Moment I See You" will move you to a place of peace and quiet reflection. "With Open Arms" is dedicated to Waters' late father-in-law, Frank Mayo Sr. "We were extremely close and did everything together," shares Waters. "Whenever anyone came to his house, he welcomed them with open arms and always made sure they had plenty to eat and drink."
Shakedown revs into high gear with the edgy, driving and pulsating "In The Fast Lane." This gear-shifting number is sure to release some much needed endorphins. Always current with what is hot on the scene, Kim Waters has enjoyed great success reworking Hip Hop, R&B and Reggae hits with a jazzy twist on his popular CDs Streetwize and Tha' Hot Club. On Shakedown the saxophonist reinvents the Ella Mai hit and a favorite of his sister Joyce, "Boo'd Up." Waters' own sensual take on this lovers delight makes its own notable mark on this R&B hit. It is apropos that Shakedown ends with "Hidden Treasure." At the end of Waters' ten-track excursion, this song is indeed a hidden treasure and the reward for joining the saxophonist on his musical adventure. The uplifting closer is sure to leave your mood and spirit elevated. "When my fans hear this new CD, I hope that they forget about whatever it is that they may be going through, and that their spirits are lifted up and they are smiling and moving to the grooves!!!" says Waters.
Born in Maryland into a musical family, Kim Waters picked up his first instrument, the violin, at the age of eight. "That didn't go over well with the fellas," says Waters, who later found his calling on the alto and soprano saxophones at 13. Shortly afterwards he began playing in a band with his brothers James (who he still performs with) and Eric and his old friend, pianist Cyrus Chestnut. Kim Waters has been called on to perform with or open shows for the best including Al Green, Isaac Hayes, Phyllis Hyman, Teddy Riley and Guy, and Gerald Albright to name a few. Through the years Kim Waters has recorded a string of successful and chart-topping albums on Shanachie: Love's Melody (1998), One Special Moment (1999), From The Heart (2001), Someone To Love You (2002), In the Name of Love(2004), All For Love (2005), You Are My Lady (2007), I Want You: Love in the Spirit of Marvin (2008), Love Stories (2010), This Heart of Mine (2011), Rhythm and Romance(2016) and What I Like (2018).
We could all learn a thing from Kim Waters' Zen-like approach to music and life. He is an advocate of not sweating the small stuff and seeing the big picture. He professes that these are key ingredients to living a long life. Waters is also motivated by the opportunity to reach others. He concludes, "My fans, friends and family inspire me to be the best I can be. It makes me smile when I hear and see people happy because of my music!!! That's what it's all about."
This formula has catapulted him to the top of the charts time and time again and has made him one of the biggest selling saxophonist to date. JazzTimes Magazine has declared, "Waters is simply one of the planet's best saxophonist, Instantly recognizable for his keen melodic sensibilities and soulful approach to his saxophone, The Washington Post has likened Waters to "A romantic pied piper out on a long evening stroll." The prolific saxophonist, composer, and producer has enjoyed a career of longevity that is rare. Waters' Zen-like approach to his life and artistry is simple. "
---
You may also enjoy these amazing upcoming shows!
Mon Jun 26: Vincent Ingala
Mon-Tue Jul 10-11: David Benoit
Wed Jul 12: Jane Monheit