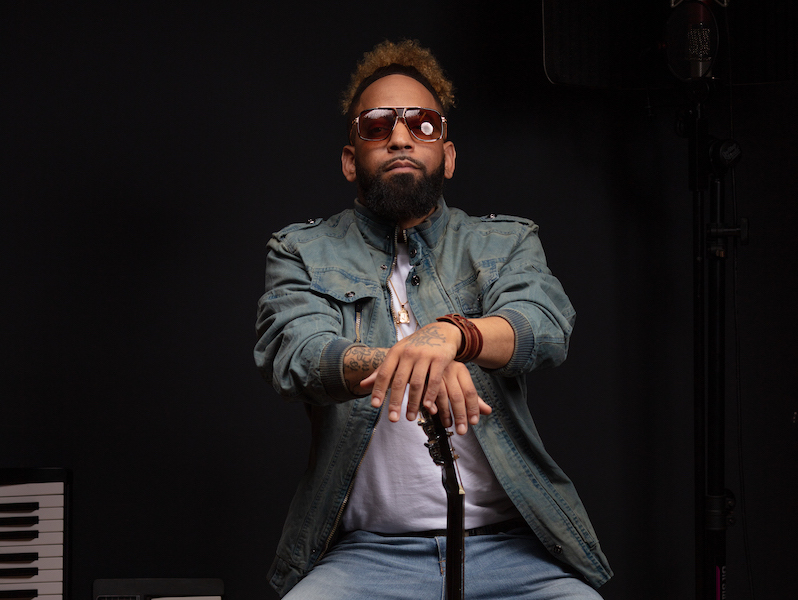 GRAMMY©-nominated R&B singer
J. HOLIDAY
September 30, 2022

Doors: 7:30 PM / Show: 8:00 PM

September 30, 2022

Doors: 9:45 PM / Show: 10:00 PM
J. Holiday was born Nahum Grymes, a named derived from a biblical figure because he is the son of a preacher. Holiday was raised alone by his mother in Washington D.C. after his father died when he was
just 11. Frances was the type of mother who sticks to conventional rules like completing education and attending church. Holiday was sent to a local High School where he acknowledged a talent in singing during a showcase night. By then he was a frequent listener to Boyz II Men, Tupac Shakur and Jodeci records. Although he had the passion to go deep in music path, his mom sent him back to school to complete the education first. Upon the graduation Holiday skipped college option and headed straight to studios where he began recording demo tapes.
2006-2009: Back of My Lac'
The album debuted on the U.S. Billboard 200 chart at number 5, selling 105,000 copies in its first week.[2] It debuted at #1 on the Top R&B/Hip-Hop Albums. The album debuted in the Top 20 R&B/Hip Hop albums in Canada and charted within the Top 100 albums in Canada. It became a Top 10 R&B/Hip Hop album in the UK and a Top 40 UK album entry peaking at #32. In the U.S it also made it to #8 on
the Tastemakers chart and #5 on the Top Digital Albums and Billboard Comprehensive Albums Chart. The promotional single from this album was "Be with Me", which stalled at #83 on the Hot R&B/Hip-Hop Songs Chart. Bed debuted on the U.S. Billboard Hot 100 in the issue week of July 4, 2007 at number 89 and has peaked at number 5.[4] It was number 1 on the Hot R&B/Hip-Hop Songs for five weeks in a row. The single has also debuted on BET's 106 & Park countdown at number 9 on Tuesday July 31, 2007. On Wednesday, August 15, 2007, "Bed" hit number one on its 11th day on the countdown. J. Holiday also performed "Bed" on 106 & Park on August 17, 2007. "Bed" was also performed on Showtime at the
Apollo along with the single "Suffocate". This song was #70 on Rolling Stone's list of the 100 Best Songs of 2007.[5] The video for "Bed" was ranked the #11 video of 2007 on BET: Notarized. His video for the third single, "Suffocate," debuted on BET's 106 & Park on November 7, 2007. The video was shot in Paris, France. "Come Here" was released as a single but was ultimately canceled. In 2009, Back of My Lac was Nominated for a Grammy in the category of Best Contemporary R&B Album. [6]
2009-2010: Round 2
Round 2 is the second studio album by contemporary R&B singer J. Holiday. The album was released on March 10, 2009. The album is the follow-up to his platinum-selling debut album Back of My Lac'. The album sold 55,000 units in its first week and debuted at number 4 on the Billboard 200. "It's Yours" is the first single from singer J. Holiday's second studio album, Round 2. The single features production from The Co-Stars (Teairra Mari's Make Her Feel Good), and Jasper Cameron (Lloyd's Player's Prayer). The song was well received, becoming the most added single at Urban Mainstream radio the week of December 13, 2008. Its Yours peaked at 25 on the US R&B chart. The 2nd single that was supposed to be released was Fall, but due to label problems it was canceled like "Come Here" on his previous album.

2010-20: Mix Tape's and Album (Guilty Conscience)
In 2010 J. Holiday left Capitol Records and signed to Def Jam. He than released his mixtape M.I.A: The Lost Pages in 2011, to give his fans new music. In early 2012, J. Holiday left Def Jam Recordings. In Late 2013 he released his single "After We" from his upcoming third studio album "Guilty Conscience". The album was released Jan 28th, 2014. After a six year's hiatus, during the 2020 Covid-19 Pandemic, J. Holiday struggled with deciding to release new music in the middle of such unprecedented times. But after great thought and consulting with his team, he decided to release his 2nd mixtape titled "Beacation" on November 13th. This offering in his words was something to give his fans to hold them over till the release of his 4th studio album titled "Time".

2021-2022: Time
The first single off J's highly anticipated album Time is titled "Ride" which was released Jan 18th, 2021. The next singles titled "Zero to Sixty" and "Feel Like" were released Jan 14th, 2022. "Time" was released on February 7th, 2022.
---
You may also enjoy these amazing upcoming shows!
Fri Oct 7: Kev Choice
Sat-Sun Oct 29-30: Miki Howard
Mon Oct 31: Lyrics & Laughter