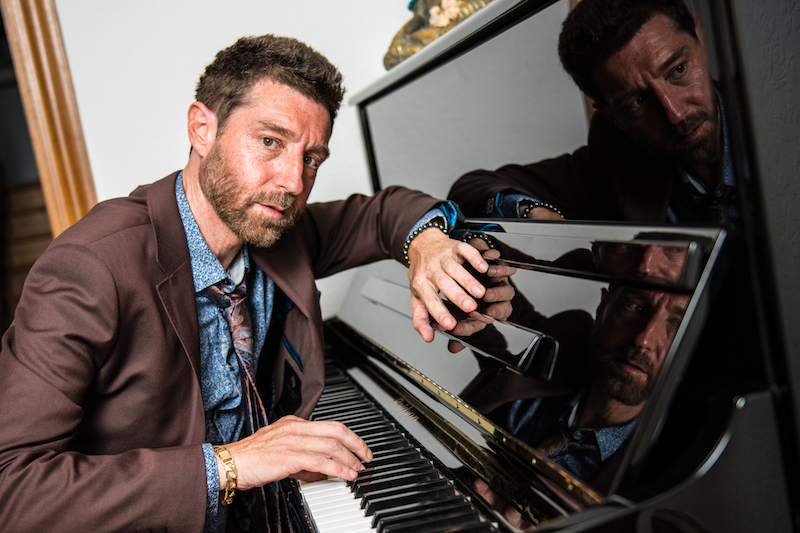 Tue November 30, 2021
Hard-swinging, hard-bop pianist
BENNY GREEN
Doors: 7:30pm Show: 8:00pm
Benny Green possesses the history of jazz at his fingertips. Combine mastery of keyboard technique with decades of real world experience playing with no one less than the most celebrated artists of the last half century, and it's no wonder Green has been hailed as perhaps the most exciting hard-swinging, hard-bop pianist to ever emerge from Art Blakey's Jazz Messengers.
Benny Green, unconditionally, is the bearer of the torch and guardian of a legacy handed down to him, personally, by his musical mentors. His most recent recordings, Live in Santa Cruz (2015) and Magic Beans (2012) (Sunnyside) are shining examples of his brilliance. Since emerging under the tutelage of Betty Carter, Art Blakey, Freddie Hubbard and Ray Brown in the early 1980s, Benny Green has become a highly regarded pianist and bandleader. His efforts to expand upon the language of the classical jazz canon have placed him not only among the best interpreters but also among the vanguard of musicians keeping jazz's evolution going.
Born in New York in 1963, Benny Green grew up in Berkeley, California, and began classical piano studies at the age of seven. Influenced by his father, a tenor saxophonist, his attention soon turned to Jazz: "I began trying to improvise on the piano, imitating the records I'd been hearing from my father's collection, which included a lot of Monk and Bird… it was a gradual process of teaching myself". Benny never looked back and never stopped learning as his blossoming talents, supported by mentors such as Walter Bishop, Jr. and others, plus his love for the music propelled him to the upper strata of jazz luminaries.
Benny's list of credits, accomplishments, and accolades could literally fill a book. His recordings with the masters form a foundation of jazz education. Some notable highlights include: Beginning his touring life with Betty Carter for four years and realizing a life long dream of becoming a Jazz Messenger; In 1993 Oscar Peterson chose Benny as the first recipient of the City of Toronto's Glen Gould International Protégé Prize in Music culminating in Oscar & Benny (1998) recorded for Telarc. Appearing on well over one hundred recordings, with legacy artists such as: Betty Carter (including Grammy award winner Look What I Got), Art Blakey & the Jazz Messengers, Freddie Hubbard, Bobby Watson, Milt Jackson, Diana Krall, and he is particularly featured in Ray Brown's trio series of CD's for Telarc: Bass Face (1993), Don't get Sassy (1994), Some of my best friends … (1994), Seven Steps to Heaven (1995), Super Bass (1996) and Live at Sculler's (1996), to fresh faces like Japan's young drum virtuouso, Tiger Onitsuka.
As the leader of his own groups, Benny's recording career began with two albums for the Dutch label Criss Cross: Prelude (1988) and In This Direction (1989). In 1990 Green started recording for Blue Note: Lineage (1990), Greens (1991), Testifiyin' (1992), That's Right! (1993), The Place To Be (1994), Kaleidoscope (1997) and These Are Soulful Days (1999). In 2000, his debut recording on Telarc Jazz entitled Naturally was released, which featured bassist Christian McBride and guitarist Russell Malone. In 2001, Green's Blues, a solo piano date and in 2003 Jazz at the Bistro (Telarc), a duo recording Malone, followed by Bluebird (2004) again pairing Green with Malone. A hiatus from recording produced Benny's 2011 trio date, Source (JLP).
---
You may also enjoy these amazing upcoming shows!
Fri-Sun, Dec 3-5: Boney James
Wed, Dec 15: Rebecca Kleinmann All-Star Jazz Quartet
Wed, Jan 12: Joey DeFrancesco Trio