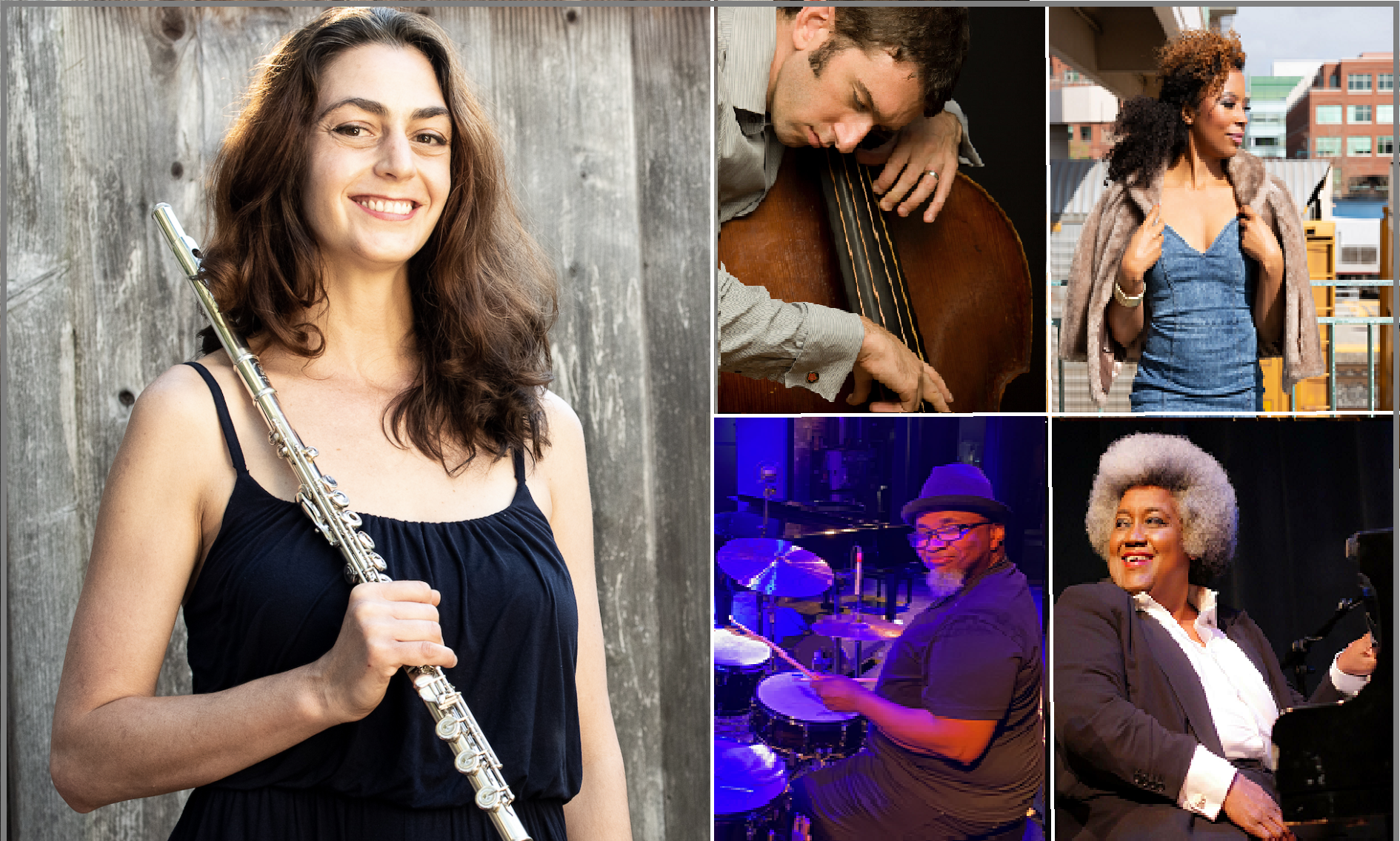 Wed December 15, 2021
with Special Guest Tiffany Austin
REBECCA KLEINMANN ALL-STAR JAZZ QUARTET
Doors: 7:30 PM Show: 8:00 PM
Join us for an enchanting night of Brazilian Jazz and song featuring flutist,
Rebecca Kleinmann & her All-Star ensemble of friends, with special guest vocalist, Tiffany Austin.
Presented by Mark Elliott & The A-List Musiq Circle
Rebecca Kleinmann : flute, alto flute, vocals
Tiffany Austin : special guest vocalist
Tammy Hall : piano
Aaron Germain : upright bass
Deszon Claiborne : drums
Rebecca Kleinmann, internationally beloved flutist and singer, enjoys a diverse and rich musical career. Originially from North Carolina, she grew up simultaneously trained in Classical Music and learning by heart in the gospel church. After graduating from the acclaimed Indiana University School of Music in Jazz Studies under David Baker, she went on to explore and immerse herself in the cultures of the music she felt drawn to: spending time in Spain, NYC, Ireland, Argentina, and especially Brazil. Constantly deepening her affinity with Brazilian music, she has collaborated and shared stages with greats including Hermeto Pascoal, Airto Moreira, Toninho Horta, and Jovino Santos Neto.
Rebecca has graced stages including the SF Jazz Center, Healdsburg Jazz Festival, the San Jose Jazz Festival, Yoshi's and tours internationally. She has recorded two solo albums "Raio de Sol" and "Intuição Verdadeira," a collaboration "Brasiliense" with guitarist Ian Faquini, and participated on dozens of albums and sound tracks. She collaborates with great local musicians including harpist Destiny Muhammad and Grupo Falso Baiano. Vocally, she sings with the Taylor Memorial Choir, and studies with Fabiana Cozza. Currently based in Oakland, CA, she balances her performance life with work in music education, leading her private studio, the Silvertones flute choir, and teaching young children in public schools via the organization Cantare con Vivo as a fully certified Orff instructor.
For this special Yoshi's show Rebecca features her dear friends and Bay Area musical masters Tiffany Austin, Tammy Hall, Aaron Germain and Deszon Claiborne. They will share original music by Rebecca and band members as well as her arrangements of tunes by McCoy Tyner, Freddie Hubbard, Antonio Carlos Jobim. Enjoy this heart-filled concert with exquisite musicians!
www.rebeccakleinmann.com