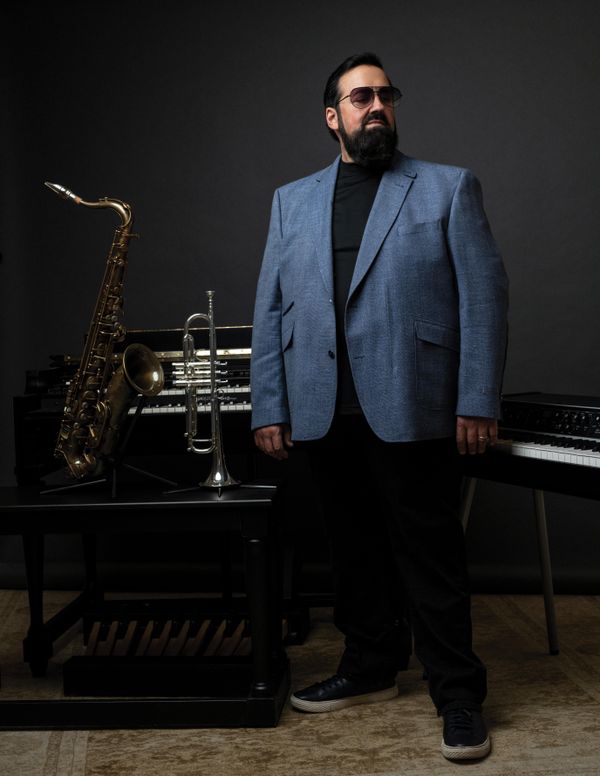 Wed January 12, 2022
Legendary jazz multi-instrumentalist
JOEY DEFRANCESCO TRIO
Doors: 7:30pm Show: 8:00pm
Joey DeFrancesco Offers the Remedy for a Challenging Year, Supplementing His Organ Virtuosity with Trumpet, Piano, Keyboard, Vocals and, for the First Time, Tenor Sax
More Music, Due Out September 24 via Mack Avenue Records, Debuts a New Trio with Fellow Philadelphia Organist and Guitarist Lucas Brown and Gifted Drummer Michael Ode
After a year of pandemic lockdown – with stages dark and nightclubs shuttered, friends and families kept at a social distance, and political and social tensions raging – the one thing we could all use right now is More Music. And who better to supply that demand than Joey DeFrancesco?
More Music, due out September 24 via Mack Avenue Records, is "more" in every conceivable way. It offers up ten new DeFrancesco originals, brought to life by a scintillating new trio. And the master organist, who has long supplemented his keyboard virtuoso with his skilled trumpet playing, here brings out his full arsenal: organ, keyboard, piano, trumpet, and, for the first time on record, tenor saxophone. He also steps to the microphone to croon Mario Romano's yearning "And If You Please."
Joey D isn't the only one wearing several hats on the album. A fellow torchbearer of the Philadelphia organ jazz tradition, Lucas Browntakes on the unenviable task of sharing organ duties with his generation's most influential practitioner. Not only does he fulfill those duties admirably, freeing DeFrancesco to juggle his other talents, but he also showcases his six-string wizardry on several traditional organ-guitar trio tracks. Michael Ode sticks to the drums throughout, anchoring the trio's multiple configurations with muscular swing and electrifying grooves.
"It's time for more music," DeFrancesco declares. "This situation has been difficult for so many people. It's definitely time to get back at it."
While this period of re-emergence from our collective quarantine turned out to be the perfect time for it, DeFrancesco had envisioned a project to showcase his multi-instrumentalism well before COVID was on anyone's mind. The trumpet has been a feature of his repertoire for most of the organist's career, inspired by his tenure with Miles Davis while still a teenager.
He first decided to try his hand at the tenor 25 years ago. His grandfather and namesake, Joseph DeFrancesco, had played tenor and clarinet and his horns were still in the family home in Philly. "One day I just decided to get his tenor out of the case and see if I could play it. So for about two weeks I practiced and it actually came pretty quick. I got so comfortable that I went down to Ortlieb's for a jam session. I got on the stage and [Philadelphia saxophonist] Victor North was standing next to me. I didn't know who he was, but he looked like Buddy Holly so I figured I'd be fine. Well, Victor North kicked my ass, and the horn went back into the case for another 25 years."
His interest was renewed in recent years by a confluence of factors – primarily the opportunity to record with legendary tenor titan Pharoah Sanders, with whom DeFrancesco collaborated on his 2019 Mack Avenue Records release, In the Key of the Universe. The subsequent tour found the organist paying particular attention to the sound of his regular tenor player, Troy Roberts, and at the same time delving deeper into the music of sax icon Charles Lloyd. In November 2018, DeFrancesco approached his father and once again borrowed his grandfather's tenor.
"My dad said, 'If you're going to play, you can have it. But you gotta play it.' That's how it started, and now I have about 15 saxophones."
The preciousness of the family heirloom means that DeFrancesco largely keeps it safely at home, but Joseph DeFrancesco's 1925 tenor makes one appearance on More Music, for the warm, burnished solo on "And If You Please."
DeFrancesco shredded on the tenor with renewed vigor, and though the influence of countless greats from Sonny Rollins to Sanders to John Coltrane to Lloyd all echoed in his mind, it wasn't difficult to find the voice for what he wanted to express on the instrument. "What separated me from a lot of other organists was the huge influence I took from tenor saxophone players," he explains. "So I have a certain sound that I love, and that was already in my mind. No matter what instrument I'm playing, there's a certain concept that always comes through."
The next challenge was to find a player with the virtuosity and confidence to take over the organ bench while DeFrancesco focused on his other outlets. He naturally turned to Philly and found the perfect candidate in Lucas Brown, whose skills were honed over years spent with the late tenor great Bootsie Barnes. His original instrument was guitar and he remains a gifted player, making him versatile enough to fulfill multiple roles in this ever-shifting trio.
While Brown, a decade DeFrancesco's junior, inevitably reveals elements of the bandleader's pervasive influence, DeFrancesco is quick to point out, "He plays differently than I do. We don't sound alike at all, and that's important. What's the point of having somebody that's going to be playing my stuff note for note? You need somebody to bring a nice contrast and Lucas is confident about who he is, plays at a very high level and sounds like himself on the instrument. It's nice to be able to introduce another organist to the world that's got his own approach."
DeFrancesco met Michael Ode (also a Philly native, though he grew up in Durham, NC) while the drummer was still a student at Oberlin Conservatory. Ode's first major gig with the organist was a high-pressure one: the studio date for You're Driving Me Crazy, DeFrancesco's collaboration with legendary Irish singer Van Morrison. "He's just cutting his teeth in the business and I really threw him into the fire," DeFrancesco recalls. "And he nailed it. He hears every note, but Michael also brings an element of what's going on rhythmically as drummers have evolved and changed. So he keeps me current."
More Music also applies to the range of stylistic choices in DeFrancesco's original tunes for the album. "Free" opens the proceedings on a brisk, uptempo note with DeFrancesco testifying on trumpet. He makes his tenor bow with an enticing, breathy tone on the sultry ballad "Lady G," a dedication to his wife, Gloria. Ode's ricocheting drum intro ushers in "Just Beyond the Horizon," which finds DeFrancesco back at the organ. He slides over to the piano to lead into the wistful "In Times of Reflection," which features Brown playing silken acoustic guitar and a pensive DeFrancesco trumpet solo.
Charles Lloyd's searching influence can be strongly heard on the spiritual jazz of "Angel Calling," while "Where to Go" proves a highlight with the album's sole organ duel between DeFrancesco and Brown. "Roll With It," with Joey DeFrancesco on organ and Brown on guitar, takes off from a fleet unison melody in classic organ trio style, while the title track makes its case with a taut, mellow groove. DeFrancesco takes over the organ with Brown on keyboard for the last two tracks, the contemporary vibe of "This Time Around" and the celebratory, gospel-inflected send-off "Soul Dancing."
"More music is what's needed to create positivity and wellness for everybody, regardless of what's happening in the world," DeFrancesco concludes. "Music just solves a lot of problems. So more live music, more original music – just more music. Without that, we're in big trouble."
---
You may also enjoy these amazing upcoming shows!
Tue, Jan18: Mike Zito
Wed, Jan 19: Tommy Igoe Groove Conspiracy
Fri, Jn 21: Kim Waters