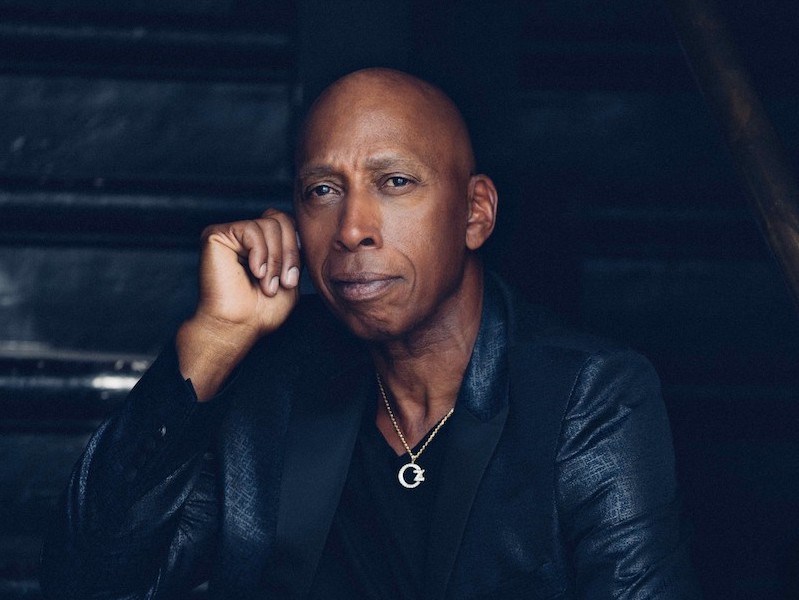 5x gold & platinum vocalist
JEFFREY OSBORNE
September 1, 2022

Doors: 7:30 PM / Show: 8:00 PM

September 2, 2022

Doors: 7:30 PM / Show: 8:00 PM

September 2, 2022

Doors: 9:45 PM / Show: 10:00 PM
The youngest of 12, Jeffrey Osborne spent his childhood patiently waiting for a turn to play his favorite records on the family turntable. Hours would go by, listening to Sarah Vaughan and Ella Fitzgerald, Gloria Lynne, Della Reese, Joe Williams and Billy Eckstine spun by his brothers and sisters. Miles Davis, Freddie Hubbard and Clifford Brown poured from the speakers when it was his father's turn. "So despite my love for Motown and doo wop," laughs Osborne, "I really grew up listening to jazz and standards." "It's funny," he continues. "I don't think any of my family would have ever envisioned me doing a record like this. It's always been R&B for me, but I don't think any of them would be surprised to hear it. And because this music is in my roots, I actually feel more comfortable doing this than I do R&B." With the release of A Time For Love, Osborne shows that it is his time, indeed, to finally record the songs he has long adored.
"This album is something I've always wanted to do," Osborne says excitedly. "I had a pretty clear idea of what songs I wanted to record because I've liked them so much over the years. But there are so many that it was difficult narrowing it down to just 12." So much so that he jokes A Time For Love will be the first in a trilogy of albums so that he can get to all of the songs on his wish list. In the end, most of the classics he selected were ones he began singing in Rhode Island nightclubs back when he was just 13 years old.

Though Osborne knew most of the songs like treasured old friends, he wanted to explore interpretations of them in ways he hadn't before. To help guide him through the new journey, Osborne turned to legendary jazz and R&B producer George Duke. The two were musical alchemists during the early days of Jeffrey's solo career, turning out hit after hit together on his first three albums including "On The Wings of Love," "Stay With Me Tonight," "We're Going All The Way," and more. "I knew there was no one else I would want to do this with other than George," says Osborne. "I just love George. I mean, he produced my first three solo records and so it was beautiful to come together for this project. And his arrangements are unbelievable." "When we recorded the album," adds George Duke, "all we did was laugh most of the time. It was really like no time had passed between then and the last time we worked together. It was a wonderful experience…the most fun record I've done in a long time."

The album was recorded live, much like the songs originally were. Duke brought in the acclaimed jazz musician Christian McBride on upright bass, John Roberts on drums and personally helmed the keyboards. Tenor saxophone player Kamasi Washington joined in for "A Time for Love" and "My One and Only Love," while guitarist Paul Jackson Jr, trumpet player Walt Fowler and saxophonist Everette Harp were added to select songs for extra layers. Jeffrey brought in Rick Braun to play trumpet, a poignant tip of the hat to Osborne's father, a popular Rhode Island trumpet player.
"I sang right while they were playing and that's not done anymore," reflects Osborne. "We started it up and they played and I sang and you can feel that it has a flow. You can tell that there are songs where I was leading and George was following me, and you can really feel the connection on the record. It's probably the best experience I've ever had recording a record. The vibe was great. I would sing a lick and Christian would play behind me and complement what I sang, and John would take it somewhere else…it was just amazing. You could feel that we were listening to one another while we were doing it and we were complementing each other as we went along. It was kind of magical and I think what's missing it today's music. And I think you feel that in the record. It's like there's something different happening all the time."
That sentiment would turn out to be an understatement when it came to "Baby, It's Cold Outside." "George was doing a show at the United Nations with Chaka Khan," Jeffrey explains, "and he mentioned that he was working with me. She immediately said, 'I want to be a part of that,' and this is the song that she wanted to do, that she'd always wanted to record it. My first reaction was 'isn't that a Christmas song?' But it's not necessarily. It never mentions Christmas. We had a lot of fun recording it." Duke adds, "We used the original as the basis but thought it would be nice if it was a little funnier with some dialogue in the middle. She does an incredible job and it's such a different take on the song. And I can't tell you how much fun we had recording it. It's a totally unique thing and she and Jeffrey worked so well together."
Osborne pays homage to his R&B past with his take on "Don't Let Me Be Lonely Tonight." "We made sure it fits within what's going on with this project," he explains. "It just has a little groove to it that puts it in both worlds. This is the only song on the album that George played an old Wurlitzer on and it just has a great feel to it." It was always part of the plan to deliver a couple of surprises refashioned as standards. "(They Long To Be) Close To You" was another. "Burt Bacharach and Hal David wrote this amazing refrain," says Osborne, ""so I really wanted to stick with it. I didn't try to oversing the song with a lot of riffs. I wanted to sing it very whole."
But the album's creative beauty is most evident when it comes to the standards. "My One and Only Love," with its incredible melody, takes a detour into swing for a moment. "Smile" is punctuated by melancholy optimism in the form of a Bossa Nova beat and Osborne's emotion-laden delivery as the haunting strains of a harmonica drift by. Saxophonist Everette Harp helps coax soul and blues out of "Teach Me Tonight." Osborne discovered blues elements in "You Don't Know What Love Is" as well. "It's got some classic jazz runs, too, although it's almost a blues song because it's sad," and worked with Duke to give it a more sensual interpretation than most fans would expect.
"When I Fall In Love," one of Jeffrey's all-time favorites, gets the biggest arrangement of all the songs on the album. "It's very orchestrated," he explains, with a special appearance by trumpet player Rick Braun. Later, Duke gave the eerie lyrics of "Nature Boy" an equally haunting and deliberate arrangement, replete with the sound of a pensive, muted trumpet from Walt Fowler.
When it came to "What a Wonderful World," the producer found inspiration in an unlikely place. "I thought 'what the heck am I supposed to do?' remembers Duke. "All I could think about was Satchmo. Coincidentally, I was Musical Director of an International Jazz Day concert at the United Nations around that time, and Herbie Hancock – who put it together – said 'I want someone to do 'Wonderful World' in the show.' So I called Esperanza Spalding and said 'do whatever you want' and she took it so far outside of what it started out as that it cleared my mind of what it's always been. I sat down and started playing these chords and came up with an idea for a groove and called Jeffrey to see if he liked it and he loved it."
For "A Time For Love," the duo opted to build a very sparse arrangement. "It has a really intimate feeling," reflects Osborne. "I know my brother used to always sing this song and my mother used to really like it so whenever I hear this song, I think of my musical days back when I was growing up."
"I thought of my whole family while I was recording this," says Jeffrey wistfully. "I had an older brother, Clay, who was a great jazz singer in Providence, Rhode Island. This is the kind of record that he would do," he adds, quietly.
---
You may also enjoy these amazing upcoming shows!
Sun Sep 11: Chuckii Booker
Thu-Sat Sep 15-17: Peabo Bryson
Wed Sep 28: Untrained Melodies