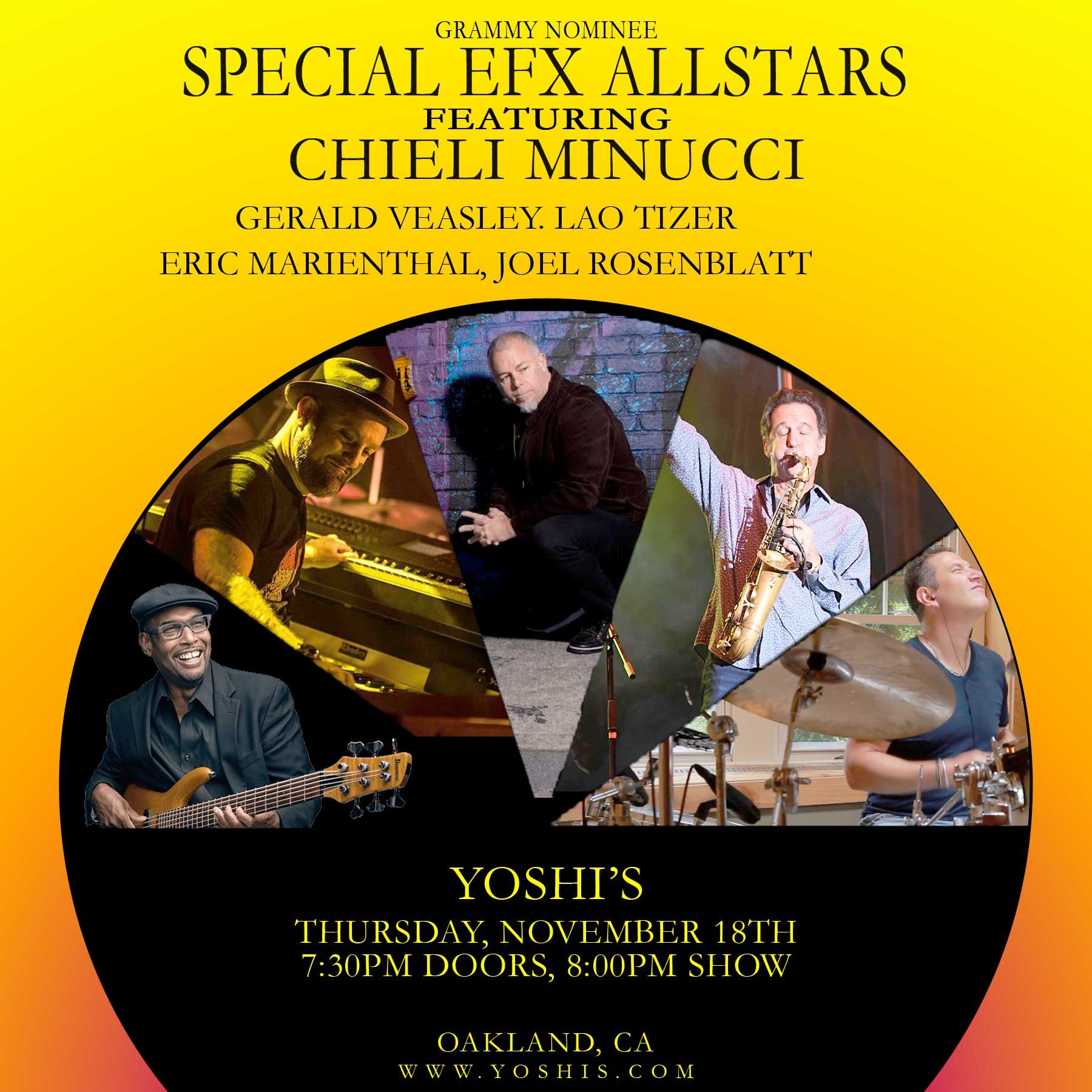 Thu November 18, 2021
SPECIAL EFX ALL-STARS
Doors: 7:30pm Show: 8:00pm
Guitarist, composer, and arranger Chieli Minucci is longtime leader of the Grammy-nominated jazz-fusion group SPECIAL EFX featuring Chieli Minucci, a major force on the jazz and world music scene for over 35 years. Chieli has just recently released his 35th anniversary CD, "All Stars" (Trippin N Rhythm Records). Chieli & Special EFX's previous release saw title track, "Deep as the Night", won Billboard Magazine's 2018 top honors, best-song-of-the-year. Besides writing and performing his own music, Chieli shares his guitar brilliance throughout the entertainment world. He has recorded and performed with many top artists, such as Celine Dion, Lou Reed, Lionel Richie, Chaka Khan, Jennifer Lopez, Jewel, Mark Anthony, Michael Bolton, Eartha Kitt, Eddie Fisher, Anastasia, as well as jazz artists Kirk Whalum, Jeff Lorber, Norman Brown, Bernie Williams, Marion Meadows, Lao Tizer, Mindi Abair, Rick Braun, Gerald Veasley, Omar Hakim, and many others. Although renowned in the jazz and pop world, Chieli is also a gifted television and film composer. He has won 3 Emmy Awards and been nominated 10 times for his eclectic compositions. His music can also be heard on the soundtracks of the films Bowfinger, No Country for Old Men, Legally Blonde, American Made, and others. Chieli's original scoring work can be heard in live stage productions of Peter Pan, Dora the Explorer, Go, Diego Go, Thomas the Tank Engine, and others.
__________________________
Saxophonist Eric Marienthal started his professional career in 1980 with famed New Orleans trumpeter Al Hirt. After returning to Los Angeles, Eric became a member of the Chick Corea Elektric Band. He recorded six albums with that band and two of them won Grammy Awards. Six of the songs that Marienthal has recorded have made it to the top 10 of the National Contemporary Jazz Radio Charts and two have made it to No. 1. His Oasis album hit the top 5 on the Billboard Contemporary Jazz Chart. Shortly after that, he was voted one of the year's "Favorite Alto Sax Players" in Jazziz magazine's Readers' Poll. Marienthal has also written instructional books, including Comprehensive Jazz Studies & Exercises, The Ultimate Jazz Play Along, and The Music of Eric Marienthal and instructional videos, including Play Sax From Day One, Modern Sax and Tricks of the Trade.
__________________________
Gerald Veasley - Musician. Educator. Curator. Gerald Veasley's life as a creative professional is clearly multifaceted. Indeed, he wears various "hats" yet he is motivated by a singular purpose: to translate his joy of music to the world, music without boundaries… Gerald Veasley's musical odyssey has taken him to the top of the contemporary music world as a bassist, bandleader, composer, producer, educator, and curator. His performance as a six-string bassist has been top shelf, as his extensive body of work attests. Veasley has recorded or performed with many of the world's top artists in Jazz, R&B and Gospel: Kirk Whalum, Will Downing, Chuck Loeb, Maysa, Nnenna Freelon, Special EFX, Pieces of a Dream, McCoy Tyner, The Jaco Pastorius Big Band, Gerald Levert, Teddy Pendergrass, Philip Bailey, the Dixie Hummingbirds, John Blake, Odean Pope and Pat Martino.
__________________________
Joel Rosenblatt is a world-renowned drummer and producer. He has performed and recorded with such greats as: Spyro Gyra, Special EFX, Lee Ritenour, Freddy Jackson, Robben Ford, Larry Carlton. Eileen Ivers, Michel Camilo, Chick Corea, Steps Ahead, Paquito d Rivera, Manhattan Transfer, Randy Brecker, Ken Navarro, Bill Evans and many more. Having toured the world many times over, Joel brings an international musical awareness to the music. Currently the owner and main engineer at world class Cliff Sound Productions, Joel is also actively involved in producing and cultivating new artists.
__________________________
Keyboardist Lao Tizer is one of today's rising stars of the world-fusion genre. Tizer's original music has spurred comparisons of a modern twist to the 1970s and early 1980s heyday of jazz fusion, when trailblazing ensembles like Return To Forever, Mahavishnu Orchestra and Weather Report set the aesthetic standard. Lao's music has a multi-genre, multi-national appeal and his group, The Lao Tizer Band, has toured the USA and the world while being nominated "Jazz Group of the Year"! Their new 2018 CD/DVD combo release, Songs From The Swinghouse has received acclaim across the industry while debuting near the top of the Billboard Jazz Album Chart!
---
You may also enjoy these amazing upcoming shows!
Fri-Sun, Dec 3-5: Boney James
Wed, Dec 15: Rebecca Kleinmann All-Star Jazz Quartet
Tue, Dec 28: Tommy Igoe Groove Conspiracy
---