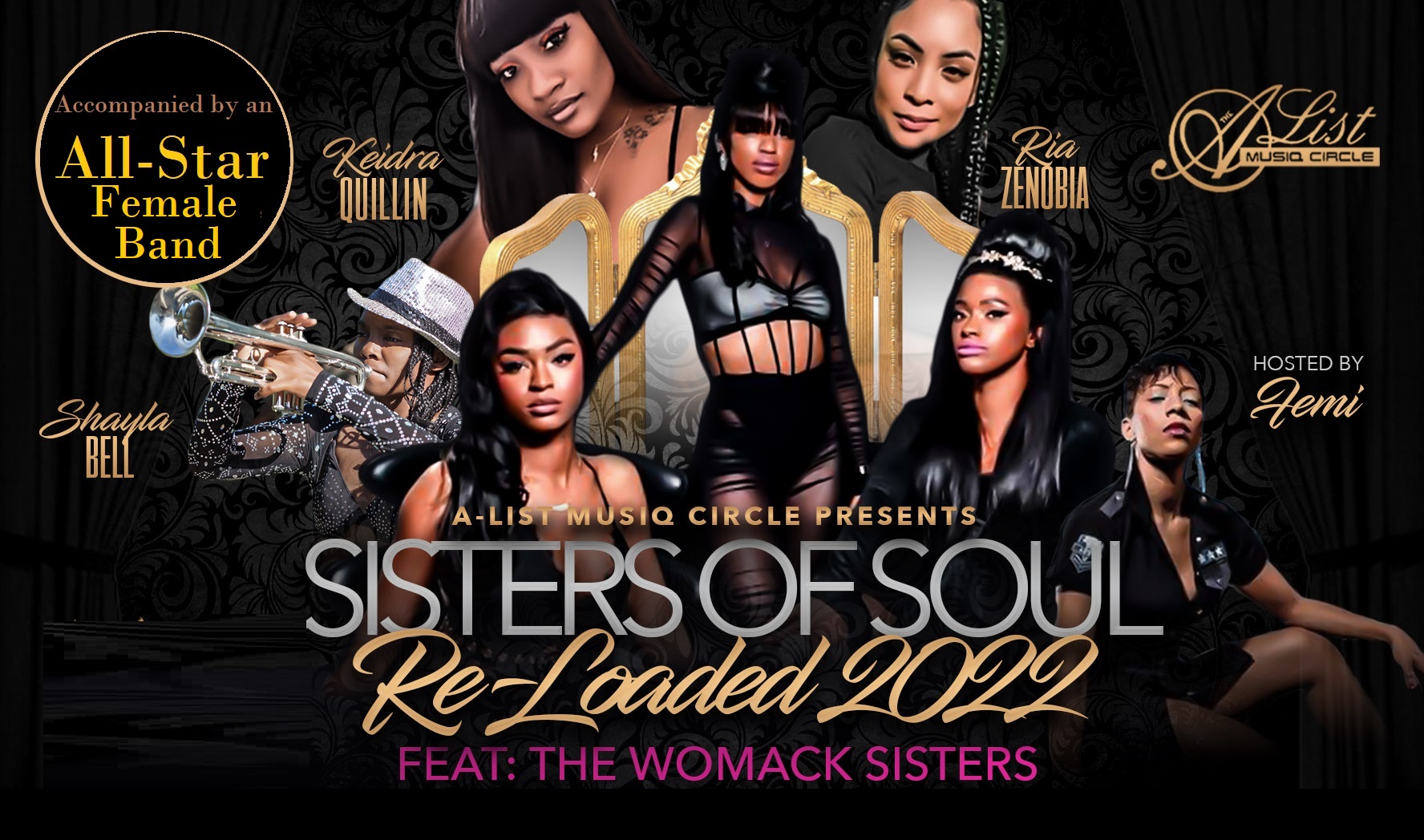 Thu April 7, 2022
Feat. The Womack Sisters, Ria Zenobia, KeidraOnstage & Shayla Bell, Hosted by FEMI
SISTERS OF SOUL RE-LOADED
Doors: 7:30 PM Show: 8:00 PM
For the last 10 years Sisters of Soul has showcased & interduce us to some of the most amazingly talented independent female recording artist the industry has to offer. This year we reignite the stage for the next generation of prominent soul sister featuring: Ria Zenobia, KeidraOnstage, Shayla Bell and the beautiful, Womack Sister performing their new hit single "Blocked" and more…. Hosted by Bay Area's original Soul Sister, FEMI, backed by some of the Bay Area's finest Female Musicians, now known as The S.O.S. All-Star Female Ensemble.
Presented by Mark Elliott & The A-List Musiq Circle- Your Bay Area's Who's Who Entertainment Network. Music Directed by Platinum Music Producer, James "Jae-E" Earley.
The Womack Sisters
As the granddaughters of the legendary Sam Cooke, daughters of renowned songwriters and producers Cecil and Linda Womack (of Womack & Womack,) and nieces of singer-songwriter and R&B icon Bobby Womack, music is in their blood. Taking the American R&B and Pop scene by storm, the music industry welcomes a new generation of royalty with BG, Zeimani, and Kucha, the three gifted and soulful siblings who make up The Womack Sisters (TWS). Although the best friend trio inherited the legacy of musical giants, they are forging a new path with their most recent self-penned single, "Blocked."
Growing up in a close-knit family on the road alongside their four siblings, the sisters are forever grateful for the vocal and composing gifts they inherited. Dualling as both a loving father and industry guide, Cecil wanted his children to understand the inner workings of the music business. TWS experienced a once-in-a-lifetime childhood as they performed worldwide alongside their parents and touched the hearts of thousands working with the Rolling Stones, Ozzy Osborne, Annie Lennox, and many others. They were also proud to work with their uncle Bobby Womack, performing background vocals on his final tours. Their upbringing and life-changing moments have influenced the sisters' sound, feel, and energy.
Living in the glow of their family legacy, the sisters are now ready to step into the spotlight, share their talents with the world, and introduce a new wave for their generation.
Currently making their home in Los Angeles, the girls are busy perfecting their upcoming debut album set to release in May 2022. Between their long lineage of enriching musical history, they draw strength from their bond, for it is as unshakable and as strong as the music they create. These young ladies are stone cold veterans even though you may not have heard of them yet.
RIA ZENOBIA
Bay Area native Ria Zenobia is internationally known for her vibrant, soaring vocals. After captivating audiences in Europe and China, Ria has returned home to share her smooth R&B style with her local fans. Also an accomplished actress, Ria is the full package — and will fully entertain you in a way that will capture your heart and mind. Ladies and Gentlemen, RIA ZENOBIA!!!
KEIDRA QUILLIN
Singer, songwriter and performing artist Keidra aka KeidraOnstage was born & raised in Oakland California. Keidra has been singing since the age of six years old and have graced the stages of school plays and church choirs. She recently traveled to Ghana Africa where she toured and interviewed alongside Award winning Group Toni Tony Toné.. Her musical inspirations & influences are Toni Braxton, Michael Jackson, Brandy & rapper E40. She creates music in hopes to motivate & inspire others before & after her. Keidra is the new sound of the bay. has an album out titled The Keidra Kollection on all major platforms & a single recently dropped a mental health awareness song with a visual shot in Africa on YouTube called 'BLAME ME' Available Everywhere GO CHECK HER OUT!!! All Social media platform handles are @KEIDRAONSTAGE
SHAYLA "TRUMPITMASTER" BELL
Since the age of 10 Shayla has displayed a love for music for the last 16 years plus. Her repertoire consists of old school R & B, hip-hop, jazz, blues, classical, Latin jazz music, and gospel. She plays the trumpet and trombone by ear and reads music. Shayla has recorded her first CD "From My Heart" with Ron Moton productions, one of the members of the R&B group Confunksun and was released on July 25, 2016, and is currently working on her second CD. Shayla also enjoys playing gospel music; she has played for her previous church choir at the Progressive Community Church, Tri-Valley Community Choir and currently played at the Emmanuel Baptist Church all in Stockton California.
When she was 3 years' old, doctors told her she I would not be able to learn anything due to a learning handicap that has plagued her life. Nevertheless, look at the wonderful gift God has blessed her with, the ability to play the trumpet, trombone, and the baritone while bringing joy & inspiration to others.
ADV / $25 DOS / $32
---
SHARE THIS: