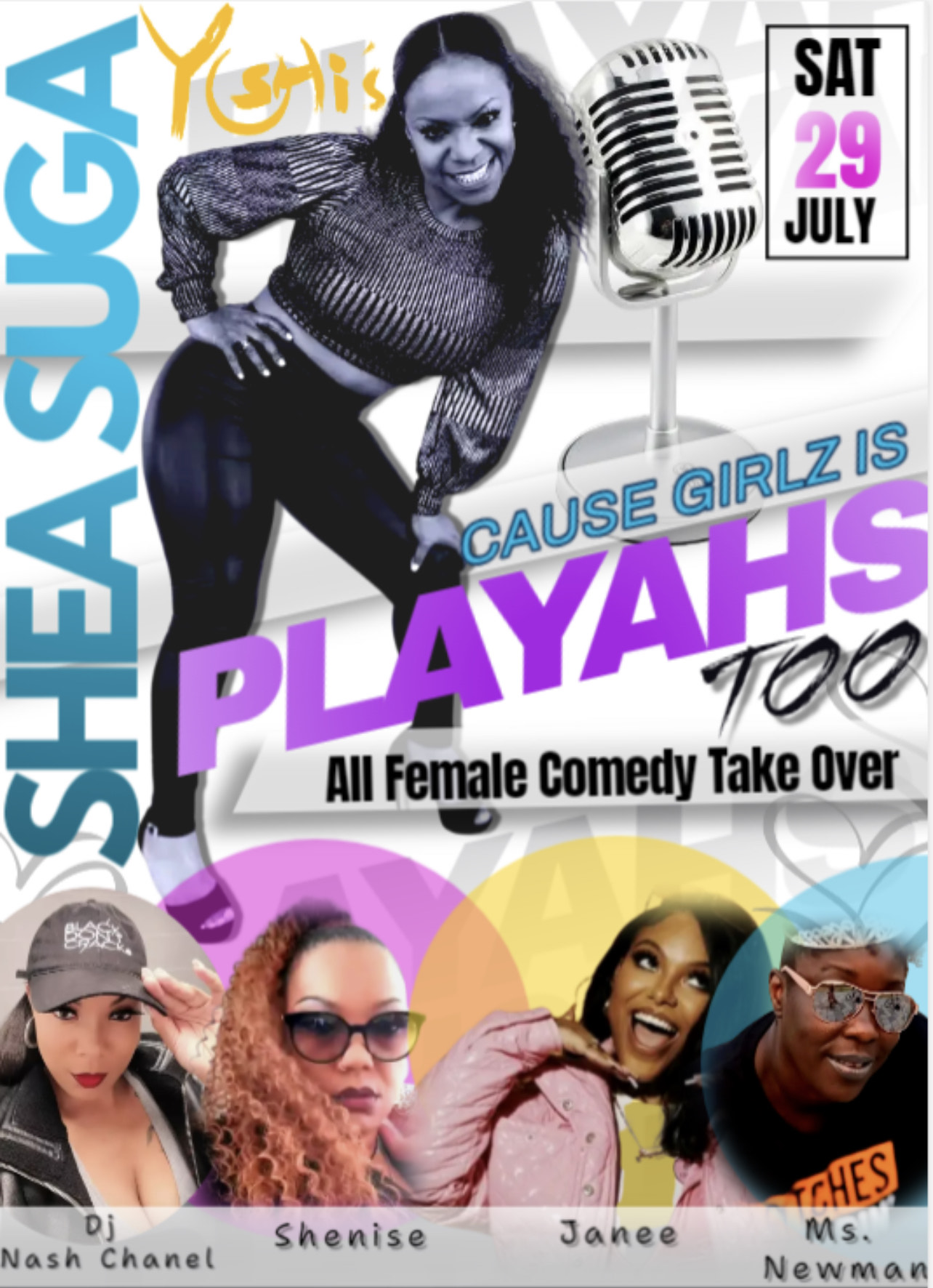 Sat July 29, 2023
SUMMER SALE: Use promo code "SUMMER" for 25% Off, Limited tickets available
SHEA SUGA'S "GIRLS ARE PLAYERS TOO" COMEDY SHOW
Doors: 9:15PM Show: 9:30PM
SUMMER SALE: Use promo code "SUMMER" for 25% Off this show.
Offer valid for online purchases only I Offer begins Mon, Jul 24 at 12:01am PST, expires Mon, Jul 31 at 11:59pm PST
Limited discounted tickets available
---
Join us as we spotlight some of the funniest female comedians in the game today. Staring Bay Area's own, SHEA SUGA, also featuring: SHENISE, JANEE RAMINI & welcoming the hilarious host, Ms NEWMAN w/ the lovely DJ NASH'CHANEL on the 1's & 2's. This is one female stand-up, line-up you don't want to miss! Ready to prove they can hold their own in the comedy game, why? CAUSE GIRLS ARE PLAYERS TOO!
Presented by Mark Elliott & A-List Musiq Circle, your Bay Area's Who's Who Entertainment Network.
SHEA SUGA BIOGRAPHY
Shea Suga hails from Phoenix, Arizona, where she was influenced by a family of entertainers and show promoters, each of whom deserve their own reality show. Shea made her way to Richmond, California, with her huge family at age 10, and is now acclaimed as one of the Bay Area's most loved and closely followed comediennes. As a , Shea packs the house whether she promotes her own show or one she hosts. Her fans find her to be hilarious and they love her highly contagious smile. Shea's comedy and singing career began in her lively and colorful childhood. As a child, Shea was given to dressing up in her own made-up characters who entertained at family functions. Shea's favorite character, Motha Gertha, is alive and well as a 64-year -old church granny who battles demons and is addicted to glitter and bling. Motha Gertha is loved throughout churches, comedy clubs, schools and corporate businesses all over the California Bay Area. After launching her stand-up career on May 5, 2005, Shea opened for comedian Luenell just two weeks later. SheaSuga.TV
Ms. NEWMAN (Host) Is from Wichita Ks, and new to the Bay Area by from Seattle. She caught the knack for singing and talking cash shhyt listening to my mom's Millie Jackson records. Shes been in the comedy game for 12 years but have showed out her whole life entertaining family & friends. Shes opened for Rodney Perry, Nate Jackson, Spanky Hayes, Rob Allen and other great comedians in the industry. Her passion & raw talent make her the perfect host for the comedy stage and the only thing she loves more is the feeling she gets from bringing laughter to the world.
SHENISE started off early childhood with her parents meeting in Los Angeles then settling in the bay area where she spent her formative years. She was no stranger to the stage as a comic, as she excelled in theater & later would enter & win a poetry contest which would be the first domino to drop in a series of comedy shows with her poetry being the opening act.
Over time, establishing a rapport with several comics it was suggested that Shenise try her hand at comedy. These comics that are still near & dear to her heart consistently suggested she was a natural with great stage presence.
In this short span, she's frequented Tommy T's featuring & hosting, working with & rubbing shoulders with greats like Ray Lipowski, Scruncho from How High, Karlous Miller from 85 south show, Tony Roberts & Boogie B, received high praise from def comedy jam's Joe Torry & viral sensation Bubba Dubb. And If this is only the beginning, the future is a beacon of light. So much more to come. Keep your eye SHENISE.
JANEE` RAMINI is a rising star from San Francisco California. She's performed at Tommy T's, Cobbs Comedy Club and is working on her first Netflix special. (3) Facebook
DJ NASH'CHANEL
Dinesh Chanel is a resident of the Bay Area, California. She has been in the entertainment industry since 2009 and surprisingly advanced into the disc jockey world in 2018 as one of the Bays favorite new Female DJ's known for her energetic eye-opening play selections, genre reach and can't forget all 6 foot 2 inches of gorgeous looks while doing so! DINASHCHANEL@ICLOUD.COM