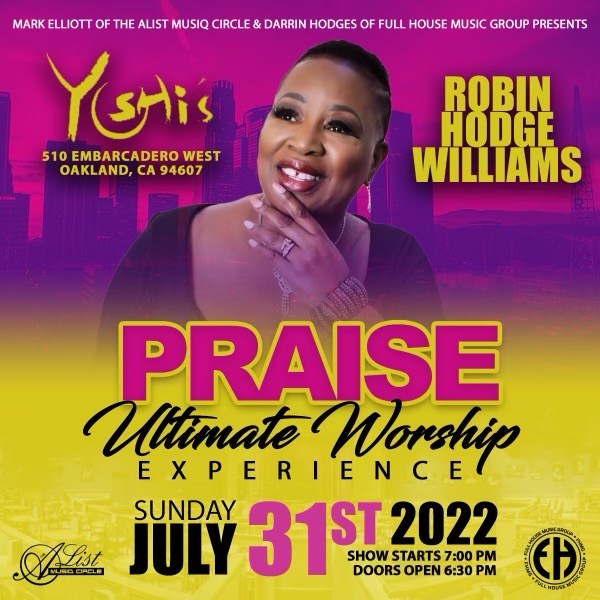 Sun July 31, 2022
Join us for an inspirational evening of "PRAISE"
ROBIN HODGE-WILLIAMS
Doors: 6:30 PM Show: 7:00 PM
PRAISE w/ Robin Hodge-Williams
Join us for an inspirational evening of "PRAISE" featuring Gospel recording artist, Robin Hodge & her anointed cast of special guest & musicians. Presented by Mark Elliott of the Alist Musiq Circle & Darren Hodges of Full House Music Group.
Robin Hodge Williams Bio
For years, her God given talent has allowed her to bless a wide and vast audience. As an anointed singer, songwriter, actress and composer, Robinhas performed in the plays, "Momma I want to Sing", "Gospel at Colonus with the Five Blind Boys of Alabama and Clarence Fountain, "Sing Out Sweet Gospel", "Graffiti Blues by Bob Dylan", "The Many Faces of Robin Hodge-Williams" and "Somebody Ought to Tell God Thank You" featuring Vicki Winans. Robin has been privileged to perform with noted greats, Lawrence Matthews, Shirley Caesar, Daryl Coley and the Hawkins Family. She has also graced the stage with Patti LaBelle, Kim Burrell and numerous others.
With two CD releases under her belt, "Show Me" and "Anointed Me" Robinhas delivered the hits, "Show Me", "Lord We Praise You", "Tell It", "He's Got Everything You Need", "Keeper" and "More Than Anything." She has also been featured in several projects including: Lawrence Matthews and Friends' "Savior Do Not Pass Me By", Greater Victory Temple Church of God in Christ as the composer and lead vocalist of "Saved".
Robin has received the "Best Female Vocalist of the Year" award from the Bay Area Gospel Academy Awards twice. Billboard Magazine recognized her in August 2000 as one of Gospel's "Hottest New Upcoming Artists." In 2002, Robin was featured on television network's "Bobby Jones Gospel Hour!". And in 2004, thru 2006 and 2010 Robin was the musical director and featured artist of the play "Black Nativity" and "Joyful Noise "at the Lorraine Hansberry Theatre in San Francisco.
Robin has completed her third recording "Purpose." This project features such notable songs as, "Celebrate Jesus", "Presence of the King", "That's Who He Really Is" and "Heaven is a Wonderful Place." She has a diverse selection of songs mixed by noted Bay Area producer Michael J. Witwer with additional production by David Jackson. She is currently working on her fourth recording Victory is Mine.
Robin is aware that she is on a mission that shall be accomplished. That is: to spread the Joy and Love of God to all through her music and ministry. And, through the will of Jesus, Robin knows her mission will not be defeated!