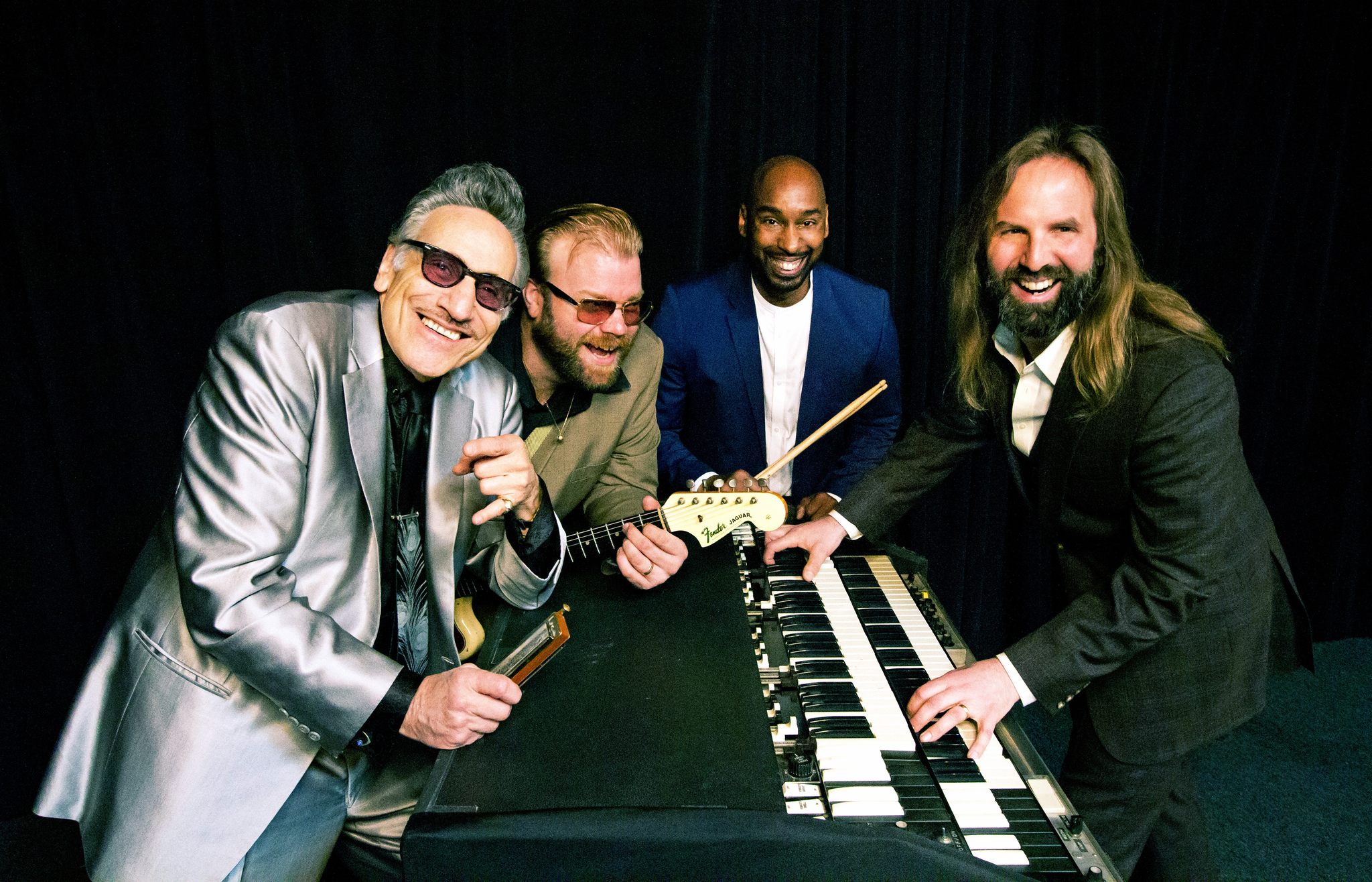 Mon June 27, 2022
Unpredictable, no-holds-barred blues
RICK ESTRIN & THE NIGHTCATS
Doors: 7:30 PM Show: 8:00 PM
"Powerful, rollicking and magical…virtuoso harp, wildly eccentric guitar, sly, streetwise vocals and great songs" –Blues & Rhythm
"These are serious musicians having a hotter than hot good time. It's tough to stay in your seat when Estrin and his musical cohorts get cooking." –Chicago Sun-Times
Wildly fun, musically fearless and bursting with bravado, 2018's Blues Music Award- winning Band of The Year Rick Estrin & The Nightcats have created one of the blues' most instantly recognizable sounds and no-holds-barred styles. Featuring the world-class talents of harmonica master, songwriter and vocalist Rick Estrin, guitar wunderkind Chris "Kid" Andersen, keyboard wizard Lorenzo Farrell and dynamic drummer Alex Pettersen, Rick Estrin & The Nightcats serve up sharp and incisive original blues and gritty roadhouse rock 'n' roll. With his wily and unforgettable original songs and his hipster, street-smart vocals, no one on the blues scene writes or sings like Rick Estrin. No one looks like him either, as Estrin is always dressed to the nines, sporting his trademark pencil-line mustache and pompadour haircut. DownBeat says, "Rick Estrin sings and writes songs like the brightest wise guy in all of bluesland and blows harmonica as if he learned at the knee of Little Walter." Live, the band is simply unbeatable. They deliver a high-energy show capable of bringing any audience to its feet." According to Living Blues magazine, they play "captivating, powerful blues and roots rock with a wickedly cool and otherworldly twist on tradition...intelligently conceived and executed...hugely entertaining. "
Rick Estrin & The Nightcats' fourth Alligator album, Groovin' In Greaseland, features 13 original songs, 11 by Estrin (including one co-written with Andersen), and one each by Andersen and Farrell. From the true-life wisdom of The Blues Ain't Going Nowhere (the 2018 BMA-winning Song of The Year) to the rambunctious Hot In Here to the humorous, semi-autobiographical Dissed Again to the hard luck Living Hand To Mouth, the album delivers one winning performance after another. The band's dazzling performances bring the songs to life as richly detailed characters spill their secrets and share their stories. One listen makes it clear that this is one of the tightest and most original groups in any genre, constantly inspiring each other to new heights. Groovin' In Greaseland was produced by Andersen and Estrin and recorded at Andersen's soon-to-be legendary Greaseland Studio in San Jose, California. According to Estrin, "Kid is the best producer I've ever worked with. And the fastest."
For more than 30 years and nine albums, Rick fronted Little Charlie & The Nightcats, flawlessly combining his songs, vocals and harmonica with Little Charlie Baty's one-of-a-kind guitar excursions. The band won international acclaim and toured the world repeatedly. They were nominated four times for the prestigious Blues Music Award for Band Of The Year. With Charlie's retirement from touring in 2008, Rick took over leadership of the band. He knew the only way to replace Baty's mind-melting mashup of blues, jazz and roots rock was to find someone with an equally insane and daredevil guitar approach. Rick knew that would be a tall order to fill. As luck would have it, Kid Andersen, who had been working with another harp legend, Charlie Musselwhite, became available. "Kid's a fearless nut on the guitar," says Estrin. "He's really the only guy who could fit in with us." With an unpredictable, uninhibited style that perfectly meshed with Estrin's wildly imaginative songs, the new band charged out of the gate.
Since the 2009 release of Rick Estrin & The Nightcats' celebrated Alligator Records debut Twisted, the 2012 follow-up One Wrong Turn and 2014's crowd-pleasing You Asked For It... Live!, the band has continued to tour non-stop, winning new fans at every turn. They've performed at festivals and concert stages from San Francisco to Chicago to New York, and all over Europe, with recent stops in Norway, Switzerland and Poland.
Years of worldwide touring and a series of critically acclaimed recordings have earned Estrin five Blues Music Awards, including two nods for Song of The Year (1994 and 2018), Best Instrumentalist—Harmonica (2013) and Traditional Blues Male Artist Of The Year (2018). The full band, Rick Estrin & The Nightcats, won the highly coveted 2018 Band Of The Year award. Additionally, Estrin has written songs for a growing legion of other musicians. Three of his songs found their way onto Grammy-nominated albums by Koko Taylor, Robert Cray and John Hammond. Estrin cites Sonny Boy Williamson II, Percy Mayfield and Detroit bluesman Baby Boy Warren as his major songwriting influences. His work on the reeds is deep in the tradition of harmonica masters Sonny Boy Williamson II and Little Walter Jacobs, while at the same time pushing that tradition forward with his innovative songs. And his sly and soulful vocals are the perfect vehicle for driving those songs home. Blues Revue says, "Estrin has created some of the finest blues songs of any artist on the planet. His carefully wrought lyrics penetrate human weakness with the precision of a boxer, though more often than not, he chooses to leave you laughing after the blow's been struck."
Besides Estrin's celebrated songwriting and musical skills, he and the band are among the most entertaining and colorful showmen around. Estrin's quick wit and signature look and Andersen's off-the-cuff guitar acrobatics add even more spontaneous fun to their live performances. "People don't go out to see people who look like themselves," says Estrin. "They want to see something special. I was schooled in this business to be a showman, and that's what you get when you come to see us perform. We know how to put on a show."
Estrin was born in San Francisco, California in 1949, and grew up fiercely independent. As a 10-year-old boy, he made his way to the tough Market Street area and befriended many of the neighborhood characters. When he was 12, his older sister gave him a copy of Ray Charles' The Genius Sings the Blues, and he became infatuated with the music. Albums from Jimmy Reed, Champion Jack Dupree, Mose Allison, Nina Simone and others soon followed. By the time he was a teenager, Estrin had immersed himself in the urban, African-American culture surrounding him. He got his first harmonica at age 15, and by age 18 was proficient enough to begin sitting in at black clubs around the city. He first jammed with blues master Lowell Fulson and immediately was hired to open five shows for R&B giant Z.Z. Hill. He worked five nights a week for almost a year with guitar legend Travis Phillips in a band fronted by famed pimp/bluesman Fillmore Slim (who was the centerpiece of the acclaimed Hughes Brothers documentary American Pimp). Slim introduced Estrin to singer Rodger Collins, the man who would become Rick's first real musical mentor. Collins schooled Rick on the finer points of songwriting and show business. Estrin moved to Chicago when he was 19 and worked with Windy City bluesmen Johnny Young, Eddie Taylor, Sam Lay and Johnny Littlejohn. He met and jammed with Muddy Waters, who told Rick, "You outta sight, boy! You got that sound, boy! You play like a man, boy!" Muddy wanted Estrin to go on the road with him, but due to nothing more than a missed phone call, it never happened. Rick eventually moved back to the Bay Area, and, to the joy of blues fans everywhere, met guitarist Charlie Baty and formed Little Charlie & The Nightcats.
Rick Estrin & The Nightcats have not only picked up where Little Charlie & The Nightcats left off, they've taken everything to the next level. Now, with Groovin' In Greaseland, they prove yet again why DownBeat calls them "marvelous and crowd-pleasing." Rick Estrin & The Nightcats continue to set the bar high, proving themselves night after night on stages around the world. Billboard called them "fabulous, remarkable and original." According to Blues Revue, "It just doesn't get any better."
THE NIGHTCATS:
Kid Andersen (guitar, background vocals)
Chris "Kid" Andersen was born in Telemark, Norway. A blues fan since childhood, Andersen fell in love with the music of Otis Rush, Buddy Guy, Junior Watson, and the Kings (B.B., Albert and Freddie). By the time he was 18, he was backing all the American blues stars who came through Norway, including Homesick James, Nappy Brown and Willie "Big Eyes" Smith. He moved to California when he was 21. Once in the U.S.A., Andersen earned a green card as an "Alien of Extraordinary Ability." Andersen released four solo albums before joining blues harmonica legend Charlie Musselwhite's band in 2004, a gig that lasted until he joined Rick Estrin & The Nightcats in 2008. Andersen's Greaseland Studio, winner of the 2017 Keeping The Blues Alive Award, has been the scene of recordings by artists including Elvin Bishop, John Nemeth, Wee Willie Walker and Finis Tasby, as well as all three Rick Estrin & The Nightcats studio CDs.
Lorenzo Farrell (piano, organ, synthesizer)
Lorenzo Farrell was born in Lexington, Kentucky, and grew up in Bloomington, Indiana, where he started playing piano at age five. During his high school years in California, he discovered jazz and made the switch to upright acoustic bass. After high school, Farrell took several years off from his music career to earn a degree in Philosophy from the University of California at Berkeley, and study religion in Delhi, India. Since returning to the San Francisco Bay Area, he has been a highly sought-after multi-instrumentalist, having returned to piano and mastered organ in recent years. A Nightcat since 2003, Lorenzo has also had the opportunity to perform and/or record with many other artists, including Wee Willie Walker, Elvin Bishop, Finis Tasby, Jackie Payne, Andy Santana, Terry Hanck and Little Charlie Baty's Organ Grinder Swing.
Alex Pettersen (drums)
Robert Alexander Pettersen was born in Oslo, Norway. He first started drumming at age 11 and by 16 he had already earned a reputation as a gifted and dexterous blues drummer. He befriended teen prodigy guitarist Kid Andersen, three years his senior, and within a few years was drummer for the house band at Oslo's famed Muddy Waters Club. The band, which often featured Andersen as well, backed up American artists performing throughout Norway. Pettersen has toured with countless notable musicians, including Junior Watson, Rick Holmstrom, Nappy Brown, Mitch Kashmar, Kid Ramos, James Harman, Terry Hanck and Louisiana Red, with whom he played at the 2009 Blues Music Awards. Pettersen has two Norwegian Grammy wins with the Billy T Band, and has played with every major roots and blues artist in that country. When the call came in 2016 to join The Nightcats, Pettersen jumped at the opportunity and moved to California.
---
You may also enjoy these amazing upcoming shows!
Sun, Jul 3: But-tahs Jook Joint
Tue-Thu, Jul 5-7: Jose Feliciano
Thu-Fri, Jul 21-22: Greg Adams & East Bay Soul feat. Tommy Bowes