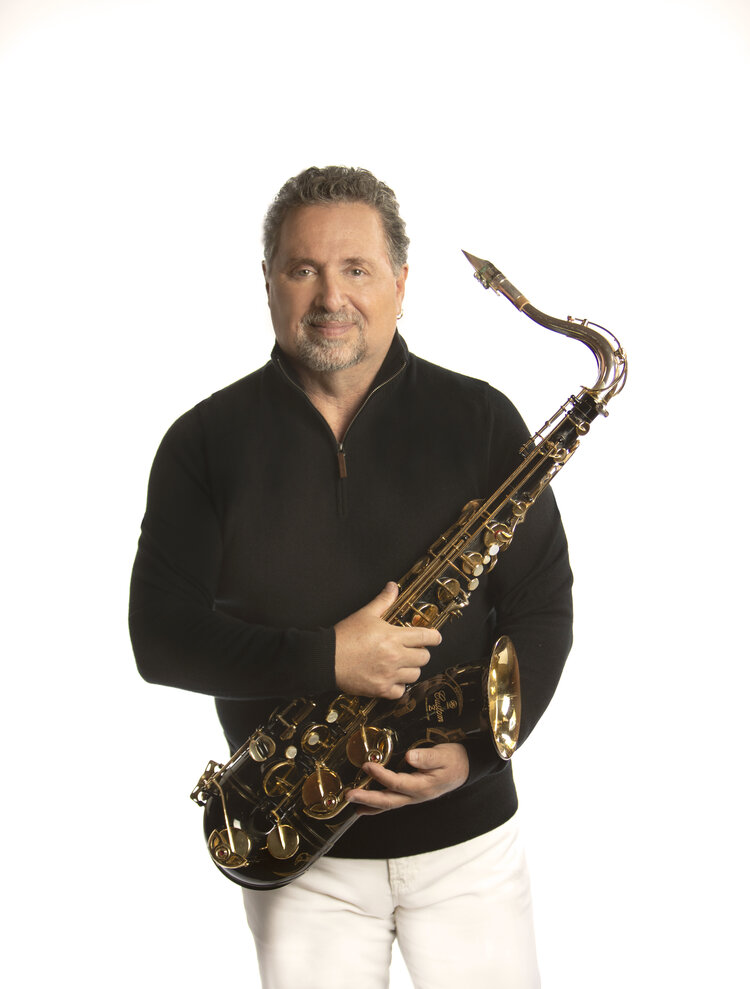 w/ Eric Valentine
RICHARD ELLIOT
April 21, 2022

Doors: 7:30 PM / Show: 8:00 PM

April 22, 2022

Doors: 7:30 PM / Show: 8:00 PM

April 22, 2022

Doors: 9:45 PM / Show: 10:00 PM
BORN IN SCOTLAND AND TRANSPLANTED TO LOS ANGELES AT THE AGE OF THREE, RICHARD ELLIOT WAS CAPTIVATED BY R&B AND SMITTEN WITH THE MOTOWN SOUND. AT AGE SIXTEEN ELLIOT RECALLS "I WATCHED THIS BIG MAN ON STAGE. I WAS MESMERIZED. DEXTER GORDON BLEW THE FIRST NOTE, HIS HUGE SOUND BLEW ME AWAY."
A YOUNG RICHARD ELLIOT POLISHED HIS CHOPS SERVING AS A SIDEMAN FOR GIANTS, INCLUDING THE YELLOWJACKETS, NATALIE COLE, AND MOTOWN HITMAKERS SMOKEY ROBINSON AND THE TEMPTATIONS. BUT MANY FIRST HEARD THE SAXOPHONE VIRTUOSITY OF RICHARD ELLIOT IN THE 1980S, AS A TOURING MUSICIAN WITH THE BAY AREA SOUL-FUNK OUTFIT, TOWER OF POWER.
IN THAT TIME, HE RELEASED HIS DEBUT SOLO ALBUM, "TROLLTOWN", AND THE ENSUING SUCCESS ENCOURAGED HIM TO MAKE A NAME FOR HIMSELF AS A SOLO ARTIST. BY THE LATE '80S, ELLIOT WAS SIGNED TO BLUE NOTE RECORDS, WHERE HE WORKED WITH THE LEGENDARY RECORD EXECUTIVE, BRUCE LUNDVALL, AN EARLY CHAMPION OF ELLIOT'S WORK.
SINCE THEN, RICHARD ELLIOT HAS RELEASED MORE THAN 20 ALBUMS. HIS LIST OF #1 ALBUMS INCLUDE "ON THE TOWN", "SOUL EMBRACE", "AFTER DARK", "AND JUMPIN' OFF", AND ELLIOT HOLDS A CONSISTENT PRESENCE AT THE TOP OF THE BILLBOARD CHARTS. HE HAS ALSO ENJOYED THE DISTINCTION OF HAVING TWO RELEASES CHART SIMULTANEOUSLY; "CHILL FACTOR" REMAINED ON BILLBOARD'S CONTEMPORARY JAZZ CHART FOR OVER 94 WEEKS, WITH THE "THE BEST OF RICHARD ELLIOT" 26 WEEKS SIMULTANEOUSLY.
"A LOT OF MY INSPIRATION IS BASED ON THE IDEA OF LIVING LIFE IN A MINDFUL WAY. THE TRUEST WAY POSSIBLE, THAT ALLOWS YOU TO BE SINCERE IN YOUR ACTIONS AND INTENTIONS WITH OTHER HUMAN BEINGS."
THE EVER-EVOLVING AND CONTINUALLY INSPIRED RICHARD ELLIOT CONCLUDES, "I DEFINITELY DON'T FEEL THE SAME SENSE OF URGENCY THAT I DID IN MY YOUNGER YEARS. I ALWAYS FELT THAT I HAD SOMETHING TO PROVE WHEREAS NOW I ONLY NEED TO PROVE TO MYSELF THAT I AM GROWING AS HUMAN BEING AND ARTIST - ACCEPTING LIFE IN ALL OF ITS FACETS - LIVING AN AUTHENTIC LIFE."
---
You may also enjoy these amazing upcoming shows!
Sat-Sun, Apr 23-24: Loose Ends feat. Jane Eugene
Wed, May 4: Ana Popovic
Thu-Fri, May 19-22: Goapele