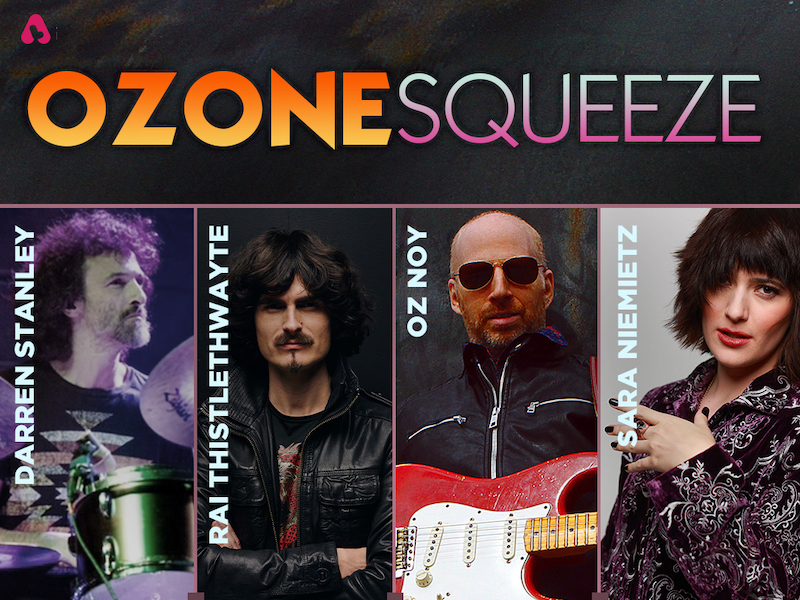 Mon March 20, 2023
New, Must-Try Sonic Cocktail Recipe: Ozone Squeeze
Guitar Player Presents: OZ NOY W/ OZONE SQUEEZE FT. RAI THISTLETHWAYTE, DARREN STANLEY, SARA NIEMIETZ
Doors: 7:30PM Show: 8:00PM
Must-Try (Updated!) Sonic Cocktail Recipe: Ozone Squeeze
When the mixologists at Abstract Logix first introduced Ozone Squeeze in 2017, a few eyebrows were surely raised. Many must have been initially skeptical of the merging of the seemingly disparate (and potent) flavor profiles of its individual components: Neo-soul silkiness, funky tang, and virtuosic heat with floral jazz notes and earthy rock and blues undertones - all topped off with a healthy dose of pop effervescence. But after an initial sampling, skeptics soon turned into converts and Ozone Squeeze became a bit of a sonic flavor sensation in certain circles and at certain parties. A hip new thing to those in the know perhaps, but it was also clear that OS had that rare something - the right balance of ingredients for mass appeal with enough punch and originality to intoxicate seasoned and discerning imbibers.
Still as tasty as it is unique, Ozone Squeeze has now gotten a refreshing update which again makes it the must-try sonic cocktail of the season…
Combine:
1 part: Rai Thistlethwayte - (Amazing Australian vox/keyboard prodigy with an ever-burgeoning reputation thanks to stints ranging from modern mind-blowers Knower to guitar icon Joe Satriani.)
1 part: Darren Stanley - (Atlanta-based drummer-extraordinaire, with degrees from Jimmy Herring's 5 of 7 Band and certifications from the Col. Bruce Hampton School of Zambi.)
1 part: Oz Noy - (the famously cutting-edge New York-based guitarist, known as much for his jaw-dropping instrumental facility as for his wonderfully idiosyncratic musicality and multi-stylistic reach.)
[and for the new twist:]
1 part: Sara Niemietz - (Up and coming Chicago-born singer/songwriter whose star has been constantly on the rise, amassing extensive recording, stage, and screen credits since the age of four.) Her vocal talents bring to Ozone Squeeze a fresh kick that is wonderfully indescribable - best to just experience it for yourself.
Note: This combination of ingredients produces an unforeseeably pleasurable and refreshingly modern libation - invigorating to the senses, yet deceptively powerful and addictive. Please listen responsibly.
Astonishing when hot, delightful when cool, Ozone Squeeze can be enjoyed in so many ways, but if in doubt, just say, "Ozone Squeeze, rocks."
Cheers…
---
You may also enjoy these amazing upcoming shows!
Tue Mar 21: Vanessa Collier
Thu Mar 23: The Cookers
Fri Mar 24: Glenn Miller Orchestra