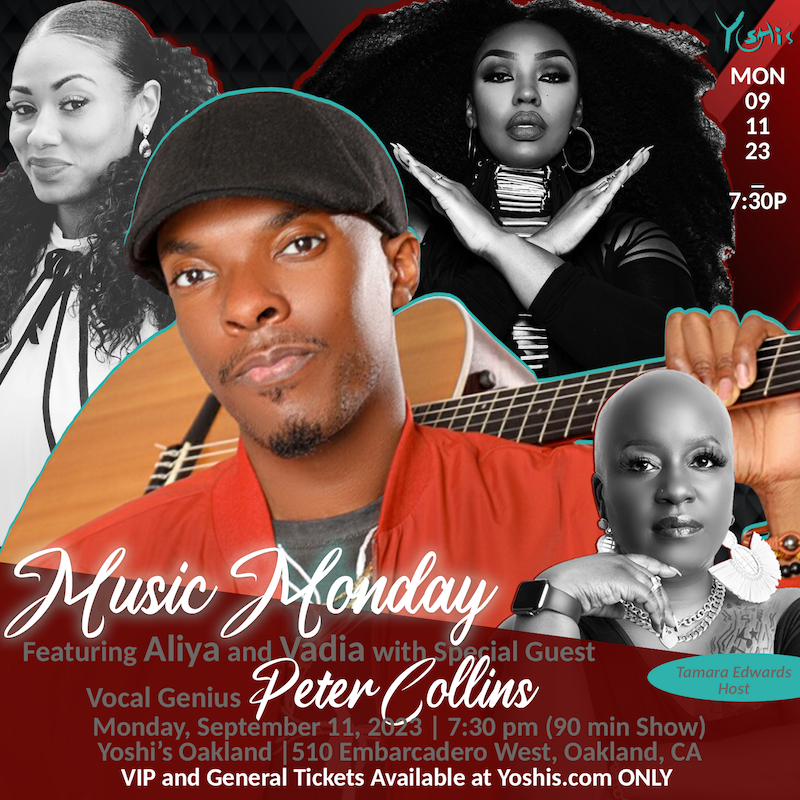 Mon September 11, 2023
MUSIC MONDAY FT. ALIYA AND VADIA W/ SPECIAL GUEST PETER COLLINS
Doors: 7:00PM Show: 7:30PM
Welcome to Music Monday! Allow Tamara Edwards to set the stage for this melodious excursion by serving as your tour guide. Get comfy as she starts the journey by paving the way for the scenic ride of the Artful Vocals of Aliya. Cruising in the next lane will be the Electrifying Artistry of Vadia whose chops will guide us to the final stop which is the Vocal Genius of Peter Collins.
"Peter Collins started off by posting videos of himself covering songs on his social media accounts and people instantly fell in love with him, his voice, and his music. His soft, smooth, gentle but immensely soulful voice is comforting to any ear. He is a vocalist whose spirit is as gentle and captivating as his mesmerizing, sultry voice. And the control he has with his voice is impressive. He is truly a singer's singer. Peter's sound is an eclectic mix of R&B, Soul, and Jazz with an inspirational foundation. He's inspired by the music and sounds of the past mixed with his creative fresh perspective. It is this binding together of the past with the present moving into the future. The way he sings, his goal is to provide the listener with a whole host of intimate emotions. Creating a mood for people is what he wants to do. Pulling inspiration from any and everywhere, Peter's journey as an independent artist has taken him all over the world meeting some incredible people. The music that he creates is totally organic and genuine, and it is all driven by his love and passion for music. Peter draws from all the genres not belonging to just one. He is inspirational; he is R&B, he is jazz; he is music from other cultures. Creating music is his genre. The internet and social media were buzzing after Peter released his debut album, "Love and Mind" - available on all digital outlets."
Get your ticket and come prepared to sit back, relax and enjoy the ride!
---
You may also enjoy these amazing upcoming shows!
Fri-Sat Sep 22-23: Dwele
Sat-Sun Oct 7-8: Freddie Jackson
Wed-Thu Oct 11-12: Will Downing