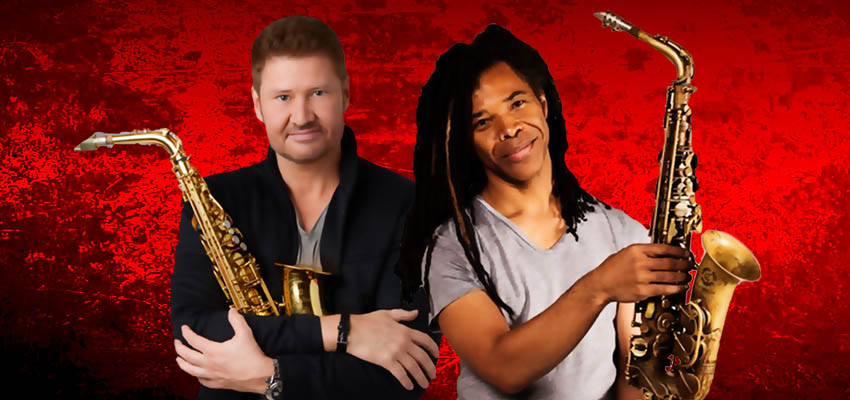 Sun January 2, 2022
PERFORMANCE CANCELED
MICHAEL LINGTON & PAUL TAYLOR
Doors: 6:30 PM Show: 7:00 PM
Due to travel cancellations outside of both ours and the artists' control, tonight's performance will be canceled. We apologize if this causes any trouble or confusion. We look forward to rescheduling this event at a later date.
MICHAEL LINGTON:
When 2020 began, Michael Lington was eagerly looking forward to many wonderful events – the impending birth of his son Landon, touring again with his fellow saxophone stars Vincent Ingala and Paul Taylor as Sax to the Max, and numerous European solo dates. Then COVID-19 hit, and the resulting lockdown scrambled everything. Prevented from hitting the road, Lington quickly turned his home studio into one of contemporary jazz's premiere virtual performance destinations, with a popular ongoing series of weekly shows on the StageIt platform.
In a year like no other, the pandemic has wreaked havoc with our health, the economy and our day to day lives – but with the relase of his latest recording Alone Together on Peak Records (distributed through BVD/Sony/Orchard), the innovative artist and his array of musical friends (from the worlds of contemporary jazz and beyond) remind us it can't stop the flow of creativity and determination to bring fans together to experience a collective joy like no other.
"Alone Together is a unique project that presented itself in many shapes and forms," Lington says. "When the pandemic started and all my touring was postponed indefinitely, I knew I needed to continue creating music for my own well-being. It was more a matter of my mental health than financial survival. I didn't want to sit around feeling stagnant and unproductive. That's when I started doing my virtual shows from my studio on StageIt.
"A few shows in," he adds, "I started inviting special guests to perform with me, but as technology wasn't allowing for 'live' duets we did it literally 'alone together' from separate locations as a pre-record. The most exhilarating part was that my fellow artists that I invited all said yes immediately – and the same goes for the selections I made for this album. At a time when I thought I might not be working at all, I've never worked so hard in my life to bring all the musical and technical elements together. This has been a very difficult juncture in all of our lives, but what it has shown me is that we as human beings are very cable of adapting and uniting, even in the most challenging of circumstances."
In addition to the opportunity for fans to once again experience favorite warm-hearted and transcendent moments of the StageIt shows, the tracks on Alone Together allow everyone to revisit some of the most compelling original and cover songs from Lington's multi-faceted 20-plus year solo discography. Opening with a rousing version of "Baker Street" featuring Javier Colon (from Heat), the set includes "Everything Must Change" feat. Chris Walker (Everything Must Change), "Gonna Love You Tonight" feat. Kenny Lattimore (Soul Appeal), "My Love" feat. Dave Koz (Stay With Me), "Some Kinda Way feat. Sy Smith (Second Nature), "Slick" feat. Brian Culbertson (Second Nature), "So Very Hard to Go" feat. Dorian Holley (Silver Lining), "Road Trip" (feat. Nick Colionne) (Pure) and "You've Got a Friend" feat. Billy Dean (A Song For You). Lington also fires up a dynamic horn conversation with superstar saxman Boney James on Boney's #1 hit "Up All Night."
Beyond the ongoing flow of Lington favorites, themed presentations like tributes to the music of Luther Vandross and David Sanborn and special holiday shows, a major key to the success of Lington's livestream series is its state-of-the-art video and audio technology. Lington launched the venture a bit more primitively, tinkering around with some basic streaming equipment he had in his studio and getting it up to speed just enough so that he could test a few opening shows on Facebook Live. He dialed in the sound quickly, then wanted better camera's and lighting and a more professional, higher quality visual presentation.
His friend Evan Lowenstein, founder of StageIt, had been telling him for years about the benefits of working with his company. Thousands of artists have used the popular platform, where they perform live, interactive, monetized shows for their fans directly from a laptop, offering those fans special one time only experiences that are never archived. Lington started the series with the StageIt interface and a simple mono feed with his computer camera and no special lighting.
With the company's help, and inspired by his opening show which sold well, Lington achieved stereo sound and entered what he calls the "brave new world," adding new tech elements with each show. He began using OBS broadcasting software to run video packets, graphics and overlays, adding webcams, enhancing the lighting and treatment of the room and ultimately running the streaming through a Mac Pro. He currently works with moving BlackMagic Designs 4K and 6K cameras and broadcasts in 1080HD.
When it came time to stream the duets, technical challenges made it impossible to do them live. So for each duet, Lington and each artist created pre-recorded videos, doing one take from top to bottom. He mixed the music and then sent it all to a video editor to synch it up – and the result is pure sonic and split screen visual magic. As Lington says in his liner notes, "What ended up happening was incredible. We put together performances that were so real, heartfelt and authentic that it became apparent we were creating something special. We captured a spirit and vibe beyond anything I could have imagined. It's not about being perfect but all about the heart and soul. It's exciting to now share that magic again on Alone Together.
"Besides prompting me to learn a lot about new technologies, one of the loveliest aspects of the StageIt series is how it has created a special community among longtime and new fans. When you perform like this, you never know whos' out there listening. Then I get those heartwarming emails that say things like, 'We're all locked down at home, and every Sunday night you give us a sense of normalcy in the world and something to look forward to.' To them, I'm no longer just Michael Lington, the artist, but the friend who comes into their home and chats with and plays for them—and we are now Alone Together!
PAUL TAYLOR:
Over 25 years into a stellar, multi-faceted career that's found him continually pushing the sonic boundaries of what's possible in contemporary urban jazz, saxophonist Paul Taylor brings us his highly-anticipated new recording AND NOW THIS on Peak Records.
AND NOW THIS, fully created via the exchange of digital files between the Las Vegas based Taylor and his longtime musical compadre, collaborator, co-writer and producer Dino Esposito, features the saxman's ongoing exploration of an expansive range of dynamic danceable grooves and intricate pop/electronica vibes. The ten tracks fully reflect the way Taylor began moving forward in his personal and creative life, as if to say, in his words, "we're coming out of the pandemic, this is what I've been creating, we're kicking it back into high gear and we are more open-minded in our approach to music than ever."
From the atmospheric soul and fast paced funk of the title track (featuring the guitar of Brian Monroney) through the sultry flow of the closing track "Good Night," And Now This also celebrates the decades long friendship and intuitive, forward thinking musical chemistry between Taylor and Esposito. Their dynamic history dates back to when they played in the same band as students at the University of Nevada Las Vegas – and includes Taylor touring in Esposito's band when he was a pop star in the late 80s touring with New Kids on the Block. Esposito has been Taylor's chief sonic co-architect since the saxophonist's 1995 debut On The Horn and subsequently collaborated on Pleasure Seeker (1997), Undercover (2000), his Peak Records debut Hypnotic (2001), Nightlife (2005), Prime Time (2011), Tenacity (2014) and Countdown (2016).
While for some artists, song titles on instrumental urban jazz releases are merely clever sounding afterthoughts, the names of each track on AND NOW THIS represent the feeling and intention of the music. With its funked out grooves and swirling sax notes in the hook, "Friday@5" is all about that moment when we clock out, make our weekend plans and have the freedom to, as Taylor says, "chill and relax or take a drive along the coast." Likewise, "The Face of You" represents a new facet of the saxman's ever-deeper artistry, an immersion into an urban exotica landscape and hypno-cool synth textured atmosphere with his ever-present soaring soprano. Next is "Epic Dream," a groove of soundscape effects and soaring atmospheres that's pure dreamy escapist.
Taylor enjoys riffing on the way some of the other titles combine to create something of a narrative about how the project took shape: "With Dino's amazing synth swells, 'Seize the Day' is that perspective we've all gained this past year about the importance of living in the moment, and for musicians, it's about always being the best version of ourselves. The vibe of 'One Step Closer' reminds me of that cool step music that was coming out of Chicago, but of course thematically it's about working hard each day to finish the work or fulfill a dream. Those angelic synth voices Dino created throughout are like our special encouragers, reminding us that we can do it and to keep going. Covid happened, and we couldn't get together to record, but we always 'Find a Way' to make things happen. It's kind of a sweet romantic tune that tells us no matter what obstacles come in our path, we can always figure things out and get past them."
Among Taylor's chief musical influences in recent years have been globally popular, cutting edge DJ/producer/artists like the late Avicii, Tiesto and Regard. Complementing the new album's nine inspiring originals, Taylor and Esposito have a blast bringing a vibrant, freewheeling new energy to a re-imagining of "Ride It," Regard's global 2019 hit remix of Jay Sean's 2008 #1 UK R&B hit that started as a viral sensation on TikTok. Taylor's infectious twist features the smooth, soulful vocals and fast paced phrasing of Jamie Jones of the GRAMMY winning group All-4-One.
The remarkable thing about those Taylor-Esposito collabs is that even the earliest albums they did together in the late 90s and early 2000s sound as sonically and rhythmically innovative as they did a few decades ago. A popular presence in contemporary urban jazz since the early 90s when he toured and later recorded with Keiko Matsui, Taylor scored #1 Billboard hits in the 2010s with "Burnin'," "Push To Start" and "Supernova" and had his first #1 on the Billboard Contemporary Jazz Albums chart with Ladies' Choice (2007), which was produced by Barry J. Eastmond and Rex Rideout.
During the course of his storied career, the Denver native has headlined hundreds of shows and has been part of numerous all-star tours – including dates with Peter White and Euge Groove in a lineup affectionately dubbed "Peter, Paul and Euge;" Gentleman of the Night (with Marion Meadows and Warren Hill). He has also performed with The Rippingtons and the acclaimed "Groovin' For Grover" tour. Some of his first post-pandemic lockdown shows have been with labelmate Michael Lington and Sax to the Max with Michael and Vincent Ingala.
Officially entering his second quarter century of recording, with AND NOW THIS, Taylor is as excited as ever to continue casting his creative aim higher and grateful for every opportunity to bring his best to his loyal legion of longtime and newer fans. "What I like most about the new album is its freshness, and the fact that after 25 years, Dino and I still have so many unique avenues to explore," he says. "It's a special album created in unusual, highly stressful times. There's something to be said for all of us artists persevering through the shutdown of 2020 and finding a way to get it done. And we did -- AND NOW THIS!"
---
You may also enjoy these amazing upcoming shows!
Tue, Dec 28: Tommy Igoe Groove Conspircy
Thu, Jan 6: John Jorgenson Quintet
Fri, Mar 18: Glenn Miller Orchestra