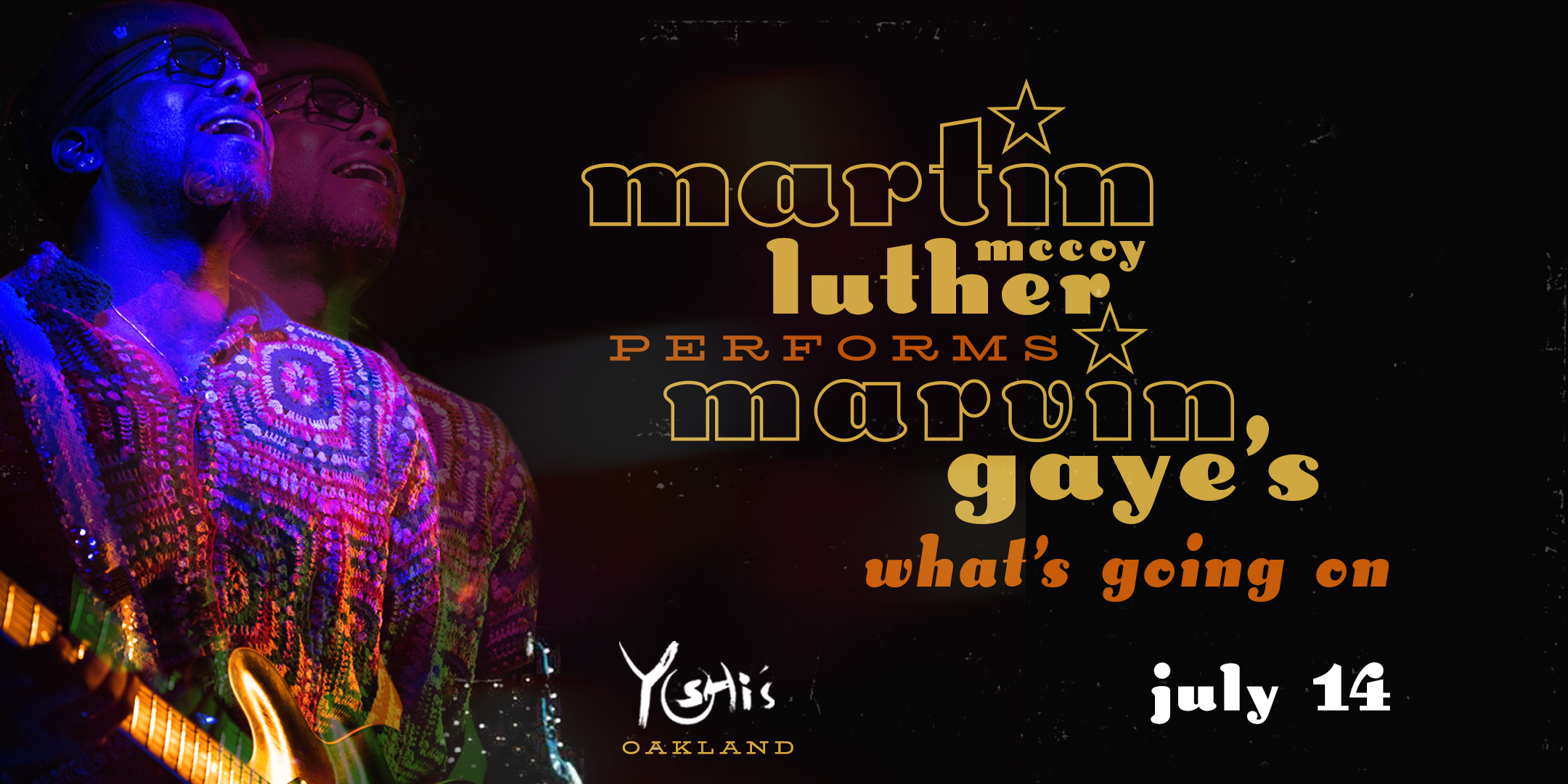 MARTIN LUTHER MCCOY PLAYS MARVIN GAYE
July 14, 2022

Doors: 7:30 PM / Show: 8:00 PM

July 14, 2022

Doors: 9:45 PM / Show: 10:00 PM
"San Francisco native and acclaimed vocalist/musician Martin Luther McCoy is the epitome of style and cool" and that is why Yoshis has welcomed Martin to kick off his 2022 schedule of Marvin Gaye shows in Oakland. "It's always a challenge to do anything with the music of the greats. Some of us might be charged with holding the torch and keeping it alive in the now and not just in samples or clips of something from yesterday."
Martin Luther refuses to confine himself to any one creative pursuit. An ambassador for hip hop soul and current SFJazz Collective member, he continues to serve as a conduit for black funk, rock and social activation music. On the cusp of releasing his fourth full- length studio album, a self-titled LP of original material, Luther, having always been a fan of the musical styles of Marvin Gaye, has dedicated a suite of songs for the commemoration of the release of Marvin's most popular album, 'What's Going On'.
Sparked by acts of police brutality that Four Tops member Renaldo Benson witnessed in May 1969 during the "Bloody Thursday" riot at Berkeley's People's Park, the classic title song composed by Al Cleveland was offered to Gaye for inclusion on his next album.
Partially rewriting the song, Gaye used it as part of a now-iconic song cycle steeped in social consciousness about Vietnam, environmental issues, and race relations in America. Luther invites listeners to 'enjoy this funky ride.' It's a trip worth taking, fueled by old-school, power-to-the-peeps politics and more soul than a Sunday revival meeting.
—San Francisco Chronicle
In some circles Martin Luther is best known for his work with the seminal hip hop collective The Roots. Many others discovered him through his incendiary performance starring in Julie Taymor's 2007 film Across the Universe. He was cast in the role of Musician, a griot sage, in Yale Repertory Theatre/ American Conservatory Theatre's production of Pulitzer Prize-winning playwright Suzan-Lori Parks' Father Comes
Home From the Wars (Parts 1, 2 & 3). If there's one thread connecting all of Martin Luther's endeavors it's his grounding in the verdant soil of African-American culture, a soul-steeped presence that leaps off of stages, screens, and bandstands.
As a producer, performer and voice talent, McCoy has been featured in commercials, films and on soundtracks like Across The Universe, Chasing Liberty, Dave Chapelle"s Block Party and most recently as part of the soundtrack to The Oracle by visual artist Sanford Biggers.
Before and throughout the pandemic Martin Luther has continued to record and release music like the sizzling RnB jam called "Now" and a heartfelt tribute to fallen NBA legend/ humanitarian Kobe Bryant, on his own Rebel Soul Records imprint as well as a number of dance floor thumpers like "Back Tonight" produced by longtime collaborator Miguel Migs. He joined the SFJazz Collective for the 2019/2020 season and being the first vocalist after a 14year run as an instrumental ensemble, his voice was a great fit for the collective as they tackled the music of Sly and the Family Stone. Martin has agreed to perform and record for the current season and will be touring the new release (Mar 22) throughout the spring and summer. "As artists, our work is often the only weapon we have to help heal old wounds or encourage and inspire the discovery of new joys. I like what we are doing to the music. We pay homage but we definitely make it our own."
Some of the bay areas best musicians will be joining Luther so don't hesitate to get your tickets now.
To remain in the flow find and follow: @martinluthermccoy
---
You may also enjoy these amazing upcoming shows!
Tue, Feb 8: Kandace Springs
Thu-Fri, Feb 10-11 & Sun-Mon. Feb 12-14: Eric Benet
Thu-Sun, May 19-22: Goapele