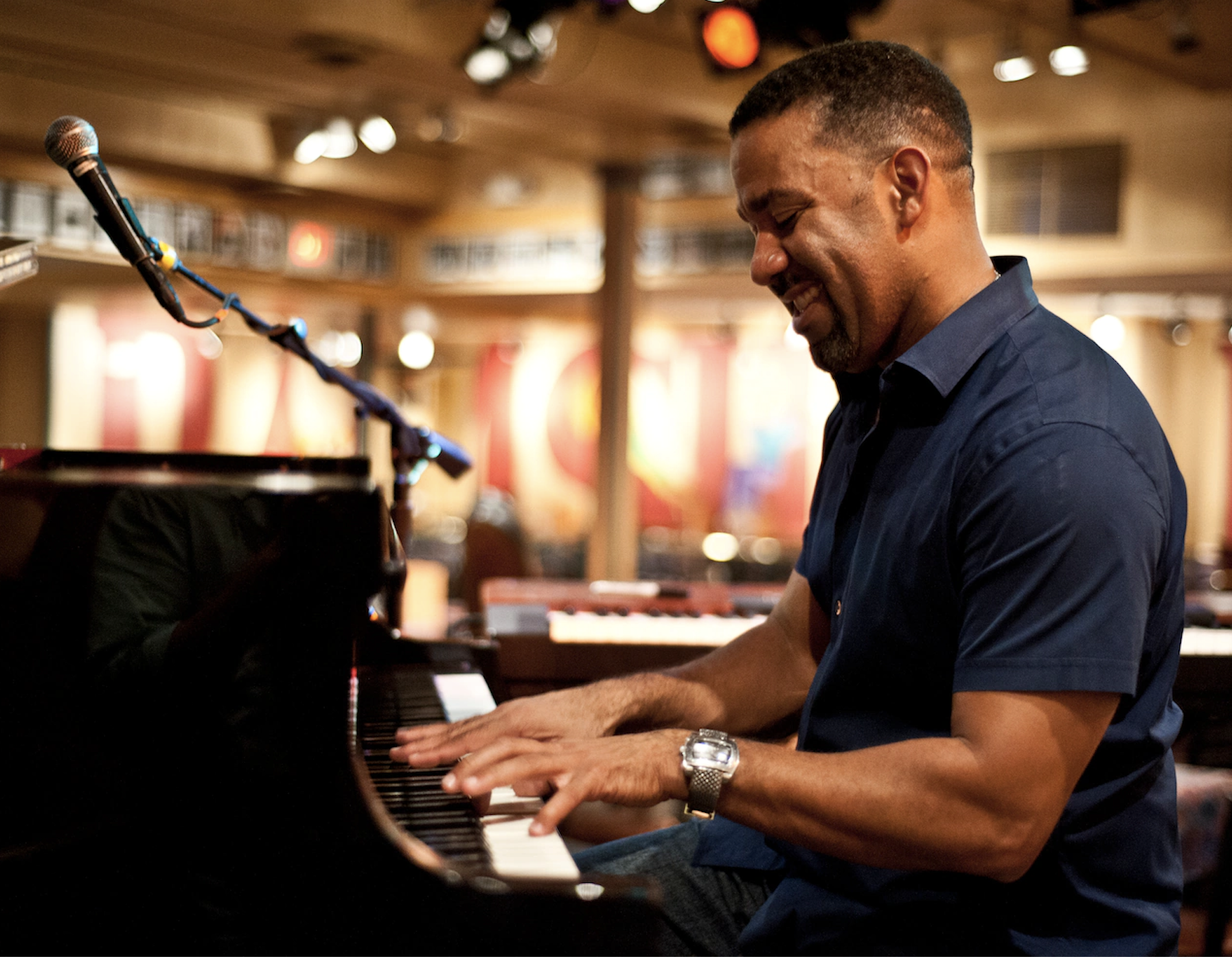 Wed November 2, 2022
Internationally acclaimed jazz keyboardist
MARCUS JOHNSON WITH JEFFERY SMITH
Doors: 7:00 PM Show: 7:30 PM
Marcus Johnson is an independent Billboard-ranked, internationally acclaimed Jazz Keyboardist.

His latest release is the CD titled "BALLADS...In My Voice", showcasing his soulful interpretations of some of his favorite ballads from different parts of his life and his favorite artists who wrote and recorded them.

Al Green's hit "Let's Stay Together" is the lead single and announces a musical journey of R&B Jazz from Marcus Johnson's voice on keys, all while maintaining the MJ 'Factor Groove' that established him as one of the giant keyboardists of jazz-funk urban music made famous by legendary jazz greats, George Duke, Herbie Hancock, Ramsey Lewis, Joe Sample, Bob James, Chick Corea, and others.

Marcus Johnson is the author of "FLO... For the Love Of", published in 2016 which achieved recognition as a Best-Selling Book and Author at Amazon.com. After publishing the book, Marcus Johnson was increasingly approached by people who were drawn to the book's life-affirming messages. Marcus began incorporating these messages in his shows and social media as an affirmation of his gratitude towards his fans and his understanding of the struggles that we all face. Through the FLO (For the Love Of…) platform, Marcus is expanding his support for the physical, mental and spiritual health of his audience.
MARCUS JOHNSON DISCOGRAPHY: Inter Alia (1997) Lessons In Love (1997 & 2005) Chocolate City Groovin' (1998) Coming Back Around (1999) Urban Groove (2000) Live at Blues Alley (2002) Just Doing What I Do (2005) Smooth Jazz Christmas (2005) In Concert For A Cause (2006) Phoenix (2007) For the Love of Romance (2008) For the Love of Standards (2008) For the Love of Chill (2008) Poetically Justified (2009) For the Love of Chill Vol. 2 (2010) This Is How I Rock (2010) Capital w/Young Pulse (2013) Live and Direct DVD (2014) Live and Direct feat. Urban Jam Band (2015) Ballads...In My Voice (2019)
Jeffery Smith, originally born in Shreveport, LA and currently residing in Dallas, TX - began playing music at the tender age of seven. Raised among other talented musicians, Jeffery was exposed to, and ultimately mastered seven different instruments. By age nine, Jeffery's strong desire to play music motivated him to start his own band. As a promising multi-instrumentalist, Jeffery performed in the concert, marching, stage, and symphonic bands with his school. Jeffery developed his own distinctive sound by listening to legendary greats as George Benson, Wes Montgomery, Frankie Beverly, Roger Troutman, Prince, Michael Jackson many other soul and R&B artists. He soon joined a local band and began touring as an opening act for artists such as Lakeside, The Bar-Kays, Midnight Starr, Roger Troutman & Zapp, Cameo, and a host of other well-known talents. Jeffery writes, arranges, records, engineers, produces, and performs all of his own music.
Jeffery has performed at military installations throughout the world. He is immensely proud of his ability to donate his talents by providing free concerts annually for such venues as Veterans Day, VFWs, and Armed Forces Day. Jeffery have appeared and performed at over 100 military installations and VA hospitals throughout the world.
Now in his fourth decade of recording popular romantic, spirited, funky and fluid George Benson and Wes Montgomery-influenced guitar magic, Dallas based artist graces up with his latest single "Jazz Party" which made it to #1 on the Billboard Smooth Jazz Chart and Smooth Jazz Network. "Jazz Party" was on the Billboard Smooth Jazz Chart for 19 weeks.
---
You may also enjoy these amazing upcoming shows!
Thu Nov 3: Kat Edmonson
Tue Nov 8: Tommy Igoe
Tue Nov 15: Benny Green