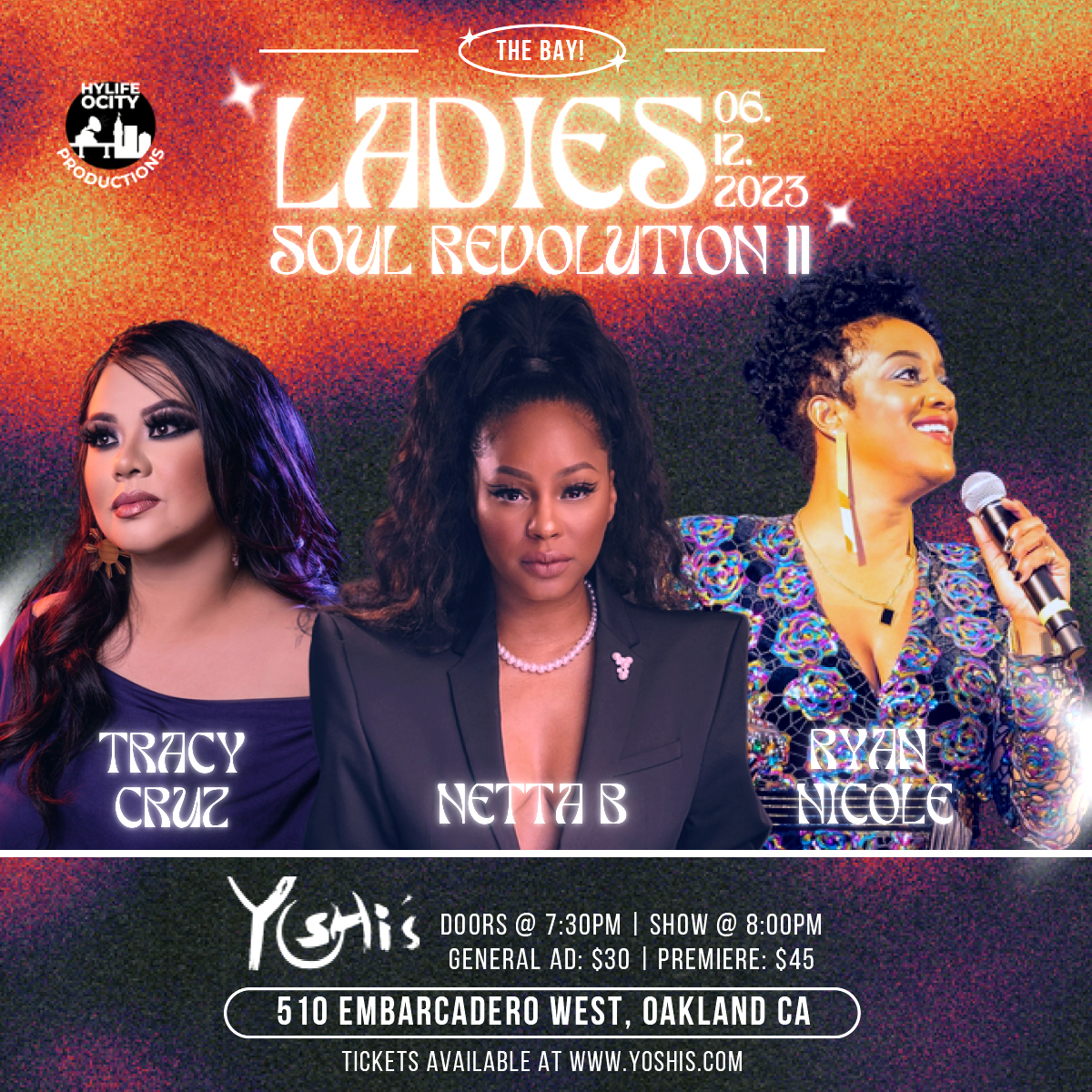 Mon June 12, 2023
Featuring Netta B, with Tracy Cruz and Ryan Nicole
LADIES SOUL REVOLUTION II THE BAY!
Doors: 7:30pm Show: 8:00pm
Netta B
NETTA B s a uniquely gifted singer, songwriter and actress with a special vocal tone that ranges from high and sweet to deep, warm and raspy. Born and raised between Berkeley and Oakland California, Netta first fell in love with music at a young age when her mother, despite their modest means, always found a way to nurture Netta's early interest in The Arts. Netta got her first big break when she participated in
Oakland Native and Def Jam President, Shakir Stewart's talent search "The Def Jam Mega Star Search."Netta was signed to L7/Atlantic and released her EP entitled "580" a project that is heavily inspired by the confusions Netta has gone on to work with artists and producers like Pharell
Willams, TI, E40, Coko of SWV and many more! 2023 marks a new chapter in the life of Netta as she is ready to deliver new music that reflects her experiences, flaws and triumphs. Netta has a strong need to feel connected to her fans. She is a true believer of beating the odds as she views herself as a rose that grew from concrete. She wants listeners to feel every bit of her. "I want to connect to people's hearts. Once I'm able to give my fans what artists like Janet Jackson and Mary J Blige gave me. I will then have arrived
Tracy Cruz
Bay Area's Tracy Cruz's has a spirit filled, rich candied vocals style. She is a full-time musical artist, songwriter and vocal coach, taking home 40+ prestigious music awards such as the 2022 Intercontinental Music Awards for "Best of North America in the R&B genre", 2022 Josie Music Award for "Vocalist of the Year" (R&B/Soul) and 2022 One Earth Award GOLD for "Best Jazz Single".
Tracy Cruz stays grounded by diligently working within her community for over 17 years, teaching and inspiring the youth at her celebrated Tracy Cruz Vocal Studio through singing, performing, writing, arranging, and mentorship.
She is an elected Chapter Governor for the Recording Academy® San Francisco Chapter. She is heavily involved with her music community through mentorship, advocacy, promoting diversity and inclusion, saving music in schools and more. She is also a GRAMMYU mentor and a part of the Oakland School for the Arts CTE Arts Advisory Board. She is currently working on her new album Sun After the Reign, which will be released in August 2023.
Ryan Nicole
Multi-faceted artist and producer, Ryan Nicole Austin finds her most fulfilling professional experiences at the intersection of art and activism. For nearly 20 years she has been committed to a career in theater, music and arts administration that transforms community by way of empowerment. As an actress, Ryan has most notably appeared as Bessie in Native Son (Marin Theater Company), BARS (Public Theater), Ruth in A Raisin in The Sun (Cal Shakes). She's performed at Google, Sony and shared the stage with Barack Obama.She was Executive Director of Youth Movement Records, where she supported the aspirations of thousands of under-resourced young people in the Bay Area seeking careers in the arts. Most recently, Ryan led workshops on performance as the playwright-in- residence at New York's Public Theater and will perform at the National Performers Network Annual conference at Yerba Buena Center in December 2017.
---
You may also enjoy these amazing upcoming shows!
Sun Jun 25: Carmen Jones' Ultimate Tribute to Teena Marie