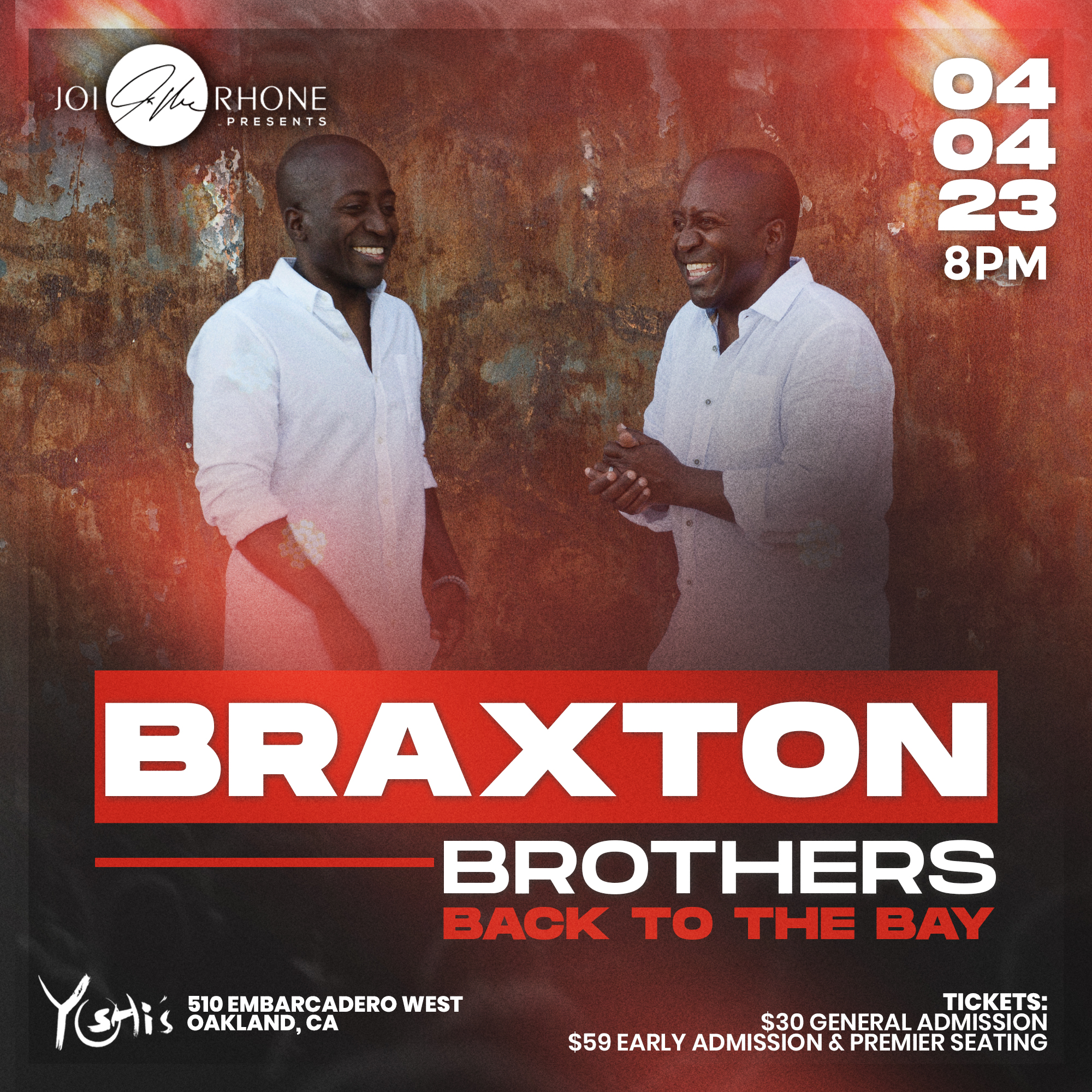 Tue April 4, 2023
The funky twins of Smooth Jazz
JOI RHONE PRESENTS: THE BRAXTON BROTHERS - BACK TO THE BAY
Doors: 7:30PM Show: 8:00PM
"We make music because of its power to lift peoples' spirits" says Nelson, one of the "funky twins of Smooth Jazz". The San Francisco Bay Area natives (Nelson and Wayne) began their journey as artists in 1996 with a multi-week #1 Smooth Jazz Album that helped popularize the sound of the 6-string bass, both as a lead instrument and featured accompaniment.
The success they started with has continued over the years, with their last single, "Catalina Nights", becoming a multi-week Billboard #1 Smooth Jazz hit in 2022. Their music is joyful and melodic, and loved by fans of varied age groups and musical tastes. Wayne says about performing, "We have fun together on stage. We laugh, we joke around. We believe everyone's best comes when they are themselves."
Their music, which they describe as "SMOOTH, but FUNKY", is distinctive, refreshing, and easily identifiable in a genre that can sometimes struggle with an overabundance of uniformity. The uniqueness comes from the brothers combined musical history, with its rich variety experiences of working closely with artists such as: Michael Bolton, Ledisi, Sheila E., Bozz Scaggs. When they were kids, their father exposed them to styles ranging from classical, country, jazz, R&B and fusion. Blessed with a thriving public school arts program in Fairfield, CA and supportive parents, the twins were able to develop and grow their talents and creativity into the group we see today.
Born in San Francisco, the brothers returned there as young adults, becoming part of the vibrant Bay Area music scene. There they honed their craft and began their journey that has lasted over 27 years. The duo has released 6 albums: "Steppin' Out", "Now and Forever", "Both Sides", "Rollin'", "True Love" and "Higher". They have also released numerous radio singles, many of which are still on air today around the world.
"We are really looking forward to going Back to the Bay Area, reuniting with friends and sharing some good music."
---
You may also enjoy these amazing upcoming shows!
Thu Apr 13: Victor Wooten & The Wooten Brothers
Thu-Fri Apr 20-21: Omar Sosa Seckou Keita: Suba Trio feat. Gustavo Ovalles
Fri Apr 28: Christian McBride