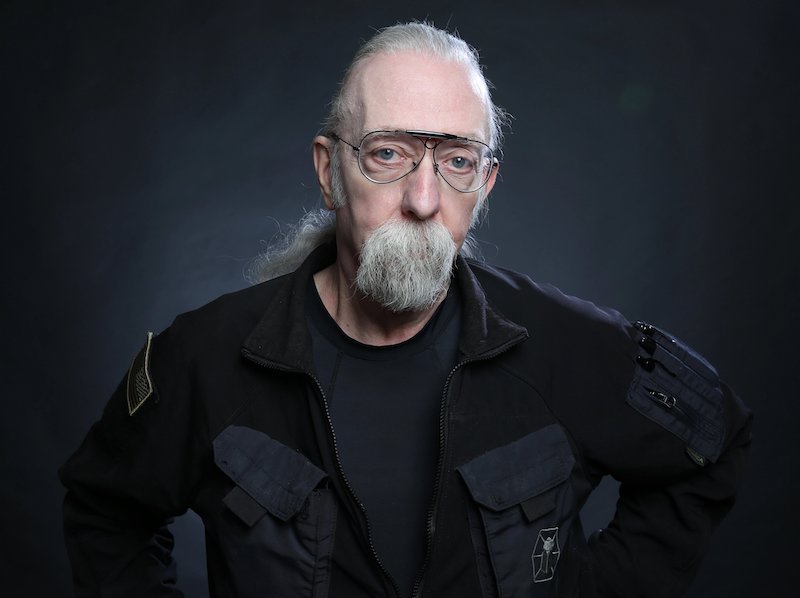 Mon August 7, 2023
GRAMMY©-winning guitarist known for his work with Steely Dan & The Doobie Brothers
JEFF "SKUNK" BAXTER
Doors: 7:30 PM Show: 8:00 PM
Baxter joined his first band at age 11. In junior high school in Mexico City, Jeff formed a surf band that hit the top 10 on radio in Mexico. While still a high school student, he worked at Jimmy's Music Shop in Manhattan in 1965 and 1966. At Jimmy's, Baxter met guitarist Jimi James (later to become Jimi Hendrix), who was just beginning his career as a frontman, and provided him with his first custom left-handed Fender Stratocaster. Baxter and Hendrix went on to become good friends. After leaving Jimmy's, Baxter moved on to Dan Armstrong's guitar repair and custom shop, the mecca for guitar players in New York and around the United States. Moving to Boston to attend college, Baxter worked as a guitar technician and amplifier repairman at Jack's Drum Shop on Boylston Street.
Skunk first reached a wide rock audience in 1968 as a member of the psychedelic rock band Ultimate Spinach. Baxter joined the band for Ultimate Spinach III, their third and final album. After leaving the band, he played with the Holy Modal Rounders, played bass for Tim Buckley and joined the Buzzy Linhart band. While still in Boston, Baxter began establishing himself as a studio musician in both Boston and New York City.
With Steely Dan
After the breakup of Ultimate Spinach, Baxter relocated to Los Angeles, finding work as a session guitarist. In 1972 he became a founding member of the band Steely Dan, along with guitarist Denny Dias, bassist Walter Becker, keyboardist-vocalist Donald Fagen, drummer/vocalist Jim Hodder and vocalist David Palmer.
Baxter appeared with Steely Dan on their first three albums, Can't Buy a Thrill in 1972, Countdown to Ecstasy in 1973, and Pretzel Logic in 1974. He contributed the guitar fills and signature solo heard on the group's highest charting hit " Rikki Don't Lose That Number."
With The Doobie Brothers
While finishing work on Pretzel Logic, Baxter became aware of Becker and Fagen's intentions to retire Steely Dan from touring and work almost exclusively with session players. With that in mind, Baxter left the band in 1974 to join The Doobie Brothers, who at the time were touring in support of their fourth album What Were Once Vices Are Now Habits. As a session man, he had contributed pedal steel guitar on Vices as well as "South City Midnight Lady" on its predecessor, The Captain and Me. Baxter's first album as a full member of the group was 1975's Stampede. He contributed an acoustic interlude ("Precis") and significant turns on slide and pedal steel guitar.
While preparing to tour in support of Stampede, Doobie Brothers founder Tom Johnston was hospitalized with a stomach ailment. To fill in for Johnston on vocals, Baxter suggested bringing in singer-keyboardist Michael McDonald, with whom Baxter had worked in Steely Dan. With Johnston still convalescing, McDonald soon was invited to join the band full-time. McDonald's vocal and songwriting contributions, as well as Baxter's jazzier guitar style, marked a new direction for the band. They went on to continued success with the 1976 album Takin' It to the Streets, 1977's Livin' on the Fault Line, and particularly 1978's Minute by Minute, which spent five weeks as the #1 album in the U.S. and spawned several hit singles; Baxter's work on the album includes a performance at the end of "How Do the Fools Survive?".
In early 1979, Baxter and co-founding drummer John Hartman left the band.
Later Music Career
Baxter has continued working as a session guitarist for a diverse group of artists, including Willy DeVille, Bryan Adams, Hoyt Axton, Eric Clapton, Sean O'Bryan Smith, Gene Clark, Sheryl Crow, Freddie Hubbard, Tim Weisberg, Joni Mitchell, Ricky Nelson, Dolly Parton, Carly Simon, Ringo Starr, Gene Simmons, Rod Stewart, Burton Cummings, Barbra Streisand, and Donna Summer. He has worked as a touring musician for Elton John, Linda Ronstadt, and Billy Vera and the Beaters. In the spring of 2003 at the invitation of close friend, former roommate and recording and mixing engineer Larold Rebhun, Jeff on a whim arrived at the famed North Hollywood Recording Studio "Glenwood Place" to play guitar and pedal steel on 2 songs (55 Chevy and Cowboy Boots and 501's) written and recorded by United States Navy SEAL Curt Campbell, which are on the "Nature of the Beast" album under The Eclectic Beast Band.
In 1982, he featured on Spirit's album Spirit of '84, released as The Thirteenth Dream outside of the USA.
In 1984, Baxter played keyboards with Bobby and the Midnites' Bob Weir, Billy Cobham, Bobby Cochran, Kenny Gradney ("Tigger"), and Dave Garland at the Capitol Theatre in Passaic, New Jersey. That same year, he produced and played guitar and synthesizer on the band's album Where the Beat Meets the Street on Columbia Records.
In 1986, Baxter joined James Brown and Maceo Parker on guitar for several North American tour dates.
In 1990, Baxter joined John Entwistle, Joe Walsh, Keith Emerson, Simon Phillips and relatively unknown vocalist Rick Livingstone in a supergroup called The Best. The group released a live performance video in Japan before disbanding. He also produced two albums for the hard rock band Nazareth, and also produced albums for Carl Wilson, Livingston Taylor, The Ventures, and Nils Lofgren. He was producer on the 1982 Bob Welch album Eye Contact. In 1991 Baxter also produced a documentary video, "Guitar" (Warner Brothers VHS and LaserDisc), in which he travels the world and interviews guitarists he admires. In 1994 he performed on the video game Tuneland.
In 1997 Baxter scored the movie The Curse of Inferno.
Baxter continues to do studio work, most recently on tribute albums to Pink Floyd and Aerosmith. In 2012, he appeared on keyboardist Brian Auger's Language of the Heart, and The Beach Boys' That's Why God Made the Radio. He also occasionally plays in The Coalition of the Willing, a band comprising Andras Simonyi, Hungarian Ambassador to the United States; Alexander Vershbow, US Ambassador to South Korea; Daniel Poneman, formerly of the United States National Security Council and later the Obama Administration's Deputy Secretary of Energy; and Lincoln Bloomfield, former United States Assistant Secretary of State for Political-Military Affairs. On June 19, 2007, Baxter jammed with former White House Press Secretary Tony Snow's band Beats Workin' at the Congressional Picnic held on the White House South Lawn.
The Next Phase
The latest phase of Skunk came with his long time collaboration with keyboardist and producer CJ Vanston. The two had worked together on composing and producing commercials for years and decided that it was time to turn their combined creative skills to a music project. Working in CJ's studio, a wide range of songs were written and recorded representing the diversity of genres of music for which Skunk is known. They then decided that adding vocals, both from Baxter and guest artists would provide even more depth to the project. Former Doobie Brother band mate, Michael McDonald agreed to join and co-write a new song. Baxter and Vanston also worked with Jonny Lang and Clint Black to create new material. Baxter rocked out on the version of My Old School that he had always wanted to do with Steely Dan and performed the vocals on the tune. Baxter is excited to starting touring after the CD is released in June 2022.
JBL's Peter Chaikin interviewed CJ Vanston about his collaboration with Baxter on their forthcoming album Skunk.
---
You may also enjoy these amazing upcoming shows!
Thu Aug 24: Don McLean