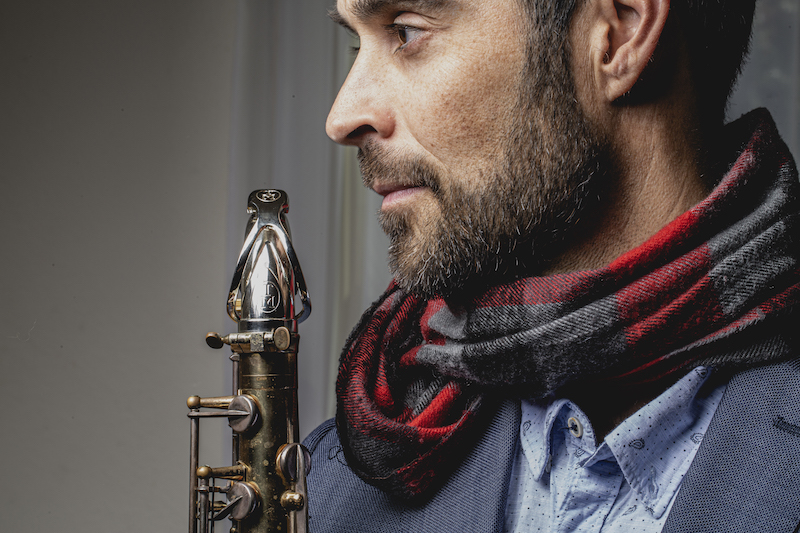 Mon August 16, 2021
JACAM MANRICKS
Doors: 7:30pm Show: 8:00pm
Jacam Manricks - saxophones (NY/AUS)
Joe Gilman - piano
Matt Robinson - bass
Tim Metz - drums
With his six previous albums, saxophonist Jacám Manricks established his bona fides as a composer, arranger, and improviser of the highest order. A multi-instrumental master, he spent more than a decade in New York City collaborating and recording with definitive 21st-century players such as drummers Tyshawn Sorey, Jeff "Tain" Watts, and Matt Wilson, guitarists Ben Monder and Adam Rogers, pianists Gary Versace and Kevin Hays, and bassists Thomas Morgan and Joe Martin. Manricks's new album Samadhi documents his continuing evolution as a player and composer, while also marking his emergence as a creative force on the other side of the studio window.
Since relocating to Sacramento in 2014, Manricks has built a home studio and intensively studied the art of sound engineering. With New York compatriots Clarence Penn on drums and Matt Penman on bass, and Sacramento pianist Joe Gilman, Samadhi doesn't just feature his original compositions and arrangements. Manricks produced, recorded, engineered, and mixed the project, while also writing and creating the gorgeous orchestrations that expand the instrumental palette on several tracks. It's the fullest view yet of a resourceful and vividly imaginative composer also known for working in orchestral and chamber music settings.
"This is the culmination of a lot of things for me, and I'm extremely proud of Samadhi," Manricks says. "I'm wearing so many hats. I'm the main soloist. I'm writing and orchestrating all the music, with all of the woodwind and string overdubs. I'm producing and mixing the music. I couldn't have found better guys to take this step with me."
The sound quality on Samadhi is exemplary, but what makes all the hats Manricks is wearing so impressive is that they effectively complement his bespoke music, which is tailored to the particular gifts and talents of his collaborators. Born and raised in Australia, he shares Southern Hemispheric origins with Penman, a New Zealander who's been at the center of the New York scene for more than two decades.
"When I met Matt at the 55 Bar we hit it off talking about cricket," Manricks says. "We'd been trying to play for a while but he's so busy. I had checked out his playing and knew he and Clarence would be a great team."
On a New York scene overflowing with trap set wizards, Penn has distinguished himself on hundreds of albums as an invaluable accompanist. Ever since Manricks hired him for a tour of Canada, he'd been looking for a chance to regroup with Penn, "an extremely musical drummer. He has a wide spectrum of dynamics. He and Matt came out and we did this little tour and
recorded the album at the end of it. There's no better way to prep for a recording than to first try the music out in front of an audience."
Gilman is Manricks's closest musical associate in Sacramento. The pianist was a mainstay on the Bay Area scene before he relocated to California's capital, and he spent a decade performing around the world with Bobby Hutcherson during the last decade of the vibraphone legend's life. Put in touch with each other by Matt Wilson, they've forged a deep musical bond documented on the gorgeous 2017 duo album GilManricks, the first project the saxophonist recorded in his studio.
A much more elaborate undertaking, Samadhi opens with the fleet "Formula One," a bobbing and weaving theme that generates momentum and tension over a staggering back beat. Gilman's elegant two-handed solo bridges the first and second sections, and when Manricks returns the pulse slows as his lyrical alto builds to a sumptuous climax caressed by subtle strings, two clarinets, and two flutes.
Featuring Manricks on soprano sax, "New Year's Day" is a seemingly simple theme that offers an array of harmonic possibilities. As he wends his way through the piece, the track showcases Penman's poised melodicism and Penn's exquisite dynamic control at the rising climax. The title track offers another view of Manricks's unabashed lyricism with a breathtaking rubato piece that's not so much a ballad as a prayer. As direct and unadorned as a folk song, "Samadhi" evokes an inner journey even as the melody reaches upward to the heavens.
"Common-Tone" is a gracefully sculpted piece that feels like a conversation among equals, exemplifying symmetry and balance with plenty of room to breathe between phrases. "Schmaltz" attains a different kind of balance as it rides a series of funk-powered 13-beat rhythmic cycles. Manricks thickens the greasy texture into a delectable repast with woodwinds and strings expanding the instrumentation.
The album ends in a reflective mood. With its heartbeat pulse and descending melody, "Day to Day" features Manricks on tenor sax accompanied by a clarinet quintet. It's a striking piece of chamber jazz that inspires a particularly evocative Gilman solo. The closing track is the aptly titled "Ethereal," a piano/soprano sax duet written with Gilman that's something of a hat tip to Jan Garbarek's classic 1981 ECM album Folk Songs with Charlie Haden and Egberto Gismonti. In many ways the piece serves as a bridge between the duo's previous album GilManricks and all the new territory he's opened up in the interim.
Born in Australia in 1976, Jacám Manricks hails from a distinguished musical family with global reach. His parents played in the Queensland Symphony Orchestra in his hometown of Brisbane, and his paternal grandparents were also accomplished musicians. Though he never met his grandfather, who was born in Portugal's Indian colony Goa, he inherited a passion for jazz from him. An alto saxophonist and clarinetist, Mario Manricks went on to earn a good deal of renown as a jazz and classical reed player in post-World War II Sri Lanka.
"I still have his Selmer Mark VI alto saxophone and several of his clarinets," Manricks says. "He got well known leading a big band, but he also played classical music. My grandmother, a concert pianist, performed with him on Sri Lankan radio."
All of their children went on to play music professionally, including Manricks's father, Sri Lankan-born cellist Camillio Manricks. He came to the United States to study as a teenager, attending the Peabody Conservatory and eventually settling in Australia, where he continues to work as a conductor. Jacám grew up attending his parents' symphony concerts and delving into his father's extensive jazz record collection. And when he wanted to start learning the saxophone at nine, his father brought in a musician buddy for lessons.
After earning a degree in classical and jazz saxophone and honing his skills on multiple woodwinds, Manricks started working steadily in pit bands and orchestras while also forging close ties with the top jazz players in Sydney. The great Sydney-based Kiwi pianist Mike Nock, a founding member of the pioneering Bay Area fusion band The Fourth Way with violinist Michael White, drummer Eddie Marshall, and bassist Ron McClure, became an important mentor. Other mentors were multi-instrumentalist James Morrison and his brother John, a renowned Sydney based-bandleader and drummer.
A study grant paved the way for Manricks to move to New York City to study at William Paterson University's vaunted jazz program. After attaining a Master's in Composition, he went on to earn a Doctorate of Musical Arts degree in JazzArts from the Manhattan School of Music in 2007, a program that allowed him to pursue his love of classical music as well as cutting-edge jazz. He manifested his growing confidence in combining both traditions on 2009's Labyrinth, a critically hailed project focusing on a diverse collection of Manricks originals that featured his settings for a chamber orchestra and a state-of-the-art quintet with guitarist Ben Monder, pianist Jacob Sacks, bassist Thomas Morgan, and drummer Tyshawn Sorey.
Manricks followed up with 2010's Trigonometry, another stellar program of originals (and a blazing version of Eric Dolphy's "Miss Ann") with pianist Gary Versace, bassist Joe Martin, drummer Obed Calvaire, trombonist Alan Ferber, and trumpeter Scott Wendholt. It was the first of two excellent releases for the adventurous Posi-Tone label, with the subsequent album further establishing Manricks as an essential voice on the contemporary scene.