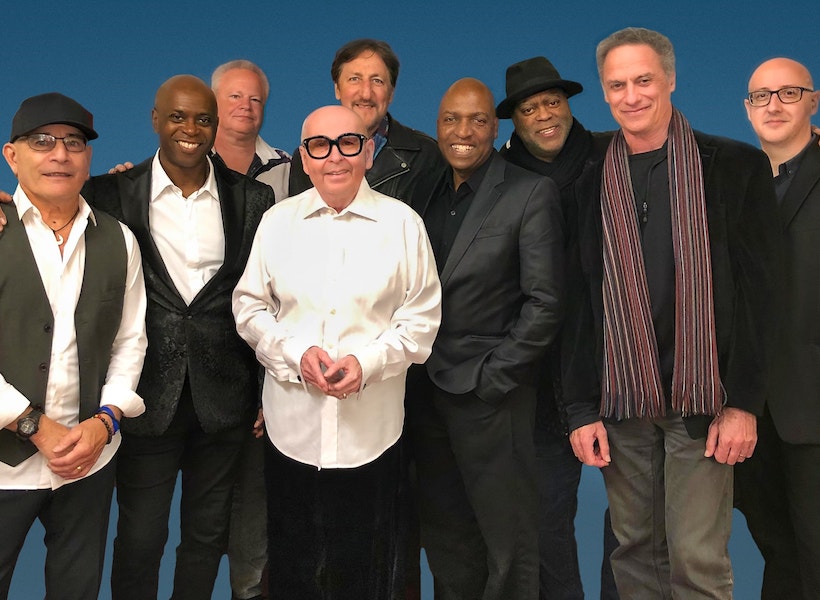 CD Release Celebration touring in support of the new release "THE REAL"
GREG ADAMS & EAST BAY SOUL
July 20, 2023

Doors: 7:30PM / Show: 8:00PM

July 21, 2023

Doors: 7:30PM / Show: 8:00PM
CD Release Celebration touring in support of the new release "THE REAL"
The sound of Grammy and Emmy nominated trumpeter, arranger Greg Adams is one of the world's best-known musical signatures. As a founding member of Tower of Power, legendary for his arrangements that made the TOP horn section a sought entity all its own. Greg has recorded ten solo albums and fourteen recordings with Tower of Power.
In a career that has spanned 5 decades, Adams has made his mark on a broad stretch of today's musical landscape that includes jazz, pop, rock, R&B, soul, and funk. With the release of THE REAL the genre chameleon trumpeter, arranger uses his natural skills to deliver a recording with a diversity of styles that Greg is known for. Nine original songs with powerful horns, lush strings, sweet soul vocals and an all-star rhythm section, Greg Adams and East Bay Soul brings together a sensational blend of Funk, Jazz, Soul and R&B in their own style that is THE REAL!
Adams has performed on over 2000 recordings. Greg has lent his sound to Sir Elton John, Phish, Rod Stewart, Celine Dion, Luther Vandross, Madonna, The Rolling Stones, Santana , Bonnie Raitt, Paul Shaffer, Little Feat, Billy Preston, Peter Frampton, Chicago, Al Green, The Eurhythmics, Lyle Lovett, Heart, Linda Ronstadt, Aaron Neville, The Brothers Johnson, Wilson Pickett, Huey Lewis and the News, Raphael Saadiq, Quincy Jones, Ray Charles, Sir George Martin, Terrence Trent Darby, Dionne Warrick, B.B. King and Josh Groban to name a very few.
Beginning early with Elton John's "The Bitch Is Back" Chaka Kahn's "Fool's Paradise" Little Feat's "High Roller" and Heart's "Tell It like It Is". You've heard Greg's collaboration with Paul Shaffer on the opening theme of Late Show with David Letterman and on score arrangements in films as, Duets, Mask, Top Gun, Saving Silverman, and Austin Powers in Goldmember with Smashmouth. Teaming up with Stanley Clarke on Little Big League and on Sgt. Peppers Lonely Heart Club Band with the illustrious George Martin.
On the opening track "Dreams Come True" Adams Flugelhorn melody sings out a love story in a dance between the strings and the rhythm section that says "I finally found you and Dreams Come True"
The driving instrumental "West 57th "mingles funk and jazz likened to a night on the town after hours - a sexy walk down hip street on Manhattan's west side.
The luscious R&B Ballad "Baby, Please Stay" asks the question "Who do you love?" The band's dynamic performance and Terrell Edwards incredible vocals makes this track a cornerstone of the recording and features Greg's rich string and horn arrangement caressing the listener.
Sometimes musical moments just happen! During a writing session between Greg, Nick and Terrell, a page of music manuscript fell on the floor on the top of the page was a date 4.8.19. It was placed on the piano, Nick starting playing and said "What's this? Greg "I don't know, I must have written on 4.8.19" Terrell "I am good with lyrics." He wrote the lyric in 5 minutes. Baby, Please Stay was penned!
The funk driven title cut "THE REAL" a base laden groove powered by Del Atkins deft performance. A collective collaboration that brings songwriters Adams, Milo, Richard Smith, Tico V. Pierhagen and lyrics by Edwards leads you to all the elements of a contagious danceable romp!
The muddy sound of "Dig A Little Deeper" bed is set by the ease of Herman Matthews drumming. The clever lyrics are crafted by Rocky Maffit. The East Bay Soul Horn Section's answer and call has all the qualities of a train on rails rumbling through a bayou.
With the release of The Real marks the 6th recording by the group over a span of 15 years. Nick Milo once again teams with Adams in production and their song writing skills have never been sharper. A partnership that has be realized for over 30 years.
Adams says "We had so much fun recording this project! Lot's laughs and hard work. Everything came together with such an easy feel! There was great chemistry between the whole band, laying down their expertise! Truly a group effort! We think as the listener you will feel it too!
Band members are: Greg Adams (trumpet, flugelhorn, and background vocals), Terrel Edwards (lead vocals) Michael Stever (trumpet, flugelhorn), Johnnie Bamont (alto, tenor and baritone saxes, flute, and background vocals), Ed Wynne (alto, tenor sax, flute and background vocals), Nick Milo (keys), Richards Smith (guitar), Del Atkins (bass), and Herman Matthews (drums)
---
You may also enjoy these amazing upcoming shows!
Tue Jul 25: Michael Lington
Wed Jul 26: Alex Bugnon Trio
Thu-Fri Jul 27-28: Yussef Dayes