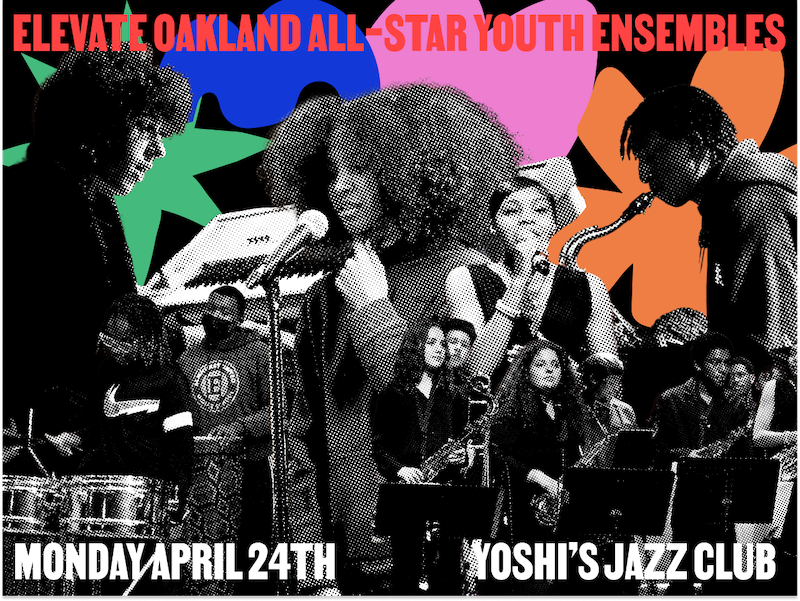 Mon April 24, 2023
Oakland Youth Music Showcase
ELEVATE OAKLAND ALL-STAR YOUTH ENSEMBLES
Doors: 6:30PM Show: 7:00PM
Description:
Join Elevate Oakland for an unforgettable student showcase featuring the Oakland Eastside All-Star Ensemble, East Oakland Youth Vocal Ensemble, Elmhurst United Drum Ensemble & special guest Kev Choice. This performance is a culmination of a year's worth of Elevate Oakland teaching artist programs held in a collective Oakland Public Schools and will feature a variety of performances from students ranging from 5th-12th grade, hailing from more than 8 schools across OUSD.
ABOUT ELEVATE OAKLAND
Founded by Sheila E., Lynn Mabry, Yoshie Akiba of Yoshi's Oakland and Jason Hofmann, Elevate Oakland is a non-profit that provides culturally vibrant art and music programs to Oakland's youth. Their mission to provide students with opportunities to engage in art and music programming has led Elevate Oakland to partner with public schools to meet a wide variety of needs, ranging from artists in residence programs providing hands-on music curriculum during the school day to facilitating opportunities for students to perform alongside local professional musicians. To date, Elevate Oakland has successfully served over 3,000 youth at over 30 Oakland public schools. Across its programs, the focus is not on creating professional musicians, but instead on utilizing music and the arts as a conduit to get students excited about learning.
You can learn more about Elevate Oakland by visiting their website. Make a donation in support of their music and arts programs in Oakland public schools by clicking here.
ABOUT THE OAKLAND EASTSIDE ALL-STAR ENSEMBLE
With members hailing from schools across Oakland Unified School District, the Oakland Eastside All-Star Ensemble (OEASE) is a big band co-founded in East Oakland during the summer of 2012 by Helena Moss-Jack and currently led by OUSD music educator Zack Pitt-Smith. OEASE is comprised of Oakland's new wave of community leaders and young musician-scholars.
The Ensemble is a ten-month, pre-college and pre-professional instrumental music and leadership fellowship program, an advanced training that offers a high performing group of responsible students the time and individual attention necessary to gain an unparalleled standard of scholarship, musical ability, discipline and respect for their craft. The OEASE Fellowship program offerings aim to advance comprehensive learning employed to steer Oakland and East Bay students ages 12–19 toward community leadership, gainful employment, entrepreneurship, college matriculation and graduation. In addition to fostering a community rooted in a passion for music, the ensemble aims to raise new educators, artists, and media change-makers.
ABOUT THE EAST OAKLAND YOUTH VOCAL ENSEMBLE
Founded at the beginning of the 2022 school year as a partnership between Elevate Oakland and Castlemont High music educator Keenan Foster, the East Oakland Youth Vocal Ensemble is a collective of all-star student vocal performers hailing from middle and high schools across Deep East Oakland. Led in weekly vocal performance classes by teaching artists Keenan Foster, Marlyana Washington, Maya Washington and Bryan Dyer, the East Oakland Youth Vocal Ensemble is a beacon for the revitalization of vocal and choral programs in Deep East Oakland. To date, more than 164 students across 5 East Oakland elementary, middle and high schools have participated in the new vocal music curriculum.
ABOUT THE ELMHURST UNITED DRUM ENSEMBLE
Led by Elmhurst United Middle School music educator Deario Auston with mentorship from long-time OUSD music educator Helena Moss-Jack and creative direction from Oakland music legend Kev Choice, the Elmhurst United Drum Ensemble is a representative group of middle schoolers participating in the newly-revitalized Elmhurst United Middle School instrumental music program.
ABOUT KEV CHOICE
Kev Choice is an pianist, composer, producer, band-leader, educator, and activist hailing from Oakland, CA. He graduated from Skyline High School and has a Bachelor's Degree in Music from Xavier University of Louisiana and Master's Degree from Southern Illinois
University. He has toured with many artists including Ms. Lauryn Hill, Michael Franti & Spearhead, Goapele, Too Short, Zion I, and more. As an artist, he has released 5 solo albums and he has collaborated with Oakland Symphony and San Francisco Symphony. He is currently a Cultural Affairs Commissioner with the city of Oakland, A Cultural Strategist in Government, and is on the board of the Oakland Symphony and Recording Academy. He has been a long time educator in Oakland, working at Oakland School For The Arts for 7 years and many different schools through Elevate Oakland.
$20 ADV / $28 DOS
---
SHARE THIS: