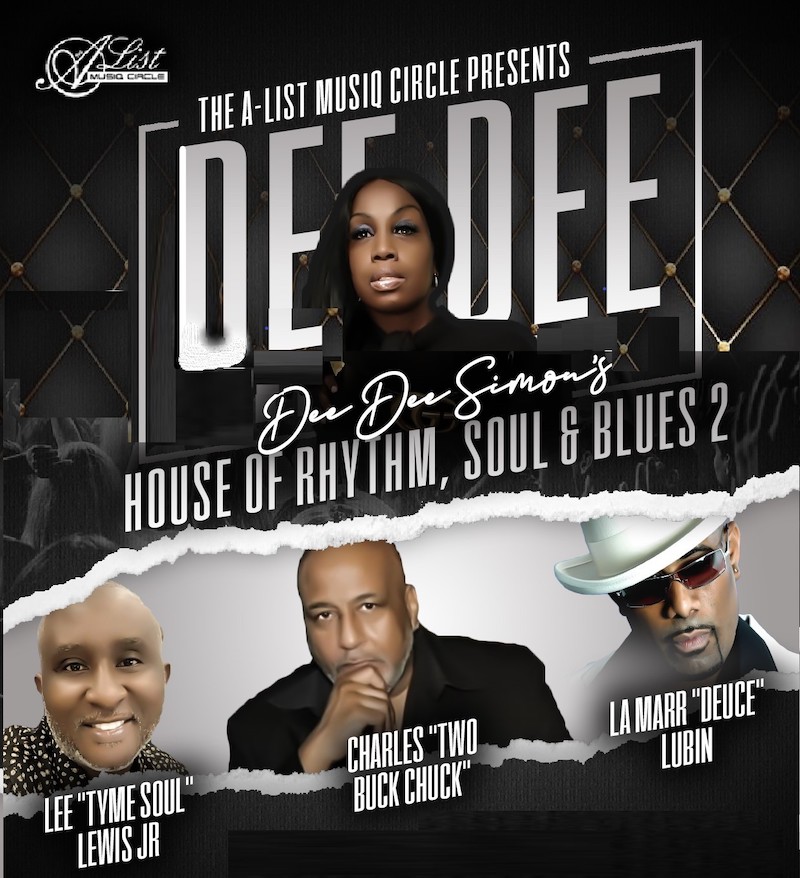 Tue January 10, 2023
Feat: Charles Two Buck Chuck, La Marr "Deuce" Lubin & Lee Lewis Jr.
DEE DEE SIMON'S HOUSE OF BLUES 2
Doors: 7:30PM Show: 8:00PM
Dee Dee Simon returns with a power house cast of Men of Soul & Blues featuring Charles "Two Buck Chuck", Lamar "Deuce" Lubin & Lee "Tyme Soul" Lewis Jr. A selection of her most favorite male vocalist brought together for one incredible show hosted by Oakland's own Soul Sister of Rhythm & Blues, Dee Dee Simon.
Presented by Dee Dee Simon, Mark Elliott & The A-List Musiq Circle-Your Bay Area's Who's Who Entertainment Network.
La Marr "Deuce" Lubin was born July 22 to parents Shirley Shepard and Michael Lubin in Redwood City, California. Soon after, "Deuce" and his family moved to East Palo Alto. By age 13 Deuce, and his mother relocated to Sacramento, California, where they resided for many years.
Deuce's career started from a simple stroll in Arden Mall, when he was approached by two members of the soon to be group D.R.S., PIC and ENDO. It was expressed that they needed a singer, that had a Jodeci styled voice. At first Deuce passed on the opportunity, but gave in, and later auditioned. Eazy E, "The Godfather of Gangsta Rap," had heard Deuce, and in 1993 Deuce was signed to Capitol Record' s as part of group D.R.S. (Dirty Rotten Scoundels).
La Marr "Deuce" Lubin was co-leader of the platinum selling group D.R.S. for four years. He was featured on their title cut "Gangsta Lean (This Is For My Homies)" which was a fixture at the top of the Billboard R&B and pop charts in 1993 and 1994. "Gangsta Lean" continues to be a highly recognized classic in the hiphop community.
Deuce co-wrote "No More Love," for the soundtrack of the movie "Jason's Lyric". His vocals can also be heard prominently on the platinum title track "You Will Know," which featured artists such as D' Angelo, Brian McKnight, Boys II Men and Gerald Levert.
Deuce is an incredible talent and has collaborated with many well known artists such as Digital Underground and MC Hammer. Deuce also has the honor of saying he has preformed and shared the same stage as group Soulicous, southern California's hottest show band. He has also made his mark on the international stage, performing live in London, Japan and Amsterdam.
Boomer, born as Charles Boomer, or as we call him now, 2BuckChuck, is a native of Des Moines Iowa, and was born to sing the BLUES in a major way. He discovered his talent at a young age in the church of his father, Pastor Clay Eugene Boomer, and honed his vocal skills and musicianship under the leadership of his mother, the late Kathryn Charlene Boomer. On the road of life, he experienced the heart and origin of the BLUES, a strong dose of reality, pure love, painful hardship, and amazing good times. He traveled the world opening up for heavy weights on the Top 40s Charts. Relocating to Northern California in 2004, he became the lead singer of a SPINNERS Tribute grouip that toured the States. He became a favorite when he came to town. His flawless delivery was and still is impeccable. He is the 2x winner of the best R&B and Blues Performer in the Bay Area. Since then he has released an album titled , 2BuckChuck "Every day I sing the Blues" and has been with the greats such as Micheal Bolton, Roger and Zapp, Al Hudson's One Way, The Time Band and a toured over seas with his top 40 band Skooter Krunch in South East Asia, which we call Singapore. He also received a plethora of tutelage from the Late Great Grady Wilkins, former musical director of the Mighty Whispers. The Man the Myth and a Legend……2BuckChuck. Known for his Major song Sugar daddy his is a favorite on the Southern Soul seen. 2Buck also produced The Queens Christmas album 2021 called "Winter Is Coming" that was soulfully written by Dee DeeSimon and his newest work as producing Dee Dee Simon's newest Album called "Dee Dee Simon the Truth" with impeccable songs like "You Gon Make Me Cheat", and "Whatchu Workin Wit!!! Lay Up, another smash hit on her new album, was Produced and partially written by Misississippi Hummin Boy. Check 2BuckChuck out, AKA King Charles, as Dee Dee calls him, with his latest new smash singles "Baby by You" and" Shake It". All Blessings do come from up above. God Speed!!!
Lee C. Lewis Jr., also known by his fans a LeeTyme Soul, was born in Jackson Mississippi on October 30th 1970. He was raised in a Musical Household with his Susie Wade and his Father Lee Lewis Sr. Lee Jr. has 6 siblings. His Mother worked as a House Keeper at the University Medical Center in Jackson. His Father worked at the Power/ Electric Company in Jackson as well. His Father was also a Gospel singer who sang in the group the Original Williams Brothers of Jackson. It was at age of 8, Lee Jr. discovered his voice and had a passion for singing.
Growing up, Lee Jr. was influenced by the music played by his Mother from the Supremes, Sam Cooke, ZZ HILL, Dorothy Moore, and Otis Redding, just to name a few. Lee was motivated by the sounds of Gospel, Rand B, Blues, and Jazz. Lee participated in many musical competitions and won first place in many of the Musical contest. After Graduating from Jim Hill High School, Lee attended Mississippi Valley State University in ITTA BENA Mississippi. He was an Undergraduate that majored in Music and Criminal Justice.
Lee continued His studies when he moved to California at Chabot College located in Hayward California. He received an ASSOCIATES Degree in Liberal Arts. Lee continued His Musical journey by singing in several different musical groups including The Positive Vibes,The Main Attractions, Bible Faith Remnant, and his current group, Soul 4 u. Lee also recorded a few singles and complete CDS. He is currently working on his new CD.
He can be seen and heard by participating or headlining Concerts, Weddings, Serenading at Elegant Venues, Performing at Theaters, or Special events. Lee also has been credited with the signature sound of Luther Vandross. Being constantly inspired by Yesterdays Top Artist, sounds of great soulful music is Lees ambition and goals in producing Great new songs. Lee has written and collaborated with some of the Bay Areas finest artist, such as Glenn Coats, Ryan Dotson, Ms Pumpkin, and DEE DEE Simon just to name a few as well. When asked about my Stage name, I would reply that it's my time is LEETYME.
---
You may also enjoy these amazing upcoming shows!
Mon-Tue Jan 23-24: Robert Cray Band