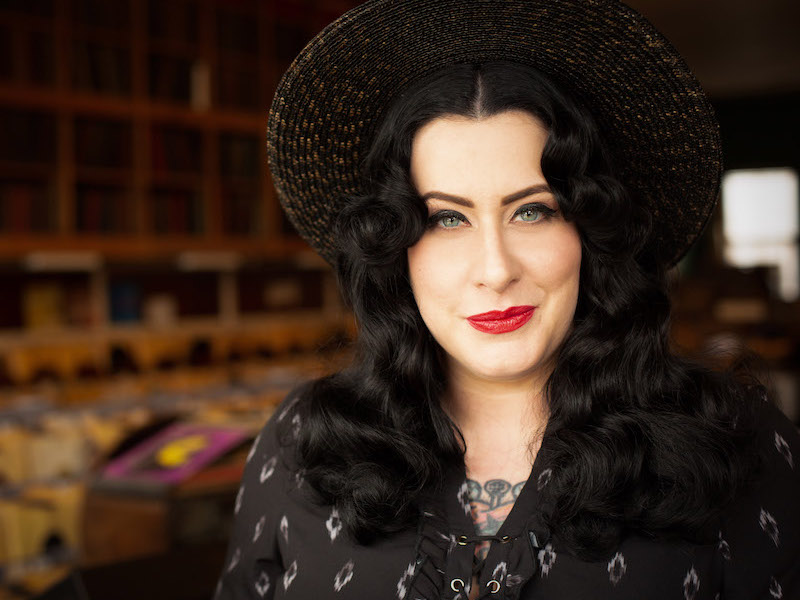 Bluesy barroom baritone, graveyard jazz grooves, & noir-ish lyricism
DAVINA & THE VAGABONDS
January 17, 2023

Doors: 7:30PM / Show: 8:00PM

January 18, 2023

Doors: 7:30PM / Show: 8:00PM
Much like the music, the story spurns era, expectation, and classification. The often unbelievable, sometimes harrowing, and wholly inspiring journey of Davina Sowers gave birth to her eponymous band Davina and The Vagabonds in 2004. As the tale goes, she grew up in economically depressed Allegheny town of Altoona, PA, which she now describes as "awesome in the industrial era, but horrible for high school." She was adopted by her much-older stepfather when he was in his 80s; he passed when she was just 13. Through him and his Edison phonograph, she first heard The Ink spots, Sydney Bechet, Louis Armstrong and Louis Prima, Sister Rosetta Tharpe, and many others. "Great man. He was my angel and still is," she says.
On her own, she vividly recalls hours in front of the record player where she religiously spun Led Zeppelin, Black Sabbath, and Simon and Garfunkel records belonging to her folk singer mom.
To this day, Davina still refers to music as "my first and eternal love." Despite early dalliances with classical piano and guitar, she developed a heavy drug habit in high school, which morphed into heroin dependency, left her homeless, sent her in and out of jail, and brought on all manner of trouble. Kicking dope on the streets, she "got clean, started the band, and worked [her] ass of every day since."
The front-woman, singer, and multi-instrumentalist describes this wild ride and herself best. "I am a miracle," she exclaims. "It really is amazing I'm alive. I can barely express the life I've lived. Starting the band saved me. Even though I've been clean for a long time, I still suffer, but I persevere. For me, to be this miracle and shine for myself and others is really important." Davina and The Vagabonds shine every time they play. To date, they've performed in 45 states, 12 European countries, and two Canadian provinces. Not to mention, they've earned feverish acclaim from the Chicago Tribune, NPR, and more in addition to performing on BBC's international favorite late-night program Later… With Jools Holland and appearing on PBS's Bluegrass Underground. The group's full-length debut, Black Cloud, arrived in 2011 and cemented them as hometown heroes in Minneapolis. 2014's Sunshine bowed in the Top 15 of Billboard's Top Blues Album chart. During 2016, they unveiled their live album, Nicollet and Tenth, to the fervent embrace of fans. In between, they play nearly 200 gigs annually, including gracing the stages of festivals such as Edinburgh Fringe Festival.
2019 marked a new chapter as the group unleashes its first offering for Red House Records, Sugar Drops. A distillation of bluesy barroom baritone and bravado, graveyard jazz grooves, and noir-ish confessional lyricism backed by boisterous piano, guitar, and strings, the music actualizes longstanding intent for Davina.
"It represents about one-hundred years of Americana," she continues. "At the same time, I did exactly what I wanted to do. This album shows more confidence and awareness than ever before."
For the first time, she entered a proper studio to record Sugar Drops. She holed up in Nashville's Compass Sound Studio (aka "Hillbilly Central" back in the day), joined by producer (and Compass Records co-founder) Garry West, her trumpeter, string arranger, (and husband) Zack Lozier and a rotating cast of powerhouse players. Musicians include Todd Phillips (David Grisman, Robbie Fulks) on bass, Doug Lancio (Patty Griffin, John Hiatt, Tom Jones) on guitar and Reese Wynans (Stevie Ray Vaughan, Joe Bonamassa) on Hammond B3, among others. "Sonically, it's the most professional," she affirms. "This is my seventh album. Every other release was done in a basement or in a very lo-fi manner. It's the first time I've had a guitarist or a producer and been in a real studio. I approached it differently. It's the first time I've given my music to people I don't sit in a van with for 14 hours a day. So much is new for me, and I'm proud of it."
On the album, jazzy horns undercut the tension of "Bone Collection," which essentially asks, "Do you want me to dig up all of my secrets and tell you everything about me?" Sparse piano echoes on the sadly beautiful "Deep End" where she details "clinical depression and mental illness," pulling no punches. Both tracks place Davina firmly in the pantheon of New Orleans-style songwriters such as Allen Toussaint and Randy Newman. On the other end of the spectrum, "I Can't Believe," and an inspired take on Ben Harper's "Another Lonely Day" land her firmly in the realm of modern day, traditional influenced indie artists such as Lake Street Dive and St. Paul and The Broken Bones. "Devil Horns," conceived at three in the morning after watching a documentary about the history of Satan on YouTube, simply aims "to get people's butts moving and tell a story about why the devil has horns."
But in many ways, the title track best encapsulates the sweet and sour spirit of the music. "To me, each song is a little tiny sugar drop for me to use to make a whole album of beauty," she says. "It's about what has happened and how I overcame all of it. Plus, I love sugar," she laughs. In the end, the songstress is ready to tell her story like never before. "Honestly, I want people to feel the honesty I'm trying to convey," she leaves off. "Hopefully, they can relate. It's just the truth – my truth."
---
You may also enjoy these amazing upcoming shows!
Fri-Sat Jan 20-21: Najee
Wed Jan 25: Paris Chansons
Thu-Fri Jan 26-27: Fred Hersch and Esperanza Spalding