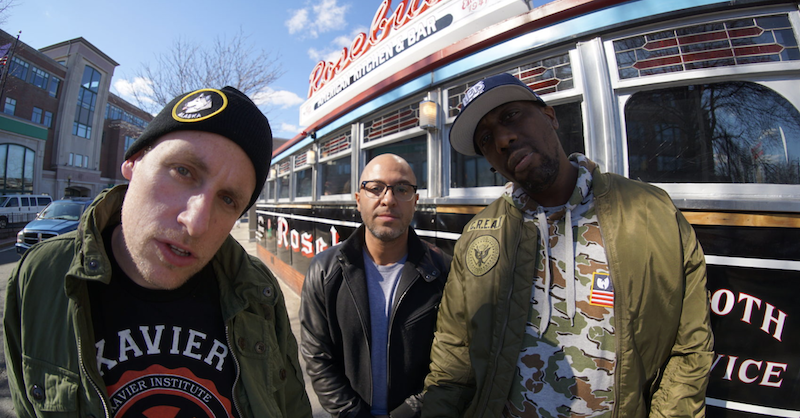 One of underground hip-hop's most exciting collaborations
CZARFACE - INSPECTAH DECK, 7L & ESOTERIC
November 21, 2021

Doors: 6:30pm / Show: 7:00pm
Czarface is a collaboration between Boston-based underground hip-hop duo 7L & Esoteric and Wu-Tang Clan MC Inspectah Deck. Debuting with a self-titled effort in 2013, the group has regularly issued action-packed full-lengths and singles adorned with cover art inspired by vintage comic books, filled with similarly explosive, thrilling lyrics and solid production that remains true to hip-hop's late-'80s/early-'90s golden era. Following additional Czarface albums such as 2016's A Fistful of Peril, the group released full-length collaborations with Ghostface Killah (Czarface Meets Ghostface, 2019) and MF Doom (2018's Czarface Meets Metal Face and 2021's Super What?).
The trio's collaboration stretches back to 1999, when Inspectah Deck guested on 7L & Esoteric's "Speaking Real Words" single. Deck later appeared on "12th Chamber," a track on 7L & Esoteric's 2010 album, 1212. After brainstorming about a full-length for several years, Czarface's self-titled debut emerged on Brick Records in 2013. The album was loosely based around the character of Czarface, a hero intended to save hip-hop, and featured comic-style artwork by Lamour Supreme that resembled the work of DC Comics illustrator Jack Kirby. Czarface sported guest appearances by Action Bronson, Vinnie Paz, and Wu-Tang MCs Ghostface Killah and Cappadonna, and featured hard-hitting, no-nonsense production by 7L and Spada4 as well as one track by DJ Premier. The record was well received by fans of underground hip-hop, and was quickly followed by a limited 7" single, "Czardi Gras (It's Raw Again)."
The trio returned in 2015 with sophomore album Every Hero Needs a Villain, which continued the first set's theme and production style (with a bit more emphasis on crunchy guitar riffs), plus guest verses by MF Doom, Large Professor, Ju-Ju of the Beatnuts, and Wu-Tang's Method Man and GZA. The following year, Marvel reached out to the trio for a musical contribution to the web series for Black Panther. The creative invigoration from one of their biggest inspirations sent Czarface back into the studio for their third album, A Fistful of Peril, which arrived in late 2016. A fourth, First Weapon Drawn, arrived in 2017; unlike the group's previous albums, this one featured no rapping, only narration. Czarface then reunited with MF Doom for 2018's Czarface Meets Metal Face, which also featured appearances by Open Mike Eagle, Vinnie Paz, and Blacastan.
The group's long-awaited full-length collaboration with Ghostface Killah, Czarface Meets Ghostface, arrived in 2019. Double Dose of Danger, an instrumental LP accompanied by a 20-page comic book, was then issued on Record Store Day. The Odd Czar Against Us appeared later in the year, as a special Black Friday Record Store Day release. Czarface recorded another collaboration with MF Doom in April 2020, and originally intended to release the album that month, but it was delayed due to the COVID-19 pandemic. Super What? eventually arrived in May 2021, making it the late rapper's first posthumous album release.
---
You may also enjoy these amazing upcoming shows!
Thu, Dec 2: Chrisette Michele
Thu-Sun, Dec 9-12: Tony! Toni! Toné!
Thu-Sun, May 19-22: Goapele