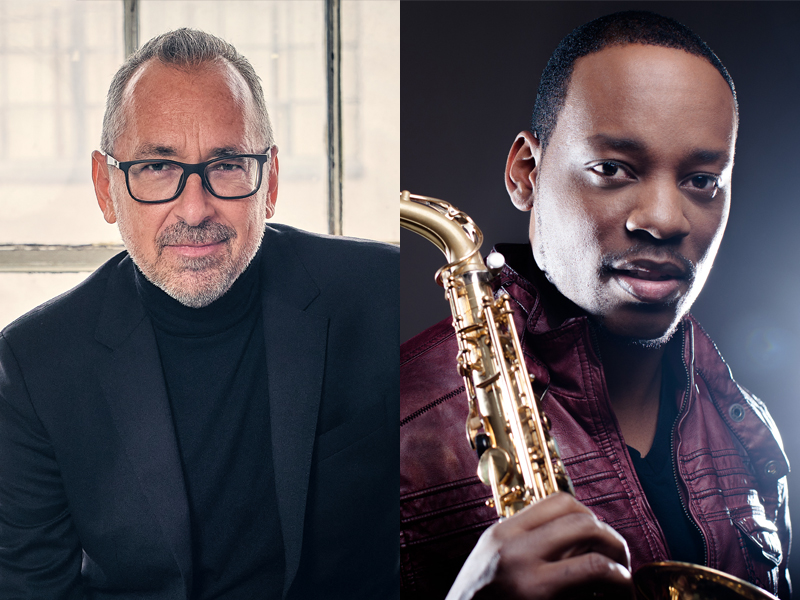 Thu September 7, 2023
Acclaimed Jazz keyboardist/composer and captivating jazz saxophonist
BRIAN SIMPSON & JACKIEM JOYNER
Doors: 7:30PM Show: 8:00PM
BRIAN SIMPSON
After graduating from Northern Illinois University, keyboardist and composer Brian Simpson relocated to Los Angeles where he was soon playing alongside musicians Gerald Albright and Norman Brown and eventually on a world tour with Janet Jackson.
In 1990 Simpson received a call from George Duke that led to a decade of touring and production work with the late jazz legend. It was his tenure with George that led to working with a variety of artists, from James Ingram and Anita Baker to Dave Koz and Wayman Tisdale.
The popularity of his music worldwide has kept Mr. Simpson on a seemingly endless world tour which included Japan, Australia, Korea, Indonesia, Philippines, Spain, United Kingdom, Portugal, and South Africa.
With writing and performing credits on R&B chart-topping albums and Smooth Jazz Airplay charts, it's clear why Brian is the veteran Music Director of so many jazz events.
JACKIEM JOYNER
Contemporary saxophonist, author, and music producer Jackiem Joyner has set the bar high in his nearly two-decade-long career as a performer. With a number one jazz album, numerous Billboard chart-topping hits, and a series of critically acclaimed books to his name, Joyner has proven himself a rare artist capable of transcending his instrument and captivating mainstream audiences.
Now, as he enters the 18th year of his career amid unprecedented change in the entertainment industry, Joyner remains as dedicated to his art as ever.
"No matter how difficult things become, I'll never stop doing what I love: playing the sax, writing music and stories, and performing live."
Born in Norfolk, VA, Joyner demonstrated restless creativity from an early age, a trait that would later define his career. Despite his humble upbringing, he managed to acquire a saxophone as a child, which quickly became his constant companion. After years of practice, he made his debut with 2007's 'Babysoul.' A masterclass in seductive smooth jazz, the album marked the arrival of a brilliant instrumentalist, paving the way for a prolific recording career that included Grammy runner-ups, hit singles, and abundant critical acclaim, extending through 2019's 'Touch' and 2020's EP, "Journey of Passion." Jackiem's recent single "Missing You" reached the top 10 on the Billboard charts.
As a performer, Joyner has toured over 30 countries and shared the stage with legends such as the late George Duke, Marcus Miller, Keiko Matsui, Donnie McClurkin, Angela Bofill, Najee, Kirk Whalum, Peter White, and many others.
---
You may also enjoy these amazing upcoming shows!
Fri-Sun Sep 15-17: Arturo Sandoval
Thu Sep 21: Lucia Micarelli & Leo Amuedo
Sun Oct 1: Monty Alexander