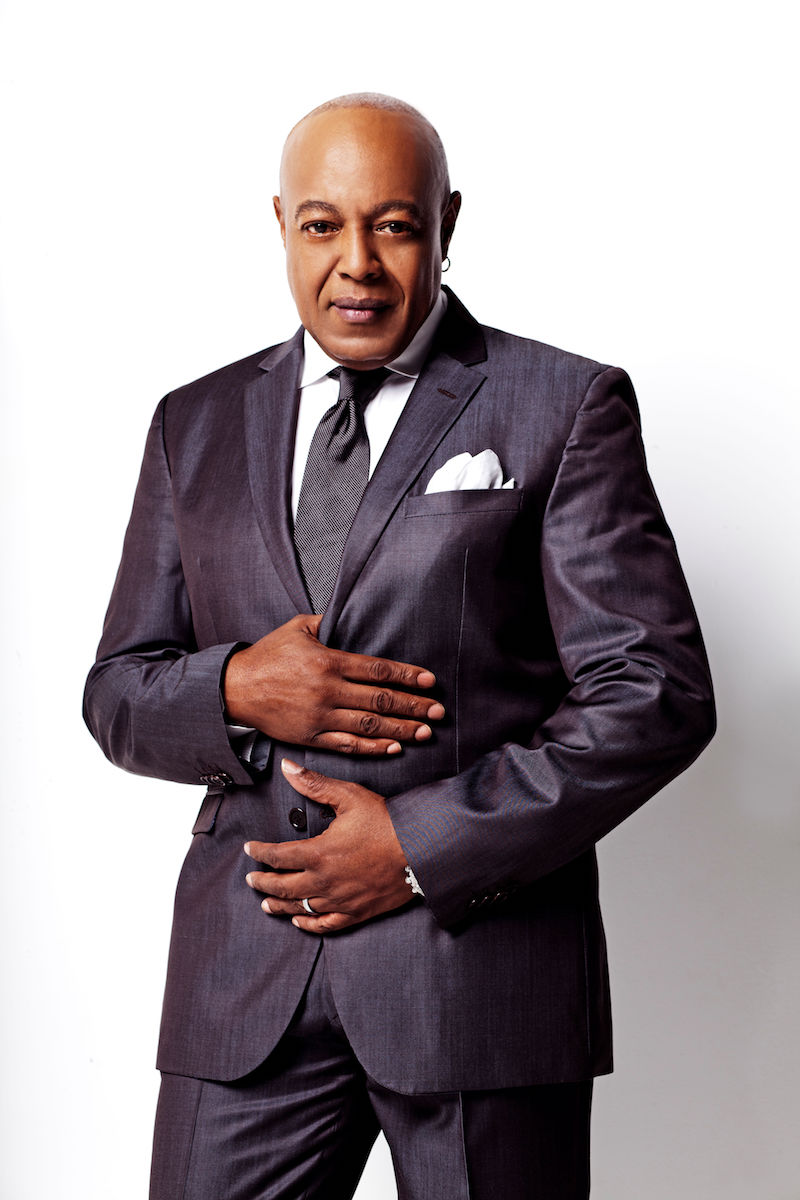 PEABO BRYSON
August 13, 2021

Doors: 7:30pm / Show: 8:00pm

August 13, 2021

Doors: 9:45 pm / Show: 10:00pm

August 14, 2021

Doors: 7:00 pm / Show: 7:30pm

August 14, 2021

Doors: 9:15pm / Show: 9:30pm

August 15, 2021

Doors: 6:30pm / Show: 7:00pm
Peabo Bryson has established a career as one of the premier male vocalists in contemporary music of the last quarter century. Possessing a beautifully rich, almost operatic voice, this two-time Grammy Award-winner has survived and prospered despite the passage of time and changes in popular musical trends.
With twenty albums to his credit, Peabo Bryson has enjoyed an unprecedented, across-the-board level of international success, Bryson has the distinction of being the first artist in music history to have separate records topping four different charts.
Acclaim and recognition are nothing new for this multi-talented singer, songwriter and producer. Born April 13, 1951, in Greenville, South Carolina, Bryson spent much of his childhood on his grandfather's farm in Maudlin, South Carolina. "I have two sisters and a brother, but I'm the oldest male in the family, so I was taught to work and work hard!"
Bryson's family not only instilled in him his work ethic, but a love for music as well. "My mother was a serious music lover. Whenever there was somebody great in town, she'd drag us along to catch their act. I have seen most of the greats of that period – Sam Cooke, Little Richard and even Billie Holiday. Sam Cooke was a great influence on me. His voice had a pure quality – straight from-the-heart."
"I think the sensitivity in my songs stems from my early childhood. I was raised by women – my grandmother, until she died, and my mother. My grandmother was a woman who lived and loved with incredible passion."
THE EARLY YEARS
Peabo began singing at age 14 as a star of the traveling revue Al Freeman & The Upsetters. Two years later in 1968 he left home to tour the now-famous Southern "chitlin' circuit" with another local band, Moses Dillard and the Tex-Town Display, gaining the experience that would help prepare him for a solid career as a recording artist and entertainer.
Bryson's first break came during a recording session at Atlanta's Bullet/Bang Records. The young singer caught the ear of the label's then-general manager, Eddie Biscoe. Biscoe signed Bryson to a contract as a writer, producer, and arranger and encouraged Bryson to perform his own songs. For several years Bryson worked with hometown bands and wrote and produced for Bang. In 1976, he released his debut LP, "Peabo". The project featured Peabo composing nearly all of the songs (some with the great Thom Bell), a young Luther Vandross among the background vocalists, and sexy black film star Tamara "Cleopatra Jones" Dobson showing him love on the back jacket.
REACHING FOR THE SKY
Bryson moved to Capitol Records in 1978, where his album "Reaching for the Sky" went gold and the title track was a number six R&B hit. With his LP "Crosswinds" (gold,1978), he truly penetrated the hearts of soul fans everywhere with the title tracks "Feel the Fire" and "I'm So Into You", which spent two weeks as the nation's number two R&B hit. He was paired with Capitol label-mate Natalie Cole for the 1979 project "We're the Best of Friends" and a year later with Roberta Flack for the double-LP "Live & More" (on Atlantic Records). Peabo delivered four more albums for Capitol before making a second, even bigger album with Flack titled "Born to Love", a gold seller that featured the smash "Tonight I Celebrate My Love" (Top 5 R&B and #16 Pop). That led him to sign a deal with Elektra Records for four albums, the second of which, "Take No Prisoners", featured the crossover smash "If Ever You're In My Arms Again" (Top 10 Pop and Top 10 R&B).
AWARDS AND ACCOLADES
"With youthful good looks and a relaxed, almost conversational vocal style," wrote Mike Kirkeby of Rolling Stone, "Bryson is unabashedly a romantic balladeer, wooing female listeners much as R&B idols did in the fifties, but in a reverent, subtle way."
With each move in his career, applause for Bryson became louder. New York Times music critic Jon Pareles called Bryson the "Pavarotti of soul singers". His duets with Natalie Cole – "What You Won't Do for Love" – and Roberta Flack – "Tonight, I Celebrate My Love," a Top 15 pop smash – had earned Bryson the tag "King of Balladeers." With "If Ever You're in My Arms Again," which landed in the Number 10 spot on the pop charts, he scored another crossover hit and solidified his mainstream audience. Both "Tonight" and "If" went to Number One on the adult contemporary charts. A return to Capitol in 1989 for the album "All My Love" earned him his first R&B #1 single with a remake of the late Al Wilson's "Show & Tell" (a song he proudly keeps the torch lit for in all of his shows). He hit the R&B chart-top a second time with the smash "Can You Stop The Rain", the title track of his R&B chart-topping first of two albums for Columbia Records. The single won Bryson a 1991 Grammy nomination for best R&B vocal performance by a male, as did "Lost in the Night" in 1992.
But it was two songs for Disney animated films that earned Peabo his two Grammys. The first was 1991's "Beauty and the Beast" with international pop singer Celine Dion which was a Number One pop hit. The very next year, Peabo struck gold again receiving another Grammy for "A Whole New World (Aladdin's Theme)" from Aladdin which he performed with Regina Belle. Both "Beauty and the Beast" (1991) and "A Whole New World" (1992) won Oscars for "Best Song". Since these milestones, he has been even more sought after as a guest vocalist and duet partner, resulting in his collaborations with Tony Award-winner Lea Salonga on "We Kiss in the Shadows" (#1 on the Classical Crossover chart from a new recording of "The King and I" score), Melissa Manchester's "Lovers After All", and Kenny G's "By The Time This Night is Over" (from the chart topping Contemporary Jazz CD, "Breathless"), which enjoyed a three month run on the Hot 100 in 1993. In June of 1993, Bryson sold out seven consecutive shows at Radio City Music Hall.
Demonstrating his skills as an actor, he appeared in the lead role for the touring production of the Tony Award-winning "Raisin" (based on "Raisin In The Sun") and in the role of The Wizard in a touring company of "The Wiz." In 1998, he appeared in the Michigan Opera Theater's 100th anniversary production of Gershwin's "Porgy and Bess" and also recorded two songs for the soundtrack for the "Barney" movie, one of which, the Bryson-produced "DREAMS," became the lead song for the album. He also released a whopping three Christmas CDs, lovingly filled with music he has performed for years in the annual touring holiday music extravaganza, "The Colors of Christmas."
In late 2005 Peabo released "Live In Concert: Ladies' Request" in association with Time-Life, for whom he has been the spokesman for their soul retrospective collection. "Live In Concert" is an excellent collection that covers many of Peabo's biggest hits, and shows that his voice is still as strong and smooth as ever; to date it has sold over 3 million copies. He followed this in early 2006 with "The Very Best of Peabo Bryson", a compilation of his biggest hits recorded on multiple record labels.
LATEST PROJECT
With his tremendous crossover success, Peabo has transitioned into a world of international acclaim. It has taken the last eight years for the proper pieces to fall into place for him to find and sign with Peak Records (a division of industry giant Concord Music Group).
For "Missing You" – the twentieth album of his career, his first in eight years and his first for Peak Records – Peabo Bryson continued to do what he does best on eleven tracks that showcase the broad palette of his skills. On "Count on Me"(produced by The Heavyweights) and "To Love About" (on which Peabo plays some driving acoustic lead guitar), Peabo proves he still has the goods to gracefully contend with today's younger R&B stalwarts. The title song "Missing You" was recorded as a tribute to his mother (Marie) and sister (Agnes) who have both passed away, and for his son-in-law who was serving in Iraq. Elsewhere, smoothies such as "Heavenly" and "Don't Give Your Heart" (produced by Barry J. Eastmond) and "My Last Goodbye" (produced by Peabo and Barry) reveal that, ultimately, he is in a class of his own.
Peabo Bryson is, at his intimate best, a legendary vocalist offering a timeless mix of pop and soul as only he can. Bryson has amassed a loyal fan base, critical acclaim and an avalanche of awards by being one of the "truly best friends" a song could ever have.