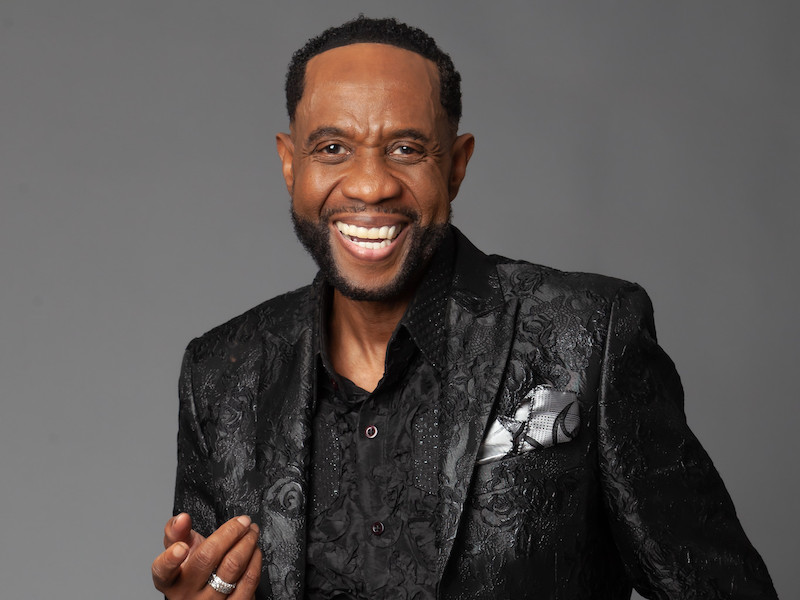 Sensual slow jams and songs that serenade
FREDDIE JACKSON
October 7, 2023

Doors: 7:00 PM / Show: 7:30 PM

October 7, 2023

Doors: 9:15 PM / Show: 9:30 PM

October 8, 2023

Doors: 6:30 PM / Show: 7:00 PM
Since the mid 1980s, Freddie Jackson has been a mainstay on Quiet Storm radio. When the sun went down, the moon rose, the candles were lit, and the wine poured, Freddie Jackson's classics like "Rock Me Tonight (For Old Times Sake)", "Have You Ever Loved Somebody," "Jam Tonight," "Do Me Again," "Tasty Love," "You Are My Lady" and "Nice & Slow," have been a part of our soundtrack for romance.
Known for his sensual slow jams and songs that serenade, the sensual and introspective sides of Freddie Jackson are on full on display on Love Signals (2018), his most recent album. While Love Signals is classic Freddie including signature romantic ballads and mid-tempo love songs, in many ways, it's the most personal and introspective release of his distinguished 33-year career. "I'm at a place in my life of quiet, peace and tranquility," states the legendary crooner. "I've taken control of my artistry, songwriting, and made lifestyle changes that have transformed me physically, emotionally, personally, and even spiritually. All those transformations which I've embraced are part of what you hear coming through on Love Signals. Each song was carefully curated to send "love signals" of passion, love, and light all over the world,"
A highlight on the album is the self-reflective, "Find My Way," written by Freddie's band, Ju-Taun (Samoeun Cheng, James Evans, Jacob Evans) and produced by James Evans. Not one to rest on his laurels or focused on past glories, "Find My Way" is Jackson's musical response to the image crafters and consultants who almost turned him into someone he did not recognize. It's a ballad of self-discovery and the journey he made to rediscover himself that Jackson nearly passed on recording. "I kept overlooking 'Find My Way,' for years, thinking that song is not the Freddie that my fans want to hear from, but then something happened in my life that allowed me to hear that song as if for the first time and I said, 'you know that song that you gave me a few years ago I think I need to record that song."
Ironically, "Find My Way" comes at a significant time in Jackson's life! "It's a self-discovery song about reclaiming your identity, reinventing yourself, and living an authentic life. Find My Way is a song that so many of us would relate to as we evolve into becoming who we're really meant to be," shares Freddie. "It comes at a time when I feel renewed! I've struggled with serious health problems which I've overcome and in the midst of those moments I also was trying to re-discover who I am. As part of my personal journey, I changed my eating habits and started exercising. Almost every day I'm on the treadmill and on Instagram sharing my journey. I'm allowing myself to rest and sleep more. I used to go, go, go but I'm actually taking more time for self-care. My entire lifestyle changed since I moved out of New York City. I'm hoping that people find their own way when listening and begin making decisions and choices that bring them closer to the vision, they have for themselves."
Disturbing images in the news cycle and the current political climate inspired the title track and many of the songs on Love Signals. Another introspective song is "Save the Child." While on tour in Texas, Jackson watched a tragic news story on a little girl whose mother drowned in flooding caused by a hurricane. The little girl was still holding her mother's hand and begging her to wake up when rescuers found her. "They found this little girl holding her dead mother's hand and that hurt me to my soul. A few days later, another story forced me to wake up early in the morning to write "Save the Child." He shares. "Every time I cut on the TV, I see tragic news stories connected to children - child abuse, abandonment, sex trafficking - and my spirit was moved to write and record a lyrical appeal "who is going to save the babies? who is going to protect the child?" imploring people to protect our most vulnerable, the children!"
Much of Jackson's success and longevity has come from singing songs that the heart recognizes. From its orchestral opening on "Without You," the first single released, to "Just For You," written as a tribute to his now departed mother, one thing that hasn't changed is Freddie's recipe for a great love song which he says are "lyrics and melodies sung from the heart." He explains,"For me, a great R&B ballad is one that comes from the heart and soul. "It has to have a great melody, a beginning, middle and compelling end. And it needs to tell the story of love." He illustrates by critiquing two of his classics. "Love Is Just A Touch Away' has a beautiful melody that touches you from the very first note, every time you hear it," Jackson said. "You hear that opening, and you are like, 'Yeah that's my song." He adds, "Men who don't know how to say I am sorry will just put on "You are My Lady," and the next thing they knew they were getting dinner and a little more! You Are My Lady" has gotten a lot of guys out of a lot of trouble."
Steppers cuts like "Without You," pick up where "Jam Tonight" left off inviting couples to dance together again. If you're seeking another chance for romance or celebrating your anniversary, the mid-tempo ballad "All I Wanna Do," may be the sentiment you're looking to express as you renew your vows. "Hold You Tonight" featuring master musician Gerald Albright speaks to the heart of a long-suffering lady suggesting that she choose a new love over an absent one.
While the years have added edges to Jackson's legendary smoothness, the passion and honesty that Jackson brings lyrically can be heard throughout Love Signals. He became a legend singing about eros – that sensual love shared in places where the lights are dimmed, the wine chilled and the music is slow and low and he hopes that Love Signals will usher listeners to a more expansive definition of love – a love that sends out signals of peace, love, compassion, and healing to all who listen. "You hear that R&B is dead, but love songs are what the world needs now," Jackson states. "I am never going to give up on love or the belief everybody needs someone to make or keep them happy, somebody that you can trust and give your all to. I've been blessed to create songs that have become the soundtrack for love, but Love Signals is about expanding the conversation from romantic love to universal love and sending those love signals across the world."
---
You may also enjoy these amazing upcoming shows!
Thu-Fri Oct 19-20: Miki Howard
Sat-Wed Oct 21-25: Musiq Soulchild
Fri Oct 27: 1st Avenue Revue