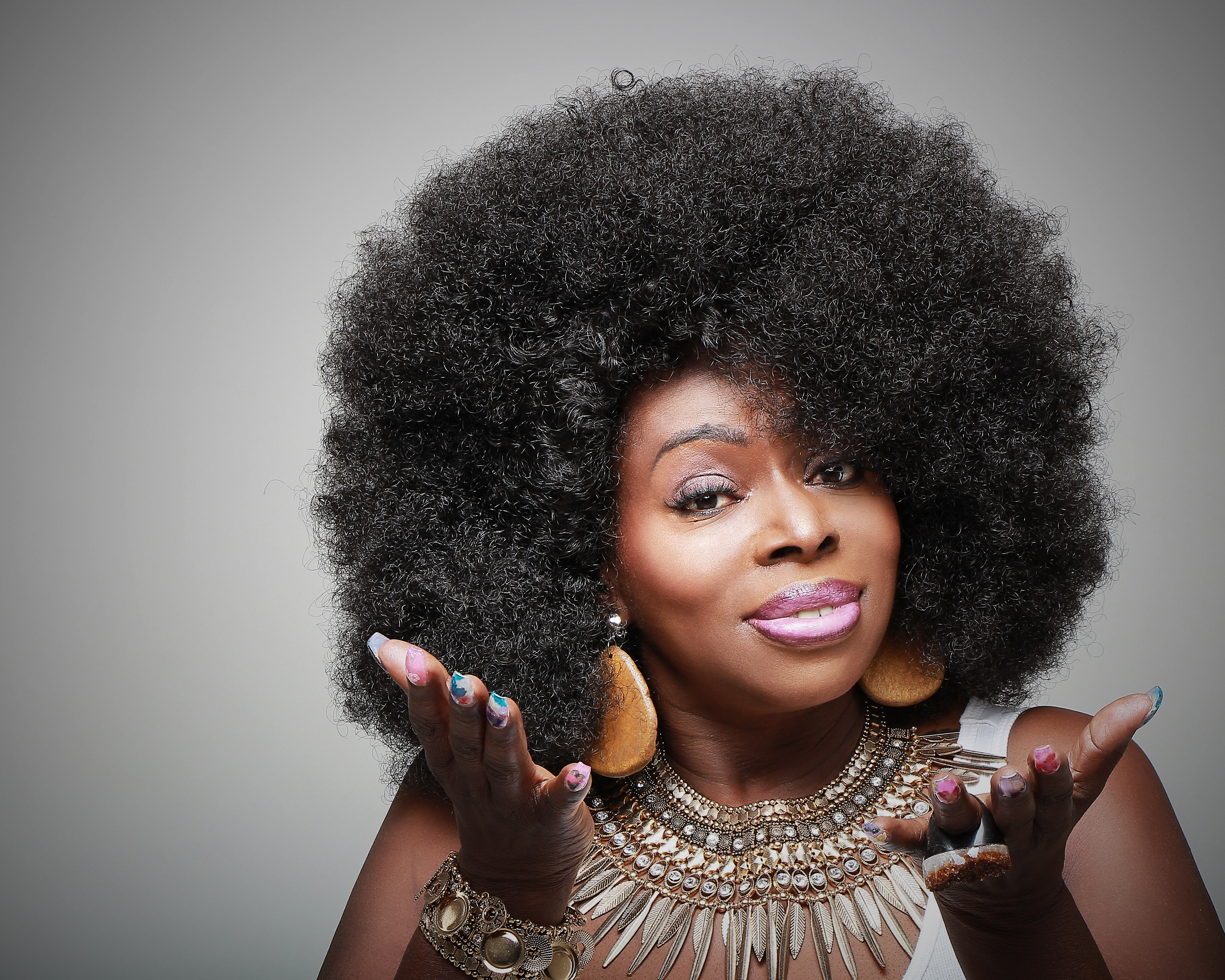 Dynamic singer, songwriter & producer
ANGIE STONE
March 25, 2022

Doors: 7:30 PM / Show: 8:00 PM

March 25, 2022

Doors: 9:45 PM / Show: 10:00 PM

March 26, 2022

Doors: 7:00 PM / Show: 7:30 PM

March 26, 2022

Doors: 9:15 PM / Show: 9:30 PM

March 27, 2022

Doors: 6:30 PM / Show: 7:00 PM

March 27, 2022

Doors: 8:45 PM / Show: 9:00 PM
Grammy nominated singer Angie Stone is one of those artists with a Midas touch. Her buttery smooth honey-toned pipes, undeniable gritty soulfulness and epic songwriting talents have been called upon by everyone from Mary J. Blige, Stevie Wonder, D'Angelo, Alicia Keys and Lenny Kravitz, to name a few. Rolling Stone Magazine once declared, "When soul music was in the lost and found, she came along to claim it." It is this belief that has made Stone the go-to woman for three different record labels when they were creating a new sound and vision. In the 70s, it was Angie Stone who helped to define the sound of the now legendary Sugar Hill Records as a member of the first recorded female rap group, Sequence. Their hit, "Funk You Up," is a classic that gets folks moving to this day! Fast forward, Clive Davis tapped Stone's iconic sound in the early 2000s, when he launched J Records. She recorded her gold-selling Mahogany Soul for the label and Stone Love. The in- demand Renaissance woman moves seamlessly from the studio and stage (she's starred on Broadway) to television and silver screen without missing a beat. A legend in this tough business, Angie Stone stands in a class by herself. In September 2013 BET/CENTRIC made Stone the focus of their acclaimed "Being" artist profile series, capturing just how amazing this dynamic's life and career has been.
Now, at a time when some are questioning the viability of the genre of R&B music, Angie Stone has collaborated with hit-making producer Walter Milsap III (Beyoncé, Alicia Keys, Timbaland, Brandy, Mindless Behavior) to create a masterpiece of contemporary R&B which combines the essence of classic soul music with cutting edge production. The resulting album Dream, which features the lead single "2 Bad Habits," as well as an unforgettable duet with Dave Hollister, promises to be one of the highlights in R&B this year. The album is set for release November 6, 2015 by Shanachie Entertainment/Conjunction Entertainment Inc./TopNotch Music. "This album is all about the three P's: Pain, then the Process to get to the Promise," says Angie. "I'm a stone-cold survivor; I'm still standing. At the end of the day I am a real singer with real issues with a real God and keeping it real!"
Indeed Dream delivers straight-from-the-heart vocalizing from a master of Soul/R&B, telling truths about love, life and relationships and drawing on her experiences of passion and pain. The song "Magnet," for instance, expresses a feeling that will hit home for many women who find themselves in situations with the wrong sort of man. "I did not know this would turn out to be my favorite song," Angie notes. "This tells everyone's story—heartbreak, headaches, when you're pregnant and you're not supposed to be; when you're too giving and have gone the extra mile. When you are empty and have given all of your goods away. It is a terrible feeling. Every woman that hears that song will know, like I am a magnet for the wrong man, will be pulling out their tissues and feeling like 'been there, done that."
Dream also features the ultra sexy title track in which Angie sings of a super-fine man and references friend Idris Elba. Then there is the whimsical first single "2 Bad Habits," which tabs her man as one of her "two bad habits." "Quits," on the other hand, updates the Motown Sound with irresistible, finger-popping effect and "Forget About Me" is simply classic soul balladry at its best. "Angie wrote this song over the phone, beat-boxing to it 3AM," Walter Millsap III relates. "When I got the vision, it was about a moment I was down and thinking about the Lord," Angie recalls. "I was thinking, God did you forget about me? I was singing to Walter over the phone and I realized it was a love song. The person who took care of me and made me feel safe and secure, who was the love of my life, was no longer with me. We were love interrupted. Whether too young or too old or too this or too that, pure love is just love and when it is prematurely aborted, something had to interfere. An industry interfered, not just with love but also with the changing of the music and neo soul. It was like a pass that was thrown but was intercepted."
All in all, Dream is a breath of fresh air in a music landscape cluttered with too much artifice, insincerity and half-baked vocalizing. Like a good home-cooked meal, it is filling and nourishing without the necessity of a gussied up presentation. And that authenticity and depth is something Angie Stone has delivered her entire career.
A native of Columbia, South Carolina, Angie Stone began singing gospel music as a child. Her father, a member of a local gospel quartet, would take her to hear many of the great gospel artists. Stone first caught the music world's attention as a member of Sequence, an all-female trio along with fellow cheerleaders Cheryl Cook and Gwendolyn Chisholm. They were the second rap group, after The Sugarhill Gang, signed by Sylvia and Joe Robinson's Sugarhill Records in 1979. The group made history with the now-classic "Funk You Up," "Funky Sound (Tear the Roof Off)," and "I Don't Need Your Love." Soon after, Stone began working with futuristic rap group Mantronix and Lenny Kravitz. She was a part of Kravitz's Let Love Rule Tour and appears on his album 5. In the early 90's, Stone was a member of the R&B trio Vertical Hold. She went on to co-write and co-produce D'Angelo's critically lauded and Gold-selling debut, Brown Sugar, in 1995, as well as 2000's Voodoo. The two also have a son together. 1999 saw the release of Angie Stone's Arista debut, Black Diamond, which garnered two Grammy nods and two Soul Train Lady of Soul Awards. The album featured the hit single "No More Rain (In This Cloud)."
The Gold selling Mahogany Soul followed in 2001 on the newly founded J Records and Stone Love followed in 2004. The Art of Love & War followed next featuring the Grammy nominated single "Baby" with Betty Wright in 2007 and Stone's album Unexpected was released in 2010. Her album Rich Girl was issued on Saguaro Road via Time Life. The Renaissance woman appeared on three reality TV shows - VH1's Celebrity Fit Club (2006), TV One's R&B Divas (2013 and 2014), and ABC's Celebrity Wife Swap (2014). She's appeared in such motion pictures as The Fighting Temptations, Pastor Brown and Ride Along as well as the Broadway production of Chicago.
The release of Angie Stone's new album, Dream, is the culmination of Angie's extraordinary personal and artistic journey. With over 5 million records sold worldwide, three gold albums, several Grammy nominations and numerous other awards, all coming after many disappointments and struggles in the business, Angie Stone stands as a triumphant survivor.
"I am single," Angie says. "I have never done an album where I was single. I do not have a love interest. I don't have anything to pull from anyone who makes me cry, makes me unhappy and makes me laugh. This is the dream album... .someone had to speak my language for me. Walter is the ultimate producer and he had to speak a language that I was able to speak with... .someone who could speak when I was speechless. I am coming back stronger than ever."
---
You may also enjoy these amazing upcoming shows!
Fri, Apr 1: Taylor Dayne
Wed, Apr 6: Kindred The Family Soul
Sat-Sun, Apr 23-24: Loose Ends feat. Jane Eugene